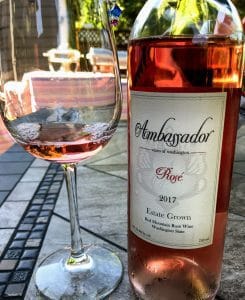 A few quick thoughts on the 2017 Ambassador Rosé from Red Mountain.
The Geekery
Ambassador Winery was started in 2004 with the goal of using estate-grown fruit from their 22 acre Ambassador Vineyard on Red Mountain. Over the years, the Ambassador estate has grown to include two sister vineyards on Red Mountain–Sunset and Annex Vineyards. All the vineyards are farmed sustainably.
The vineyards are managed by legendary grower Dick Boushey. In addition to running his own Boushey Vineyards in the Yakima Valley that supplies fruit to many of the state's top producers such as àMaurice, Avennia, Betz Family Winery, Bunnell Family Cellar, Chinook Wines, DeLille, Fidelitas, Gorman, Two Vintners, Long Shadows (Sequel and Saggi) and W.T. Vintners, Boushey also manages several estates on Red Mountain including Col Solare, Upchurch and Duckhorn's Canvasback.
In 2002, Boushey was named by the Washington State Wine Commission as "Grower of The Year" and, in 2007, he was recognized internationally as "Grower of the Year" by Wine & Spirits magazine.
The wines of Ambassador are produced by Sarah Hedges Goedhart (of Hedges Family fame) with longtime Napa Valley winemaker Tom Rinaldi (of Provenance, Hewitt, Freemark Abbey and Duckhorn fame) consulting.
The 2017 rosé is a blend of Syrah and Grenache.
The Wine
Medium-plus intensity nose. Very floral with hibiscus and tropical fruit notes such as passion fruit and mangosteen orange peel.
On the palate the wine is dry but the tropical fruits dominant with a pithy texture. With the fair amount of weight and tannins this rosé has I suspect it maybe a saignée. The medium-plus acidity balances the weight well and keeps the rosé tasting crisp and refreshing.
The Verdict
The weight and texture of this rosé definitely lends itself towards more robust food pairings like the kind that Jennifer Simonetti-Bryan describes in her book Rosé Wine.
At $20-25, this 2017 Ambassador rosé offers a good amount of complexity and versatility with food pairings to make it a nice summertime accompaniment.
Subscribe to Spitbucket