Spitbucket is an independent blog with all opinions being solely my own. Maybe a little of my wife's because…well, marriage.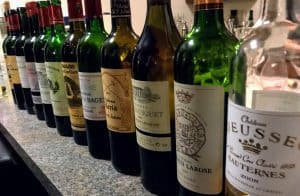 The vast majority of the wines featured on this blog are items that I've purchased myself–often from a variety of sources. Others will be wines that I've experienced at tasting events, dinners or winery visits.
I am open to accepting samples from wineries for review with the following conditions.
1.) All samples received will be noted as a sample in its review.
At this time, I am only open to receiving samples of wines or wine books. I'm not interested in paid promotion opportunities or underwritten posts. I may be interested in reviewing products but would need to know more details.
2.) Acceptance of samples does not guarantee a review.
I will review wines on a time table of my convenience that works with my scheduling calendar for posts. I will not review wines that are faulted or that I seriously do not like.
3.) I maintain 100% editorial control over the content of the review.
You are welcomed to submit tasting notes and promotional materials that highlight what is unique about your wine and winery. In fact, I would eagerly like such details as often they are lacking on many winery websites.
While I will try to focus on the positives and who may like a particular wine, I do not guarantee a completely positive review.
4.) Wineries are welcomed to post my review on their web-page, newsletter and social media with a relevant link to the original blog post.
As long as attribution is provided, wineries have my full consent to use the review as they like.
On my end, I will promote the post via my social media channels of Twitter, Instagram and Facebook.
Examples of Reviews Written About Sample-Received Wines
Exploring the Cascade Valley at WBC18
60 Second Wine Review — Whidbey Island Pinot noir
Getting Geeky with Whidbey Island Siegerrebe
Getting Geeky With Welsh Family Wines Blaufränkisch
Cannonball Run and Review
60 Second Wine Review — Smith-Madrone Riesling
60 Second Wine Review — Pedroncelli Sonoma Classico
Start-ups and Sangio
60 Second Wine Review – Renzo M. Erta e China Rosso di Toscana
60 Second Wine Review — Bruno Paillard Première Cuvée NV Brut
Getting Geeky with Nik Weis St. Urbans-Hof Rieslings 
60 Second Wine Review — Peter Zemmer Pinot Grigio
60 Second Wine Review — Chateau St-Jacques d'Albas Blanc
60 Second Wine Reviews – 2016 Domaine de Cébène Felgaria
Posts from sponsored and subsidized trips
60 Second Wine Review — Stag's Leap Wine Cellars Elia Rosé
60 Second Wine Review — Odette SLD Cabernet Sauvignon
60 Second Wine Review – Lindstrom Stags Leap District Cabernet Sauvignon
Hunting Unicorns in the Stags Leap District
Sauvignon Gris — the key to making Napa Sauvignon Blanc interesting?
Send Roger Morris to Mudgee
The Hunt for Aussie Bubbles
Not necessarily a sample-thing but born out of a fun collaboration
Lifetime Vintage's Blind Tasting Bundles – An Incredible Study Tool
To inquire about sending samples please email me at amber@spitbucket.net
Subscribe to Spitbucket