It's been a busy spring and early summer for me since the launch of VirtualWineEvents.com. I've been invited to several interviews and panels, mostly to talk about the industry's adoption of these new digital tools. Two exciting ones coming up is the FOMENT Conference this Tuesday, June 30th, which I'll follow the next day with by joining Jason Haas of Tablas Creek Vineyards for a chat on his weekly Instagram live broadcast.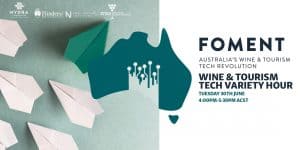 I've posted the details of these events below which I hope you'll join us for.
At the end, I've also included the videos from some of the projects I mentioned above such as Destinate's The Future of Wine Tourism Webinar, Pour Agency's wine marketing series and a couple of The Real Business of Wine panels that I've been on.
FOMENT | Wine and Tourism Tech Variety Hour
Tuesday, June 30th – 16:00 ACST, 8:30 CEST, 2:30 EDT (23:30 PDT June 29th)
Broadcasting live from Yalumba's Signature Cellar in the Barossa Valley of South Australia, FOMENT tackles the future of technology in the wine industry and tourism. While the timing isn't ideal for Americans, registering for this free conference will get you access to the recording.
A few of the notable guests that I'm thrilled to be participating in this conference with include:
Chester Osborn of d'Arenberg in the McLaren Vale
Lisa Anderson and Max Waterson of Yalumba
Wine writer Max Allen of Australian Financial Review, JancisRobinson.com and many more
Polly Hammond of 5forests and The Real Business of Wine
Wine Business professor Damien Wilson of Sonoma State University
My lovely wife and the tech-brains behind VirtualWineEvents.com, Beth, joined me in our pre-recorded interview. We talked about the need we saw emerging during COVID. Our goal was to create a site where wineries, retailers and wine educators could post upcoming virtual tastings, webinars, Instagram Lives–completely free of charge–so they could be more easily discovered by wine lovers.
We've been exceedingly pleased with the response and traffic that we're having to VirtualWineEvents.com. Even as tastings rooms start to open up, wine consumers are still looking for interesting and engaging online wine events that they can attend from the comfort of their homes. Likewise, savvy wine businesses realize the continued value of platforms that allow them to showcase their brands to consumers across the globe.
Tablas Creek Wednesday Conversations with Jason Haas on Instagram Live
Wednesday, July 1st – Noon PDT, 15:00 EDT, 21:00 CEST
A perfect case-in-point of a savvy wine business embracing digital tools is Tablas Creek Vineyards in Paso Robles. Every week they host a live stream on their Instagram page. While, for the sake of my sanity and phone notifications, I'm glad that the "witching hours" of endless IG Lives have quieted, these online events are still quite popular.
The laid-back, conversational nature of IG Lives is an easy format for consumers to pick up. All you do is follow the person hosting the event. Then when the notification comes that they're going live, you click on it. You can watch, comment and even ask to participate if the host wants to bring other folks in to join them. It feels spontaneous and unscripted which, for many consumers, comes across as more authentic.
Numerous wineries like Tablas Creek have been hitting it out of the park with these events that they can later upload to their IGTV channel or YouTube. Check out some of the past Wednesday Conversations with Jason Haas featuring guests like Jeremy Benson of FreeTheGrapes.org, Regine Rousseau of Shall We Wine, Patrick Comiskey of Wine & Spirits Magazine, Cesar Perrin of Chateau de Beaucastel as well as several members of the Tablas team.
I particularly liked this one with Elizabeth Schneider from Wine for Normal People.
There's often a lull at the beginning of most IG Lives while waiting for people to respond to the notification and join. I love that Haas utilizes this time by giving some behind-the-scenes updates about what's going at the winery and vineyard. In this episode, he talks about some of the viticultural challenges of their Scruffy Hill Block.
So be sure to join us and bring your questions about virtual wine events!
In the meantime, check out the discussions below. I had a lot of fun working with Destinate Travel, the Real Business of Wine and Pour Agency with their panels and projects.
Future of Wine Tourism Session 4: Going virtual
The Future of Virtual Tastings
The Consumer, in Partnership with ARENI Global
How to Get More Customers to Join Your Winery's Virtual Tasting Room Experience
What Content Increases Winery Followers and Likes on Social Media
What is The Best Selling Point About Your Winery? Hint: It's Not Your Wine…
What Can Smarter Winery Marketing Do for Your Winery?
How to Increase Wine Sales with Personalized Winery Marketing
This is the full version that the snippets above were taken from. Brandon Lee of Pour Agency gives a breakdown of the key points on their blog.
01:45 – What is SpitBucket and who is Amber LeBeau?
03:45 – Why is it so important for wineries to invest in marketing and what works
04:33 – The power of YouTube and how your winery can take advantage
06:34 – How can wineries reduce the noise and provide more value?
06:44 – Making good wine alone is not good enough to get more sales
07:32 – Wineries are not only competing with their neighbor or other labels
08:38 – What can wineries be doing to capture more attention?
09:16 – Winery video creates connection and engagement in the midst of the shutdown
10:42 – What your winery might be doing wrong with social media and Instagram marketing
12:08 – Make your content meaningful and stop potential customers in their tracks
12:55 – How can wineries incentivize more people to engage with their virtual tasting room?
14:50 – Sell your brand, not just wine. Jackson Family Estates and The Wine Makers on Radio Misfits – The Wine Makers
17:58 – What video would you want to see created to make you take action and buy a winery's wine?
20:50 – The easiest thing you can do to start winery marketing right
22:34 – Show people who you are, build meaningful connections with everyone within your winery
25:15 – Wineries should be asking their customers what they want
27:54 – Why it's important to move forward and innovate with marketing even if you have a reputation
30:01 – What is branding and what does that mean for a winery?
32:00 – If you give people a reason to give a damn, they will give a damn.
32:14 – What's Amber's favorite wine?
Subscribe to Spitbucket