As we wrap up Spitbucket's 3 part series on the 2017 Wine Spectator Grand Tour in Las Vegas, we come to our grand finale–my Top Ten Wines of the event. Of course this list is entirely limited and subjective. As I mentioned in the first part of this series, it is virtually impossible to try all 244 wines available in just 3 hours. While I thoroughly enjoyed the 68 wines that I did get to try, I undoubtedly missed out on several gems that may have found their way to this list.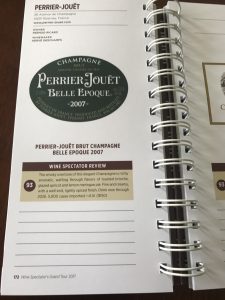 Among the wines that I regrettably missed out on:
Ciacci Piccolomini d'Aragona Brunello di Montalcino Pianrosso 2010 (94 pts. Wine Searcher average price $75)
Graham's Vintage Port 2000 (98 pts. Wine Searcher average price $98)
Marques de Grinon Domino de Valdepusa Petit Verdot 2011 (93 pts. Wine Spectator list price $40)
Perrier-Jouet Belle Epoque 2007 (93 pts. Wine Searcher average price $143)
Recanti Judean Hills Wild Carignan Reserve 2014 (91 pts. Wine Searcher average price $48)
Anthonij Rupert Cabernet Franc 2009 (92 pts. Wine Searcher average price $77)
Stag's Leap Wine Cellars Cask 23 2012 (93 pts. Wine Searcher average price $227)
Now as for my Top 10 list, as frequent readers know I do have a bit of bias towards Bordeaux wines. While the geek in me seeks out tasty treats from across the globe, Bordeaux will always be my most enduring love in the world of wine. So it should not be a surprised that Bordeaux wines account for almost a third of this list with many of the other wines capturing my attention for their "Bordeaux-like" elegance and qualities. Again, this list is completely subjective.
My Top 10 wines of the night:
Adobe Road 2013 Beckstoffer Vineyard Georges III A1-Block Cabernet Sauvignon (94 points. Wine Spectator list price $175)
Still the undoubted wine of the event. Even glancing over my list of missed opportunities, I don't think any of them would have knocked this 228 case limited release from Adobe Road off the pedestal.
As I described in part 2, this wine was classic Napa but what set it far above its peers that I tasted was the fresh, lively acidity that gave sparks to tongue while the velvety soft and rich fruit was wrapping it up in a kiss. When you are "power-tasting" through a lot of great wine, you find that they start to meld together, making it hard to stand out. Especially in Napa where the check-list seems to be [x] Ripe dark fruit [x] Full-bodied [x] Soft but noticeable tannins and [x] Noticeable oak. It's easy to check all those boxes and make a wine that will give immense pleasure when being enjoyed by itself.
But for a wine to stand out when it is being tasted along such illustrious wines as the 2009 Caymus Special Selection, 2012 Diamond Creek Gravelly Meadow, 2013 Alpha Omega Era, 2013 Beringer Private Reserve, 2012 Chimney Rock Elevage, 2013 Vine Cliff 16 Rows Oakville, 2005 Heitz Martha's Vineyard and 2013 Trinchero Mario's Vineyard, it is going to be that freshness that hits you like a finger snap in front of your face, commanding your attention. None of the aforementioned wines were bad and, indeed, two of those wines also ended up making my Top 10 list. The 2013 Adobe Road Beckstoffer Vineyard Georges III A1-Block Cabernet Sauvignon was just better.
Altesino 2011 Brunello di Montalcino Montosoli (93 points. Wine Spectator list price $110)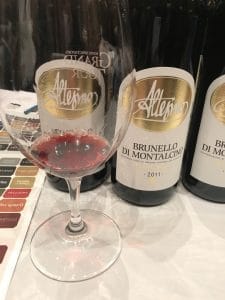 Outside of Burgundy and the Mosel, we usually don't talk about individual vineyards in Europe the same way we do with American wines. There are certainly legendary vineyards in Europe, and single bottlings from those vineyards, but the names don't easily roll off our tongues quite like To Kalon, Ciel du Cheval, Shea, Monte Bello, Red Willow, Sangiacomo, etc. However, you can make a fair argument (as James Suckling does here [subscription]) that the Montosoli vineyard owned by Altesino is one of the top vineyards in all of Montalcino. In fact, it was the very first vineyard to be bottled as a single cru of Brunello di Montalcino.
Despite being a very young Brunello (even for a warm vintage), this wine lived up to its lofty pedigree with an intoxicating bouquet of tobacco spice, orange peel, black cherry and savory leather. It had me picturing myself drinking an old-fashioned at a Victorian Explorer's Club gathering. The palate brought more richness to the cherry notes with enough acidity to keep it juicy without being "bitey". The tannins are still quite firm, again confessing its youth, but a silkiness emerges as you roll the wine around your tongue that holds much promise.
Emilio Moro 2011 Malleolus de Valderramiro Ribera del Duero (90 points. Wine Searcher Average price $85)
I am still a bit dumbfounded how this wine only got a mere 90 points from Wine Spectator. (As I was with several wines like this that I reviewed in the first part of the series.) While I can appreciate the palates and scores of critics like Thomas Matthews, its always important to formulate our own opinions on wine. While I try to avoid using the 100 point scale myself, with pegging wines down to just a number, I will say that this delicious wine from Emilio Moro far surpassed many 93-94 rated wines.
Heitz 2005 Martha's Vineyard Napa Cabernet Sauvignon (93 points. Wine Searcher average price $181)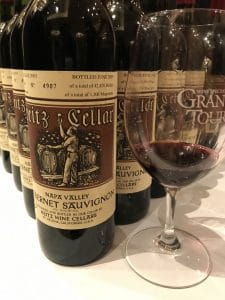 Like the Adobe Road Beckstoffer Georges III, Martha's Vineyard located in Oakville is a legendary site for Cabernet Sauvignon. My adoration of this wine will again reveal my "Bordeaux-bias" a it had, by far, the most Bordeaux-like nose of all the Napa Cabs. Lots of savory herbal elements of what I like to call the "Chicken herbs" used for roasting–sage, thyme and particularly rosemary. The classic Martha's Vineyard eucalyptus was also there but I was surprised with how much St.-Julien like cedar box and tobacco spice was also present.
The mouthfeel though was tried and true Napa with rich, almost Port-like dark fruit and Belgium dark chocolate undertones. The medium-plus acidity added enough freshness to balance the weight. The tannins were mostly velvety but they had a firm grip along the edge which hinted at how much more time this already 12-year old wine could go. While some of the eucalyptus and tobacco spice carried through to the palate, most of the savory Bordeaux-like notes on the nose were gone. In many ways it felt like I was drinking two different wines and that kept my interest.
Ramos Pinto 30 year Tawny Port
(95 points. Wine Searcher average price $85)
You can find my full review here. Again, simply a fabulous Port that is among the best I've ever had. If you can find it, its definitely worth grabbing and if you find it priced under a $100, grab two.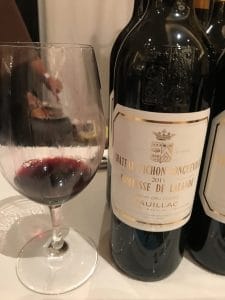 Ch. Pichon Longueville Lalande 2011 Pauillac (91 points. Wine Searcher average price $116)
You can't sugar-coat over how rough of a vintage that 2011 was. Spring was too hot and fraught with drought while summer was too cold with rains happening at the most inopportune times (if they happened at at all). Still, the blessings of modern viticulture and winemaking knowledge means that even in the roughest of vintages, wineries still have the skills and the tools to produce delicious wine.
Does this 2011 Pichon Lalande stack up to the 2010, 2009 or even the absolutely scrumptious 2005 (one of my all-time favs among all wines)? No. But neither does the 2011's price tag of around $116 stack up to the price tags of those vintages–Wine Searcher average of $229, $204 and $152, respectively. That is the landscape of Bordeaux with every bottle and every vintage needing to be evaluate both on a curve and within the big picture.
So judging this 2011 among its vintage-peers, I was exceedingly impressed with how well it was drinking this evening. With 78% Cabernet Sauvignon, 12% Cabernet Franc, 8% Merlot and 2% Petite Verdot, this wine had far more Cab than typical Pichon Lalande and with the characteristics of the vintage, I was expecting something that needed far more time.
But this wine was ready to dance with a mix of black currant and red cherry fruit framed with the typical savory tobacco and cedar cigar box notes of a good Pauillac. The mouthfeel had a lot more noticeable vanilla oak notes than I would expect. Much as the vanilla works to coax early drinking approach-ability with New World wines, so here it was smoothing out the rough edges of youthful tannins. With a little dark chocolate and Christmas fruitcake spiciness on the finish, you end up with a delightful wine that has character and personality.
Marchesi Fumanelli 2009 Octavius Riserva Amarone (94 points. Wine Searcher average price $173)
Another wine that took me by surprised as I reviewed in part 2. This wine may be more difficult to find in the United States but it is well worth the hunt for any wine lover of bold, brooding reds with layers of complexity.
Diamond Creek 2012 Gravelly Meadow Cabernet Sauvignon (92 points. Wine Searcher average price $216)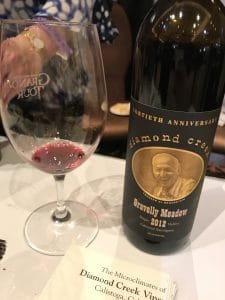 This was only my second encounter with Diamond Creek after previously trying a 2009 Volcanic Hill. That one experience coupled with reading Cellar Tracker reviews of their wines helped form my expectation that this was going to be similar to other Diamond Mountain Cabernets that I've had in the past (Wallis Family, Lokoya, Martin Ray and Von Strasser)–powerful, rich but with a lot of structure and firm tannins that need time to mellow.
While this 2012 Diamond Creek Gravelly Meadow certainly had the power and richness, I was taken back by how soft the tannins where. In a blind tasting, I would be completely fooled that this wasn't something from Rutherford or Oakville. It was downright velvety with the opulent black fruit. On the nose there was some earthiness, like dusty crushed rocks with a tinge of smokiness, but it was no where near as herbal as I would have expected. This was another wine that I found myself excited at the thought of what enjoyment savoring a full bottle of this wine would bring.
Ch. Calon Segur 2003 (95 points. Wine Searcher average price $117)
As I wrote in part 2, it is easy for Bordeaux lovers to dismiss the 2003 "heat wave" vintage (especially on the Left Bank) but wines like the 2003 Calon Segur shows that there were still many great wines made that year.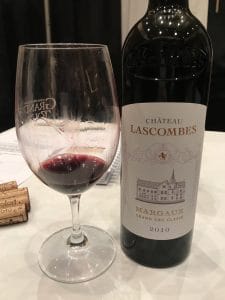 Ch. Lascombes 2010 Margaux (91 points. Wine Searcher average price $118)
Oh you didn't think I could get through this list without slipping in a 2010 Bordeaux, did you? Of course not. I especially couldn't pass up tasting again and falling back in love with this wine from the 2nd Growth estate in Margaux. Since Dominique Befve took over in the early 2000s (after stints at l'Evangile in Pomerol and 10 years as Technical Director of Chateau Lafite), Chateau Lascombes has been going from strength to strength.
Lascombes is a little unique in that the fair amount of clay in the soils of their vineyards around the communes of Cantenac, Soussans and Margaux, allows them to grow more Merlot than you would expect for a highly classified Medoc estate. In 2010 that translated to a blend that was dominated by Merlot with 55% followed by 40% Cabernet Sauvignon and 5% Petit Verdot. While many of its 2010 Cab-dominated Left Bank peers still need ample time in the cellar, this Lascombes is following the path of Angelus, Canon-La-Gaffelière, Pavie-Macquin and Le Dome in being one of the best drinking 2010s right now on the market.
The nose has swirls of black licorice spice with smokey espresso that give way to black currant and Turkish figs. The tannins on the mouthfeel are silky with the same black fruits on the nose being wrapped with even more smoke and now chocolate espresso flavors. The finish is long and lingering, giving ample pleasure but making you soon crave another sip. While most 2009/2010 prices are in the stratosphere, this is still an absolute steal for how much this wine over-delivers.
Subscribe to Spitbucket