Back in January, I wrote a post called Wine Clubs Done Right that detailed my discovery of Tablas Creek's Wine Club program. Which I promptly joined. As I noted in that post, I don't join many wineries' wine clubs. They rarely offer compelling value. Plus, I don't like being committed to buying quantities of wine that may eventually shift in style due to changing winemakers/ownership, etc.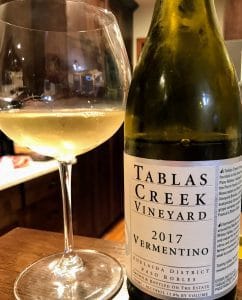 However, while exploring the Tablas Creek story and all they had to offer I found many compelling reasons to pull the trigger and join. Much to my surprise, the folks at Tablas Creek were actually interested in my tale and offered on their blog some cool behind the scene insights into their thought processes in how they set up their wine club programs.
You usually don't see that kind of receptivity and transparency with many wineries but, as I've found out in the nearly eight months since I've been a member of Tablas Creek's wine club, that is just par for the course with them. It's not marketing or show. These folks are really just wine geeks through and through. They love what they are doing and sharing that passion with others.
If you are wine geek yourself, I honestly can't recommend a more exciting winery to discover.
Beyond their hugely informative blog with harvest and business details, the Tablas Creek website also offers a trunkload of goodies. This includes a fantastic vintage chart of their wines that gets updated regularly. You'll also find a comprehensive listing of grape varieties they farm.
Jancis Robinson's Wine Grapes is still my holy writ (and I like Harry Karis' The Chateauneuf-du-Pape Wine Book chapter on grapes). But when I'm away from my books and want to check up on a Rhone variety, there is no better online source than the Tablas Creek site. Plus, the particular winemaking details they cover in the entries is often stuff that you won't find in many wine books because it comes from their decades of hands-on experience working with these grapes between themselves and the Perrins' Ch. Beaucastel estate.
But enough with the effusive gushing and let's get down to some hardcore geeking over the 2017 Tablas Creek Vermentino from the Adelaida District of Paso Robles.
The Background
Tablas Creek Vineyards was founded in 1989 as a partnership between the Perrin family of Château de Beaucastel and Robert Haas of Vineyard Brands. As I noted in my 60 Second Review of the 2000 Beaucastel Châteauneuf-du-Pape, the Perrins have been in charge of the legendary Rhone property since 1909.
Robert Haas established Vineyard Brands in 1973 as part of a long wine importing career.  He began in the 1950s working for his father's Manhattan retail shop M. Lehmann (which was eventually bought by Sherry Wine and Spirits Co. to become Sherry-Lehmann). After World War II, he was the first American importer to bring Chateau Petrus to the United States. Haas also helped popularize the idea of selling Bordeaux futures to American consumers.
In addition to Beaucastel, Haas represented the importing interests of several notable Burgundian estates. These include Domaine Ponsot, Henri Gouges, Thibault Liger-Belair, Jean-Marc Boillot, Etienne Sauzet, Mongeard-Mugneret, Domaine de Courcel, Thomas Morey, Vincent & Sophie Morey, Vincent Girardin and Vincent Dauvissat. He also represented the Champagne houses Salon and Delamotte. Haas would go on to sell Vineyard Brands to the firm's employees in 1997. His son, Daniel, manages the company today.
Aaron Romano of Wine Spectator noted that Haas also helped launch Sonoma-Cutrer and promoted on a national stage the prestigious California wines of Chappellet, Joseph Phelps, Hanzell, Kistler and Freemark Abbey. In 1980, he co-founded the distribution firm Winebow Group.
Planting Tablas Creek
Haas and the Perrins saw the similarity in maritime climate and limestone soils of the Adelaida District and Rhone.  They purchased 120 acres west of the city of Paso Robles and established Tablas Creek. Planting of their estate vineyard began in 1994. Today the winery has 115 acres of biodynamically farmed vines–producing around 30,000 cases a year.
Utilizing its close connection to the Chateauneuf estate, Tablas Creek would go on to become an influential figure in the Rhone Ranger movement in the United States. They did the heavy lifting of getting cuttings from Beaucastel through quarantine and TTB label approval. Over the years,  Tablas Creek would help pioneer numerous varieties like Counoise, Terret noir, Grenache blanc and Picpoul in the US. Additionally, the high quality "Tablas Creek clones" of Syrah, Grenache and Mourvedre have populated the vineyards of highly acclaimed producers across California, Oregon and Washington.
In the mid-2000s, Robert's son Jason joined the winery and is now the general manager. He's also the main contributor to Tablas Creek's award-winning blog.
In March 2018, Robert Haas passed away at the age of 90, leaving a lasting legacy on the world of wine.
The Grape
Wine writers and producers hotly debate the origins and synonyms of Vermentino. Some ampelographers claim that the grape came from Spain via Corsica and Sardinia sometime between the 14th and 17th centuries. However, DNA evidence point to potentially the mainland of Italy as the birthplace. Here they suggest that the Vermentino of Tuscany, Corsica and Sardinia are the same grape as the Ligurian Pigato and the Piemontese Favorita.
But, Ian D'Agata, in his Native Wine Grapes of Italy, notes that these conclusions are vigorously disputed by Italian growers, particularly in Liguria, who point out that Pigato produces different wine compared to other Vermentino. D'Agata finds Pigato to create "bigger, fatter wines" with a creamier texture than most Vermentino. The name "Pigato" may have derived from the word pigau in the Ligurian dialect, meaning spotted. It could be a reference to the freckled spots that appear on the berries after veraison.
It is possible that the grape is a relatively recent arrival to Sardina. The absence of Vermentino in the 1877 Bollettino Ampelografico listing of Sardinian varieties suggests this. However, the 1887 edition later included it. Today the grape plays a prominent roll in Sardinia's only DOCG wine–Vermentino di Gallura.
The connection to Favorita seems to be less disputed, though.
Robinson, Julia Harding and José Vouillamoz note in Wine Grapes that historically the grape was believed to have been brought to Piedmont originally as a gift from Ligurian oil merchants. The first documentation of the vine was in the Roero region in 1676, where it was a "favorite" table grape.
Almost two decades earlier, in the Piemontese province of Alessandria, a grape named "Fermentino" was described.  Growing in vineyards along with Cortese and Nebbiolo,  this may be the earliest mention of Vermentino.
Historically, as Favorita, the grape has a long history of being blended with Nebbiolo. It was a softening agent, used to smooth out the later grape's harsh tannins and acid. This is very similar to how producers once blended white grapes like Trebbiano and Malvasia with Sangiovese in Chianti.
While once the primary grape of Roero, in recent decades, Favorita has fallen out of favor. In its place,  Arneis and Chardonnay have gained in popularity.
Beyond Italy
Outside of Italy and Corsica, Vermentino also grows in the Languedoc-Roussillon. Here the grape is known as Rolle. Beyond Europe, Lebanese producers are growing in the Bekaa Valley. It has become one of the fastest-growing "alternative grape varieties" in Australia. As of 2016, there are nearly 300 acres across Victoria, the Hunter Valley, King Valley, the Barossa and Murray Darling.
While Tablas Creek mostly focuses on Châteauneuf-du-Pape grapes, they were one of the first US producers of Vermentino. They planted the vine in 1993 based upon the recommendation of the Perrin family's nurseryman. He thought that Vermentino would do well in the soils and climate of the Adelaida District. While initially used as a blending component, the winery has been making a varietal Vermentino since the 2002 vintage.
Growing in popularity
In 2008, there were around 20 acres of the Vermentino planted in California when there was some speculation that the grape could have appeal to Sauvignon blanc drinkers. By 2017 that number had jump to 91 acres as producers like Tablas Creek, Seghesio in the Russian River Valley, Mahoney Vineyards, Fleur Las Brisas and Saddleback in Carneros, Unti Vineyards in the Dry Creek Valley, Gros Ventre Cellars in El Dorado, Brick Barn in Santa Ynez, Twisted Oak in the Sierra Foothills and others began receiving acclaim for their bottlings.
Outside of California, notable plantings of Vermentino are in the Applegate Valley of Oregon (Troon Vineyard and Minimus Wines). You can also find it in the Texas High Plains (Duchman Family Winery) and Monticello AVA of Virginia (Barboursville Vineyards).
In 2017, Tablas Creek produced 1430 cases of Vermentino. While some producers age their Vermentino in neutral oak, Tablas Creek fermented and ages theirs in stainless steel tanks.
The Wine
High-intensity nose. Very citrus-driven with kefir lime, pink grapefruit and pummelo–both the zest and the fruit. There is also a tree fruit element that seems a bit peachy. But I would put it more in the less sweet yellow peach category than white peach.
On the palate, those citrus notes carry through and have an almost pithy element to them. Not bitter at all. But it adds weight and texture to the medium body of the wine. The medium-plus acid is mouthwatering and lively but well balanced with the acid highlighting the yellow peach note. The palate also introduces some racy minerality with a very distinctive streak of salinity that lingers long throughout the finish.
The Verdict
The best way I can describe this 2017 Tablas Creek Vermentino is if a New Zealand Sauvignon blanc, a sur lie Muscadet from the Loire and an Italian Pinot grigio had a threesome. This would be their baby.
Such a fascinatingly unique and character-driven wine. It combines multiple layers of tropical and tree fruit with acidity, minerality, weight and texture. Well worth its $27 price.
Subscribe to Spitbucket