It's Fall which means it is "trophy hunting season" in the beverage world. While bourbon fans are salivating over the release of the Pappy Van Winkle line and Buffalo Trace Antique Collection (BATC), Beer Geeks have been waiting for their own fall time "cult releases" like the Bruery Weekday Stouts, the Goose Island Bourbon County line-up, Deschutes' The Abyss and Surly Darkness. While there are anticipated beer releases throughout the year, every two years the fall release season gets a special kick with the release of the Sam Adams Utopias.
At around $200 for a 750ml bottle, the Utopias is far and away the most expensive of the "cult beers" and the question follows, is it worth the money?
The answer: It depends.
First, let's talk about the 2017 Utopias itself. The 2017 release is a blend of several brews including a batch of Triple Bock that has been aged 24 years, a 17 year aged batch of Millennium, some of the previous releases of Utopias and bit of their Kosmic Mother Funk brew.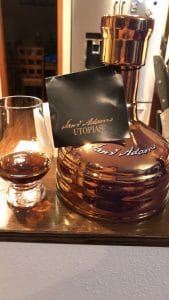 The assortment of batches are aged in various barrels including bourbon barrels from Buffalo Trace, Ruby Port barrels and white wine barrels from Carcavelos. A unique twist added to the 2017 release is the use of Akvavit barrels which previously held the Scandinavian herbal liqueur that is characterized by their caraway and dill flavors. After blending, the entire batch of the 2017 Utopias was finished in what the Sam Adams' website described as "Moscat barrels, a wine known for its slightly smoky character". Since usually Muscat and Moscato wines are not barrel aged–I'm going to take a guess that they are referring to Moscatel from either the Sherry region of Spain or the Portuguese region of Setúbal. Both are fortified wines that are barrel aged and, while "smokey" is not necessarily a primary note in their profiles, can see some subtle barrel influence.
The end result of all this work is a mere 13,000 bottles of 28% ABV "beer" that truly deserves the scare quotes around the word. With no carbonation and the ability to be nursed and savored in small pours over many years, it is hard to compare it any other beer.
And that's were the question of Cost and Worth come in….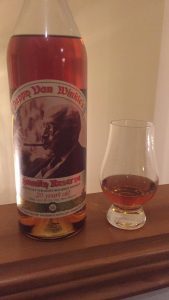 The peers to the Samuel Adams' Utopias are not Russian River's Pliny the Younger, Bell's Hopslam, Boulevard's Scotch on Scotch, Alchemist's Heady Topper or other highly sought after brews that have folks driving for hours, camping outside stores and breweries just get a highly allocated bomber or pack. Rather, it is more apt to compare the Utopias to some of the bourbon trophies–the Pappys, BATC, Michter's 10 yr Rye, the Orphan Barrels, Four Roses Limited Editions, Old Forester Birthday Bourbon, High West's A Midwinter's Night Dram, Elijah Craig 18 & 23 yrs, etc.
And make no mistake, while many of these bourbons are tasty drams, for most people acquiring these is far more about the hunt than it is for the innate quality of what is inside the bottle. When something is made in such a limited qualities, the economic laws of supply and demand give way to the human desire for exclusivity and lust for Veblen goods. If only 1,461 bottles of the Eagle Rare 17 was made for the 2017 BATC release then only around 1,461 souls are going to get that "trophy". How much is it worth to you to be one of those souls? How much is it worth to you be one of the folks who can share that trophy with friends and family?
That was my mindset when it came to the Pappy 20 year that I was able to "bag" a couple years ago. I was able to get it for around $230. I tried it and was…well underwhelmed.
My notes from that night:
"Good but not life changing" is the most apt description. It has a very lovely nose–candied apricots, vanilla, orange blossoms and some baking spices. In fact, I would say the nose is the best part. But the mouthfeel and complexity on the palate is just meh. The vanilla (LOTS of vanilla) carried through and takes on a sort of orange creamsicle character. But that's pretty much it.

It has a fair amount of bite and heat for something that is only 45% especially when I compared it to how smooth the Old Pultney 21 and Glenmorangie Signet are at 46%. Last night after I had the Pappy, I tried the Girvan's Proof Strength Grain Whiskey that was 57% and even that was smoother and more balanced.

Again, the nose is A+ but if I was having this blind and trying to guess the age and price point, I would be thinking a good quality 8-12 year American bourbon in the $60-80 range. In my honest opinion, it is no where near the $230 price—especially when you consider the vastly superior quality and complexity you could get in Single Malt Scotches for the equivalent price."
That was over a year ago and even after sharing it very liberally with friends and family, I still have about a third of a bottle of the Pappy 20 left. Even after it is all gone, I honestly don't see myself going through the effort to hunt for another bottle. Still, I don't regret getting it or spending the money. It was a trophy and I can say that I've experience the success of the hunt at least once in my life.
So…..are you trying to say that you were underwhelmed with the Utopias, eh?
Actually, no. I quite enjoyed the 2017 Utopias. I was blown away with how much it tasted like a salted caramel–like Fran's Chocolate level good. From a geeky and foodie perspective, it had my thoughts racing about what kind of interesting and delicious food pairing possibilities that one could do with the interplay of sweet and savory that is very well balance in the brew.
My notes:
The nose smells like a 20 year Tawny Port. Very rich and caramel with spices. The palate is oily and silky. Salt! It totally taste like a salted dark chocolate caramel.

Rolling it around your tongue you get a mix of both black cherry and tart red cranberries. There is a toastiness underneath almost like a baked graham cracker crust. It holds it heat fairly well for 28%. You can feel it with the weight and mouthfeel but there really isn't any back end heat.
It was certainly a unique experience and, for me, being one of the 13,000 people that get a chance to experience that uniqueness and share it with friends and family make its worth the price. Will I be rushing to get another bottle when the 2019 release comes out? Maybe. It will honestly all depend on if I still have some of the 2017 left at that time.
But that's me. I can't answer the question of whether or not it is worth it for you or anyone else. Just like with the trophy bourbons. Some are worth it. Some may not be. But if you like the hunt and want that exclusivity then, by all means, Happy Hunting.
Subscribe to Spitbucket