I'm getting ready to teach a class on Bordeaux so I've been getting my geek on with Bordeaux-themed podcasts. I found lots of great material from this 2015 episode of Grape Radio (44:43) featuring interviews with Hubert de Boüard of Château Angélus in Saint-Emilion and Angus Smith, Grand Maitre of the US chapter of the Commanderie de Bordeaux.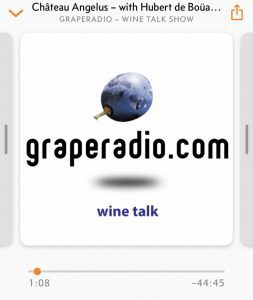 I don't know when I'll get a chance to do Geek Notes write up on them but Levi Dalton's I'll Drink To That! had two more great Bordeaux episodes that I really enjoyed. Check them out!
Episode 388 with Decanter's Jane Anson. REALLY good stuff that's worth listening to two or three times because of all the great info. Anson is one of my favorite wine writers and her writings are worth the subscription to Decanter's premium content alone.
Episode 350 with Alexandre Thienpont of Vieux Château Certan and François Thienpont of Le Pin in Pomerol. The difference in their approach is fascinating. Also Erin Scala gives a great overview of the lasting impact of the 1956 frost in St. Emilion.
Some Background
Angélus is my absolute favorite Bordeaux estate. While I obviously can't afford to drink it everyday, I do make sure that I nab at least one bottle as a future each year to enjoy at a special dinner down the road. Even though vintages average around $300-400, I actually think Angélus is relatively undervalued compared to other top growths in Bordeaux like the First Growths of the Medoc, Cheval Blanc and Petrus.
While I enjoyed my evening with Petrus, I would take 6 to 7 bottles of Angélus over a second bottle in a heart beat.
I haven't done a full geek-out post on Angélus yet (oh but its coming) so I will direct folks to Jeff Leve's awesome write up of the property on his The Wine Cellar Insider site as well as this geeky little blurb from the Grape Radio episode page:
The estate has been owned by the Boüard de Laforest family since the Domaine de Mazaret was bequeathed to Comte Maurice de Boüard de Laforest in 1909, and expanded by the acquisition of Clos de L'Angélus in 1926 and a plot from Château Beau-Séjour Bécot in 1969. The name refers to the three Angelus bells audible from the vineyards. — Grape Radio, June 9th 2015
While the terroir is top notch, I do think a lot of Angélus success is because of Hubert de Boüard's viticulture and winemaking style. Which means if you are looking for better price points, some of his other properties like Château La Fleur de Boüard in Lalande de Pomerol (Ave $35), Chateau Bellevue in Saint Emilion (Ave $56), Chateau de Francs in Cotes de Bordeaux (Ave $14) and consulting clients are good places to look.
Among his consulting clients, a few of my favorites are:
Ch. Grand Corbin in St. Emilion (Ave $33)
Ch. de Ferrand in St. Emilion (Ave $45)
Ch. Vieux Château Palon in Montagne-Saint-Emilion (Ave $30)
Ch. La Pointe in Pomerol (Ave $47)
Ch. de Chantegrive in Graves (Ave $28)
Ch. Fieuzal in Pessac-Léognan (Ave $48)
Ch. Grand Puy Ducasse in Pauillac (Ave $51)
Ch. Lanessan in Haut-Medoc (Ave $24)
The 2015 vintages for several of these (the Vieux Château Palon, Chategrive and Lanessan in particular) are exceptional values for the money and well worth stocking up on.
There is also a second and third wine for Angélus, Le Carillon de l'Angelus (Ave $103) and Number 3 d'Angelus (Ave $52), but I haven't had an opportunity to try either.
Some Fun Things I Learned From This Podcast
(2:11) Hubert de Boüard talks the signature role that Cabernet Franc plays in the wines of Angélus. While the estate has less Cab Franc than Cheval Blanc, it still accounts for 47% of plantings. In most years the grape makes up around 40-50% of the blend. Side note: Really interesting to compare de Boüard's view of Cab Franc to the Thienponts who don't seem as enthralled with the variety.
(2:55) He goes further into how this high proportion of Cab Franc differentiates Angélus from other Merlot-dominant St. Emilion wines. While it also plays a prominent role in Cheval Blanc, the sandy gravel soils of that property give it a different personality than the clay-limestone soils of Angélus.
(6:00) The second wine, Le Carillon, is made from both dedicated blocks and declassified Angélus fruit.
(7:26) Brian Clark asks how the style of Angélus has evolved over the years. Hubert de Boüard talks about the influence of his university studies and Émile Peynaud on adding a more scientific approach to winemaking.
(9:20) Jay Selman brings the topic back to Cabernet Franc and notes how some people love the variety and some hate it. (Put me on the love side) Hubert de Boüard highlights the importance of ripeness and good soil which allows the grape to show its spicy and velvet side.
(10:27) Cab Franc is not favored on the Left Bank because it tends to be more green when grown in their gravelly soils. It often ends up in the second labels of Medoc and Grave producers.
(10:54) Really fascinating description of the "crescent" (or croissant?) of ideal soils for Cabernet Franc that begin with Ch. Lafleur next to Petrus in Pomerol then Certan (Vieux Château Certan? Certan de May? Certan Giraud?) into St. Emilion with Cheval Blanc, Angélus and Ausone. The key is clay but too much is too much because the soils will be too cold. The clay needs to be balanced with a warmer top soil of limestone, gravel or sand. To de Boüard, Cabernet Franc is very Pinot noir-like in needing the right balance of conditions to shine.
(12:18) Cab Franc vines need at least 20 years of age and low crop yield to perform best.
(13:20) At Angélus around 17% of the Cabernet Franc vines are at least 70 years of age.
(14:30) Hubert de Boüard talks about the classification of St. Emilion which is VERY interesting to listen to in light of recent news. One interesting note he does make is the importance of evaluating the land in St. Emilion's classification versus just the winery's brand with the 1855 classification.
(18:50) Eric Anderson asks about what would happen if a winery gets demoted in the St. Emilion classification. Surprisingly, instead of answering "hire lawyers" de Boüard gives the example of Beau Séjour Bécot and how the Becot family responded to their 1986 demotion.
(19:50) Brian Clark asks about top vintages in Bordeaux. I got a chuckle out of Hubert de Boüard's response "The best one is the one we didn't sell." Wondering if he's thinking about the Woeful '7s'? More seriously, de Boüard notes how the reputation of a vintage on the Left Bank sometimes overshadows how the year was on the Right Bank. He gives the example of the 2000 vintage which was great on the Left Bank but overshadows the more superior Right Bank vintage of 2001.
(21:30) It's unfortunate that consumers get obsessed with the "expensive vintages" de Boüard says. He highlights years like 2001 and 2006 as years that consumers can get great value. With this interview taking place in mid-2015, I wonder if de Boüard would include years like 2012 & 2014 in those "great buy" vintages once they reach the age of 2001/2006.
Interview with Angus Smith of Commanderie de Bordeaux
(27:29) Here the interview switches to a description of the dinners of the Commanderie de Bordeaux and details about the organization. Essentially this is a not-so-secret society of wine lovers dedicated to advocating Bordeaux wines across the globe.
Historically, the Commanderie had been open to just men and their spouses. Thankfully, that looks to be changing with some chapters, like the Chicago chapter, opening up their membership to women. The DC chapter even had a women hold the title of chapter head, or Madame Le Maitre, with Bette A. Alberts.
When this episode first aired in 2015, I emailed the head of the Seattle chapter and got no response. So I don't know if women are allowed in this chapter. Frankly, I think it is ridiculous to even let this be a chapter by chapter decision. I understand the nature of private clubs and the privilege they have in deciding their membership. But its 2018 and having gender-based restrictions on wine clubs is beyond silly.
(36:56) Jay Selman asks about decanting with a good discussion that follows. Smith and de Boüard seem to be fans of a few hours and double decanting. At Brian Clark's chapter of the Commanderie they tend to do a blanket 3 hour decant on all wines–outside of very old vintages.
(39:43) Smith and de Boüard argue against putting the cork back into the bottle after double decanting. With this the cork is often put in upside down with the wine stained side facing out. This means that the side that was exposed to dirt and dust is now inside the bottle and potentially contaminating the wine. But beyond that, de Boüard sees little need to recork the wine at all after decanting.
(40:31) A shout-out to decanting white wines. This is something that I don't do myself but I can see the benefit–especially with whites seals with screw-caps which can be very reductive on opening.
(40:56) A discussion about what is it about older wines that are appealing to wine drinkers. One good point I like from this discussion is how people's definition of "older wines" varies from person to person.
Subscribe to Spitbucket