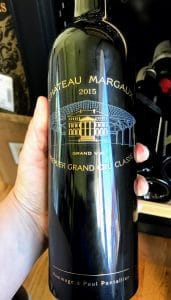 As folks who have been following my on-going series examining the offers from the 2017 Bordeaux Futures campaign have noticed, I enjoy playing the Futures Game.
But I understand that this is a game–one where I'm gambling money on today in hopes of future pleasure in the years to come.
Though while I have a gambler's heart, just like when I'm playing the Somm Game in Vegas, I like to hedge my bets and get the cards stacked in my favor.
When it comes to buying Bordeaux Futures, I have one solid rule that I never waver from.
Buy for pleasure, not for investment.
Like the stock market, you can certainly "invest" in buying Bordeaux wines with the goal of selling or trading them at a higher value. Of course, there are some legal gray areas that are worth paying attention to and David Sokolin's Investing in Liquid Assets is a great read for anyone interested in dipping their toes in that area.
But I'm not looking to make a profit. I just want to get a good deal on something that I will enjoy drinking at some point. If I lock in the price of a bottle as a future that ends up saving me $20 versus buying it later on a retail shelf, I'm a happy camper.
By not hoping for the price to skyrocket after purchasing it as a futures (and buying only 1 to 3 bottles for personal consumption), I'm able to keep my expectations grounded and realistic.
However, there are certainly times when Bordeaux's notorious fickleness and pricing does end up giving me a really good deal that I kick myself for not buying more of.
Case in point-2015 Ch. Margaux.
I purchased a single bottle of this wine back in June 2016 for $519.97. I don't have the wallet to often buy multiple bottles of First Growth Bordeaux or many other estates that regularly fetch $200+ a bottle but a bottle here and there when the vintage and price is right is something I can afford to do.
I knew 2015 was a very solid year and one worth bulking up my cellar with from both the value end to some of the top crop. With Margaux being one of my favorite estates, it was worth buying at that price as well as a bottle of their second wine, Pavillon Rouge, for $134.97.
The wine had some nice barrel scores during the 2015 en primeur season like 95-98 points from Antonio Galloni of Vinous, 98-100 from Neal Martin (then of Wine Advocate) and 19/20 by Jancis Robinson.
While I don't personally ascribe much weight to critic scores, I do read the tasting notes for tidbits about the vintage and general style of the year. But the numbers themselves are virtually meaningless to me. I've drank 100 point wine and I've drank 94 point wine and derived the same amount of pleasure–not to mention many excellent 88-92 point wines.
Then Came The Jump
But I'm very cognizant about the impact of critic scores on the pricing of Bordeaux so when I'm on the fence about a futures purchase, I do weigh how much the price could potentially jump once the bottle scores are released.
So while I certainly expected to see the price of the 2015 Margaux rise above $519.97 (like to maybe around the $994 ave of the 2005), I have to admit that I wasn't quite expecting this.
100 points Jeb Dunnuck.
100 points Jane Anson of Decanter.
100 points James Suckling.
100 points Jeff Leve of The Wine Cellar Insider.
100 points Roger Voss of Wine Enthusiast.
99 points Lisa Perrotti-Brown of Wine Advocate.
99 points Antonio Galloni of Vinous.
99 points James Molesworth of Wine Spectator.
And now we have the 2015 Ch. Margaux averaging $1,643 a bottle–more than $1100 above what I originally paid for it as a 2015 Bordeaux Futures.
YIKES!
Yeah, I wish I had bought at least one more bottle.
Other Good Futures Deals I've Gotten
While I certainly don't expect anything from the current 2017 campaign to jump as crazy high as the 2015 Margaux, I still think there is enough consistent savings and value that merit buying futures even in vintages like 2017. But as evident with my 2017 series of posts, I do a heck of a lot of research and decision making before putting my money down on the table.
It's a lot of work, but to me it's worth it to get solid deals like this:
2015 Pavillon Rouge — Futures price $134.97, now averaging $233
2015 Valandraud — Futures price $139.97, now averaging $186
2015 Pape Clement — Futures price $76.97, now averaging $120
2015 Malescot St. Exupery — Futures price $47.97, now average $74
2014 Mouton Rothschild — Futures price $299.97, now averaging $517
2014 Angelus — Futures price $219.97, now averaging $297
2014 Canon — Futures price $59.97, now averaging $92
2014 Prieure-Lichine — Futures price $29.97, now averaging $48
2013 Lascombes — Futures price $44.97, now averaging $74
2013 Rauzan-Segla — Futures price $49.97, now averaging $68
2012 Clos Fourtet — Futures price $76.49, now averaging $98
Subscribe to Spitbucket