Note: This wine was sent as a sample.
A few quick thoughts on the 2018 Peter Zemmer Pinot grigio from the Alto Adige.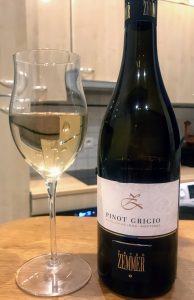 The Geekery
I've been studying Northeast Italy for the D3 Wines of the World unit of the WSET Diploma and one stat about Alto Adige really took me by surprise. The area is hugely dominated by cooperatives, which make around 70% of all the wine from the region.
Now most of this is of decent quality with 98% of production reaching DOC level. (No DOCGs in the region.) However, it's clear that small family wineries like Alois Lageder, Elena Walch and Peter Zemmer are fairly rare.
The original Peter Zemmer founded the estate in 1928, purchasing vineyards around Cortina sulla Strada del Vino in South Tyrol. His nephew, Helmut Zemmer, succeeded him with Helmet's son, Peter, running the estate today.
Zemmer not only farms all his vineyards sustainably but also practices minimal intervention winemaking techniques. Of the 7,500 cases produced on average, around half are exported.
The Wine
Medium-plus intensity nose. A mix of apple and citrus with some floral orange blossom notes. I know that producers sometimes will blend a little Gewürztraminer, but I couldn't find any confirmation that Zemmer does. Still, very aromatic for a Pinot grigio.
On the palate, the apple carries through, but the citrus jumps out the most. Very lemony with both the fruit and zest accentuated by medium-plus acidity. Medium body gives ample weight. Long finish introduces a slightly salty, minerally note.
The Verdict
In the US, Italian Pinot grigio doesn't always enjoy the best reputation.  Sometimes it's hard to look past the light, almost watery mass-produced styles you find in supermarkets and chain restaurants (cough Olive Garden cough).
However, this Zemmer PG doesn't play to those stereotypes.  For around $14-17, it has the aromatics and weight to be both interesting by itself and as a versatile food pairing wine.
Subscribe to Spitbucket