For a review of another blind tasting service see my post Lifetime Vintage's Blind Tasting Bundles – An Incredible Study Tool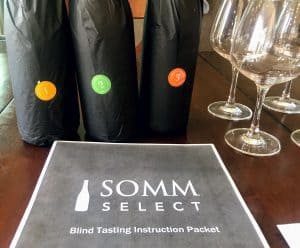 Master Sommelier Ian Cauble (of the movie Somm fame) has a unique subscription program designed to teach people how to blind taste better–the SommSelect Blind Six.
Each month for $199 you receive 6 bottles (3 whites and 3 reds) that are individually wrapped in black tissue paper. I decided to give the subscription a go. Below is my experience with my first month's box (Spoiler alert if you haven't done April's wines) and my thoughts on if the subscription (and wines) are worth the cost.
What You Get
In the box, you'll find 6 individually wrapped bottles numbered 1-6 as well as an envelop containing both instructions and an answer packet to reference after you've tasted the wines. The first thing I noticed when I opened the box was that they didn't indicate on each bottle if they were red or white nor was there any info in the Blind Tasting Instruction Packet. The numbered stickers on each bottle are different colors but not with a consistent pattern to distinguish white versus red. I took a wager on the most logical set up being trying the 3 whites first so I went with trying bottles #1-3 which, happily, were all white.
In the instruction packet, Cauble gives tips on what to look for in each stage of the evaluation as well as what common "clues" often mean. These tips range from things that are fairly well known–like under Sight the tips about looking at the meniscus and how the color varies from the intensity of the core to the rim is a sign of age–to more interesting observations like his note under Nose & Palate that the aroma of dry bay leaf is common in Cabernet Sauvignon from moderately warm climate regions like Napa. While the former can often be found in discussions about blind tasting, the later is the kind of insight you usually only get first hand from someone with experience in blind tasting.
Likewise, the answer packet (which I'll discuss below) also gives numerous precise details about things to look for in evaluating color and structure that you don't readily find from other resources.
Tasting the White Flight
Cauble recommends having a neutral third party person open the wines and pour them into a decanter. While I clearly see the benefit of this approach–not the least of which is that splash decanting is probably the most underutilized tool in wine appreciation–I went a different route for three reasons.
1.) Neither my wife nor I wanted to miss out on the fun so we didn't have a "neutral third party"
2.) I didn't want to open up and waste 3 bottles of wine. [Note: Cauble does recommend doing the tastings as part of a multi-course dinner and with friends]
3.) I didn't have 3 decanters of the same size and shape–which does make a difference
3.5) I also didn't want to clean 3 decanters along with 6 wine glasses to be brutally honest
So we decided to break out the foil cutter and as carefully as possible use scissors to cut off the tip of the black tissue paper and remove the top of the capsule without seeing any identifying markings. Wine #3 was a screwcap so I just closed my eyes and twist. It felt like I was kid back at home trying to get something out of my parent's closet while deliberately avoiding the corner where they kept the presents. Then we Coravin each bottle to pour out 2 samples of the cork-sealed wines.
Now other people might take the approach of just blind tasting one bottle a night and enjoying the wine with dinner or what not.
It's certainly an easier and less wasteful approach. However, we really wanted to compare the 3 together because we felt that it allowed us to go back and forth with contrasting color and aroma. It is also more conducive to the blind tasting format of formal examinations. The beauty of the Coravin is that it allows us to only pour two samples of each without pulling the cork and wasting the wine.
Wine #1
The most noticeable thing about this wine was the "onion peel" color with pink hues.
Medium intensity nose with apple and citrus notes along with a white floral element that wasn't very defined. There was also a subtle doughy element that made me think of raw pastry dough as opposed to something toasty like oak or Champagne.
On the palate the apple fruits came through much more than the citrus with a lot of weight and depth for a medium-plus bodied white wine. This wine had texture that filled the mouth which started my brain going towards Oregon Pinot gris. Medium acidity was enough to keep it fresh but not racy or citrusy like I associate with Italian Pinot grigio. No signs of new oak but that doughy element from the nose could have been from partial neutral oak. Moderate length finish ends with the lingering white flower notes that I still couldn't quite pin point.
My guess: An Oregon Pinot gris in the $18-20 range. At this point in my practice I'm not going to focus on guessing age.
Turned out to be: 2016 Scarbolo Pinot grigio, Friuli Venezia Giulia, Italy (Wine Searcher Ave: $14)
In hindsight, I should have paid more attention to the color that comes from a practice of skin contact that is far more common in Italy than Oregon. I let the stereotype of "light, citrusy" supermarket Italian Pinot grigio sway me into thinking that this wine was too good and too weighty to come from Italy. Granted, living in the Pacific Northwest I'm naturally bias due to my greater familiarity with Oregon Pinot gris.
Also, (thanks to Cauble's notes in the Answer Packet) I realized that I should have paid more attention to that "subtle doughy element" from the nose. In Cauble's notes he describes "hints of peanut shells, stale beer" which plays along those lines of what I was picking up. It wasn't Champagne biscuity or Muscadet leesy but there was something there that I now know I should look out for–particularly in higher end Italian Pinot grigio from regions like Friuli.
Wine #2
Light yellow color, almost watery with some green specks.
High intensity nose. Wow! This wine is screaming out the glass with lemon citrus (both fruit and zest) and the smell of concrete after rain.
On the palate, those citrus notes comes through but so does the stoniness. This wine is screaming minerality–like liquid stones in your mouth. There is also a sense of salinity in the wine that amplifies the minerality. Clearly I'm thinking Old World here but which grape? Medium-plus acid tilts me away from thinking Sauvignon blanc/Sancerre and more to Chardonnay/Chablis. Medium body with a long finish that lingers on those stoney notes. Very fantastic wine and my favorite of the flight.
My guess: A village-level Chablis in the $25-30 range.
Turned out to be: 2016 Agnes et Didier Dauvissat Petit Chablis, Burgundy, France (Wine Searcher Ave $17)
Outstanding wine and a scorcher of a deal for a Petit Chablis. I was even tempted into thinking this could be a Premier Cru instead of a village-level Chablis because of how vibrant it was. Ultimately I defaulted back to village level because, while it did jump out of the glass, my notes on the wine were still rather short. You expect more layers and complexity with a higher level Chablis. But still, an outstanding bottle and way above what a Petit Chablis typically delivers.
Wine #3
Moderate yellow. Definitely darker than #2 but not golden or anything that would hint at oak.
Medium-plus intensity nose. Spiced d'Anjou pear with LOTS of white pepper. I tried really hard not to jump to conclusions but this was screaming Gruner Veltliner right from the get-go.
On the palate the spiced pear carries through and is joined by some ripe apple notes. The ripeness of the apple and the pear had me wondering if this was maybe a warmer climate Gruner like from California or (Northwest bias again) Oregon. Medium-plus acidity and a sense of stoney river rocks ultimately brought me back to Old World and Austria. No signs of oak. Light bodied with a moderate finish that lingers on the white pepper spice.
My guess: An Austrian Gruner Veltliner in the $14-17 range.
Turned out to be: 2016 Weingut Bauerl Gruner Veltliner Federspiel, Wachau, Austria (Wine Searcher Average $9)
While not "New Zealand Sauv. blanc easy", this was definitely the easiest one in the entire Blind Six. Cauble promises to pick classic examples of each wine style and I don't think he could have picked a more classic Gruner Veltliner than this.
Tasting the Red Flight
I had a bit of a ego boost with the white flight getting 3/3 grape varieties right and 1.5/3 with the regions–going to do a half point for that way over-performing Petit Chablis. However with the red flight my ego got thoroughly deflated.
My wife and I did the red flight tasting before a meal and decided to make a game of it. After we sampled and evaluated the wines, we compared each to our meal to see what was the best pairing. The "winning bottle" got the cork pulled to be finished with the rest of the meal. We really liked this game and think we'll make it a staple moving forward with doing the Blind Six.
Wine #4
Light ruby color. Can read through it. Some fuschia hues.
Medium-plus intensity nose. Very ripe Rainier cherries, cranberries with herbal notes–mint and fennel.
Those red fruits and herbal notes carry through but the cherries taste more richer on the palate than they smelled on the nose. Almost candied even. High acidity balances that richness and still keeps the fruit more red than black. Medium tannins and medium body contribute to the wine feeling a little thin. Rather short finish ends on some spice notes that aren't very defined though hint at being in the baking spice family (cinnamon, clove) suggesting partial new oak? Definitely thinking Old World Pinot with this.
My guess: A basic Bourgogne rouge (maybe Cote de Beaune-Villages?) in the $25-30 range.
Turned out to be: Jean-Paul Brun Domaine des Terres Dorees Morgon, Beaujolais, France (Wine Searcher Ave $18)
My wife briefly suggested Gamay as a possibility but we dismissed it because the acids were too high–though in his notes Cauble rates the acidity of this wine as medium-plus. In hindsight, the "candied cherry" and the fuschia hues should have registered more.
Yeah, this was a total miss for me.
Wine #5
Moderate ruby. Can still read through it but much darker than #1. Slight blue hues.
Medium intensity nose. Noticeable oak spice and vanilla. Black cherries and black berries.
On the palate, the oak still dominate with the dark fruit. Medium-plus acidity keeps it from being syrupy with medium tannins holding the structure well. Moderate length finish ends on the oak. This is screaming California Pinot.
My guess: A California Pinot noir in the $33-38 range.
Turned out to be: 2016 Tyler Pinot Noir, Santa Barbara County, USA (Wine Searcher Ave $36)
This was, by far, the easiest one of the red flight and I was seriously close to taking a stab that it was Central Coast as well. It was very oak driven and didn't have any of the elegance I associate with Sonoma Coast, Russian River or Carneros Pinot noir. It wasn't bad at all (and it certainly not a huge Kosta Browne wannabe) but it definitely was as stereotypical "Post-Sideway Cali Pinot" as you can get.
Wine #6
Medium garnet with some rim variation that has an orange huge. Can't read through the core.
Medium-plus intensity nose. Lots of dried roses and tarry tobacco spice. Some red fruits–cherries, pomegranate and cranberries. Also a little animal earthiness.
The red fruits carry through but aren't as defined on the palate as they were on the nose. It's the tarry tobacco and high tannins that dominate. Still just medium-plus body though with the alcohol weight. High acidity makes your mouth water and highlights tobacco spice notes and helps keep the floral rose petals from the nose alive. The animal earthiness become more defined and linger on the moderate finish.
My guess: A basic Barolo in the $40-45 range.
Turned out to be: 2012 Padelletti Brunello di Montalcino DOCG, Tuscany, Italy (Wine Searcher Ave $48)
Once again my wife had the suggestion that maybe this was Sangiovese–which we evaluated more critically this time. The orange hue and the cherry notes played along. But ultimately we thought that the high tannins and high acidity fit the profile of Nebbiolo/Barolo much more than Sangiovese. Turns out, our scale of "high" is apparently Ian Cauble's medium-plus.
In hindsight, and after reading Cauble's notes, I realize that I have vastly more experience with "modern" style Brunello producers than I do with some of the classic, old school style of Brunello that Cauble describes in the Padelletti. A big takeaway from this experience is that I need to branch out more in this area.
For dinner we were having Italian sausage with penne and red sauce so this was the "winning bottle" from a food pairing point of view though the Morgon with the fennel notes was a close second.
Ian's Notes — aka Where You Went Wrong
It's incredibly enlightening (and humbling) to read a Master Sommelier's notes on a wine you just tasted. For each wine there are numerous "clues" in color, aroma and structure that Cauble points out that make perfect sense when you go back and revisit the wine.
Like how did I miss the crushed raspberries with the Morgon Beaujolais–one of the tell tale signs of Gamay? How did I not notice the fennel and orange peel from the Brunello?
While there are going to be subjective differences (like the high/medium-plus ratings), overall there is immense insight to be gained in reviewing Cauble's notes. Beyond just laying out all the clues that you may or may not have gotten, Cauble chimes in with tips about other "lateral wines" that blind tasters often confuse with each other.
For instance, Pinot grigio, Albarino and Gruner Veltliner are part of a trio of "neutral bitter varieties" that often trouble blind tasters.
Cauble encourages you to look for a subtle sensation of "over-steeped green tea" at the back of the palate and front of the lips and then try to differentiate from there. Gruner will have the distinctive white pepper (and apparently daikon-raddish which I need to look for) while Albarino will have more canned peaches and Pinot grigio will have that "stale beer" and "peanut shell" element that I also need to start looking more for.
With the Morgon Beaujolais that I completely whiffed on, Cauble goes into brief detail about how different Cru Beaujolais are from the popular associations with Gamay and describes how they are commonly confused for Northern Rhone Syrahs and Loire Cabernet Franc from Chinon. While I, personally, didn't confuse the Morgon for either of those two–I have a motivation now to actively compare good quality Cru Beaujolais with each.
In fact this is a suggestion that Cauble makes repeatedly throughout the tasting packet–if you have trouble with something then do comparison tastings (non-blind) with what you tasted and what you thought it was. This is another area where the Coravin becomes a valuable tool. The next night after we did the red flight, my wife and I grabbed a Beaune Montrevenots (a tad higher than Cote de Beaune-Village level) and compared it side by side to the Morgon. That was immensely educational (the candied cherry of the Beaujolais was even more pronounced compared to the tart cherry of the Beaune) and we plan to do the same with getting a Barolo to compare side by side with an old school Brunello.
Is it Worth it?
Depends.
If you are looking at it from a straight dollar value of the wine, then maybe not. At $199 for 6 bottles you expect an average wine value of around $33 a bottle. I don't know how close this month's box is to the norm but going off of Wine Searcher's average prices (which is based on retail and not the wholesale that SommSelect is likely getting), I received $142 worth of wine for an average of $24 a bottle. Assuming that SommSelect is already making a healthy retail mark up, it's fair to see how some subscribers might chaff at the hard numbers.
That said, these were exceptionally well curated wines that in nearly each case drank at a higher price point. If I went with the upper end of my price ranges for each wine (which, like how I score wines with my 60 Second Reviews, is mostly based on what price I feel would be a good value for this wine) that would be $180 for an average of $30 a bottle. Not ideal but not feeling like I'm getting ripped off either.
But the bigger value in the SommSelect Blind Six is truly with Cauble's notes. For students seeking higher level certifications with WSET and the Court of Master Sommeliers, there is a dearth of material out there when it comes to learning more about blind tasting. There are some online resources (and great podcasts) from GuildSomm and each program includes some material when you pay for courses. When it comes to wine books, Neel Burton's The Concise Guide to Wine and Blind Tasting is pretty much the only game in town.
Truthfully, for the most part, budding wine geeks are on their own in this arena.
The benefit of the SommSelect Blind Six is that you can easily structure your own self-study program for blind tasting with essentially a Master Sommelier as your personal tutor. The examples that Cauble pick are truly classic and while you might disagree with some of his assessments, you can't fault the logic and soundness of his conclusions.
But, most importantly, along with the individual wines you taste in the Blind Six, Cauble's notes helps you pinpoint the strengths and weakness in your approach. With his suggestions of other things to taste and insight into his own personal approach, you can craft a game plan to tackle those weaknesses so you can become a better blind taster.
After one round of the Blind Six, I feel that, yes, it is undoubtedly worth it. Maybe not for the casual wine drinker but most definitely for the wine geek or ambitious wine professional who truly wants to get better at blind tasting.
I'll continue to review each month's box to not only track my own progress in blind tasting but to also see how the value/price per bottle ratio trends.
Subscribe to Spitbucket