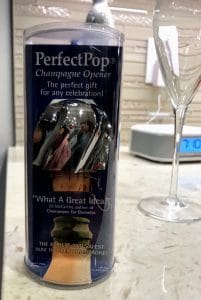 One of my favorite (and clearly apocryphal) quotes about Champagne is attributed to Oscar Wilde.
"The sound of Champagne opening is like a content woman's sigh."
While I'm skeptical as to the breadth of Wilde's experience with content women sighing, I nonetheless love the sentiment behind the quote that the art in opening up Champagne and other sparkling wine is not in the POP but, rather, in keeping it to just a gentle hiss so as not to lose the beautiful aromas and bubbles.
As the holidays approach, more and more folks are reaching for a bottle of bubbles to spread some holiday cheer. While there are many tutorials online about how to open a bottle of sparkling wine, there will always come a time when the pesky cork just doesn't want to come out. Outside of reaching for a sabre, what do you do?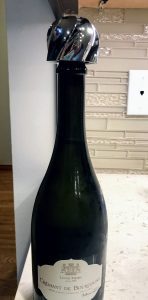 I put one tool that is out on the market to the test – the Perfect Pop Champagne Opener– available from Amazon right now for $5.99 and eligible for Prime shipping.
I tested it out on the 2013 Levert Frères Crémant de Bourgogne Brut that I recently reviewed.
I had difficulties at first in putting the tool over the cork with the cage attached and getting it to line up straight. It wasn't until I removed the cage that I could get the device to feel securely fit.
Once I got it on, it took awhile for me to feel comfortable getting a grip on it to turn with the bottle tilted at a 45° degree angle. This is because while usually you wrap your hand around the side of the cork like you are holding the ends of a jump rope, and
twist the bottle not the cork
, this device requires you to get your palm more over the top with your fingers in the groves to twist the cork itself.
So it is a bit awkward to get the hang of at first.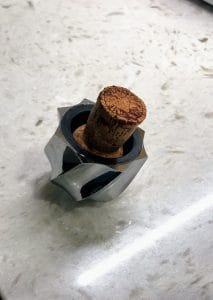 But it works.
The "pop" is a bit louder than the ideal open. It's sounds more like a busy mother's "Oops!" when the baby food on the spoon misses it target. Still, very little aromatics and bubbles get lost. Despite the awkwardness at the beginning, by the second usage I was able to get the device on, twist and have the bottle open in less than 7 seconds. Most importantly, I could do this without the soreness and redness on my hands from struggling with the cork.
That's a winner in my book and well worth the $6.
Subscribe to Spitbucket