It's National Rosé Day! For exactly which "nation" (U.S.? U.K.? France?), I'm never sure, but my social media feeds are certainly popping with pink. Likewise, several rosé-related virtual wine events are being held across the globe this weekend.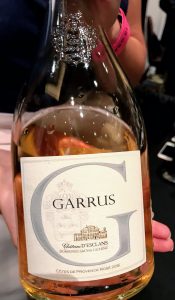 And while I'm a huge fan of rosé wine, I need to get something off my chest.
When it comes to the thoroughly prized and feted Château d'Esclans' Garrus, The World's Most Expensive Rosé Wine, I just don't get the fuss.
Oh, I've tried it a handful of times–most recently the 2018 vintage at the Wine Paris Expo this past February. It's a frequent high scorer for Wine Spectator and, with their penchant for repeating the same wines over and over again at their Grand Tour, that's offered me a few more opportunities to try. In wine circles, it tends to pop up at rosé parties–either from someone who wants to "ball" or, ironically, wants to snob it up and make a point about overpriced rosé.
Each time I try my best to taste it with an open mind. But every time I keep going back to my glass wondering, "What am I missing?"
Now don't get me wrong, it's not a bad wine.
Researching its background with how it's made is actually kind of cool. The techniques that Sacha Lichine and the late Patrick Léon (Mouton, Opus One) developed for Garrus are undoubtedly innovative. Perhaps echoing back to Léon's work with Domaine Faiveley, they approached Garrus like making a fine white Burgundy.
The fruit comes from old vine Grenache and Rolle/Vermentino planted on chalky hillsides. Often 100% free-run juice (though some vintages can have up to 10% press juice for balance), the wine is aged in a combination of new and once-used barrels. The wine then sees twice-weekly bâtonnage and lees contact for 8 to 10 months. But being a rosé, where freshness is a premium, Lichine and Léon developed a complex temperature-controlled system to keep the barrels cool throughout fermentation and maturation.
James Suckling has a great video (3:35) with Sacha Lichine where they show that barrel set-up.
Those efforts definitely show up in the wine.

While I've never tasted Garrus blind or in black opaque glasses, its mouthfeel is distinctive. The wine has a creamy texture that feels almost like a buttery, vanilla-laden Chardonnay but without vanilla & buttery flavors. I'll admit that the first time I had it (the 2012 vintage when it was about four years of age), that mouthfeel really caught my attention. I was also impressed with the age as I tend not to have the best of experiences with older rosé. But with ample medium-plus acidity, the wine was still lively and fresh.
I scribbled in my notes that this would be an excellent $30-40 wine. Lo and behold, it was more than twice that! Today, it's not that shocking to see Garrus over $100 a bottle. And I guess for me, that's the crux of the issue.
It's good, but it's not that good.
While I get the business side of it–the cost of maintaining old bush vines on rocky hillsides, the expensive fermentation & maturation techniques, new barrels, extended aging, etc.–it's hard for me to feel as a consumer that I'm getting my money's worth. Full disclaimer, though. Every time I've tried Garrus, it has been either at a tasting event–some of which I've paid to attend–or that someone else has purchased.
Still, even though I have the means to spend upwards of $100 a bottle on wine, I've never tasted a vintage of Garrus that has compelled me to want to spend that on one to take home.
So what does it lack?
Looking back over my past tasting notes, the words "Shy", "Subtle", "Vague" and "Undefined" litter them. The nose, especially with younger vintages (like the 2018 I had this year) often seems very muted, which is always a downer for me with rosés. I expect more pronounce intensity.
I've heard that Garrus does shine with some decanting, but I've never had the opportunity to experience that. However, it seems like a little bottle age helps as well.
But even with slightly older examples, the texture is always the strongest, if not sole, selling point. The aromatics and flavors still hide in the background. They're there but they never jump out and make their presence known. I get a little peach, some pear, maybe a bit of exotic mango and the slightest hint of spice that often comes out in the moderate-length finish. Again, pleasant. Enjoyable. Certainly drinkable. But so are many other rosés for far less.
I'm not opposed to the idea of spending money for a "serious" rosé.
I just need to feel that it's seriously worth it. Which, for me, the Château d'Esclans Garrus is not.
Subscribe to Spitbucket