Earlier this week The Seattle Times published an article about the top Costco Kirkland wines as selected by a local wine blogger.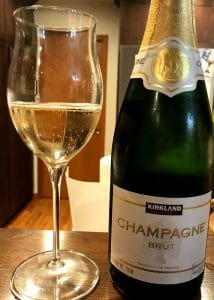 One of the wines featured was the Kirkland Signature Brut Champagne that I picked up for $19.99. Throughout the month of December, my wife and I like to open up a bottle of sparkling wine each night. That can get expensive with Champagne so we make sure to stock up on plenty of Proseccos, Cavas and Cremants.
Needless to say, I was pretty excited at the idea of trying a true Champagne for the price of a Crémant de Bourgogne.
Reading Owen Bargreen's review of the wine intrigued me. The Champagne certainly had pedigree with fruit from the Grand Cru village of Verzenay. Also, unusual for Kirkland branded wines, the back label listed who actually made it as Manuel Janisson of the négociant firm Champagne Janisson.
"The Brut Champagne by Kirkland Signature is a blend of pinot noir, chardonnay and pinot meunier sourced from vineyards located in Verzenay. The wine starts off with lovely diatomaceous earth followed by lemon curd and brioche on the nose. The palate shows really nice citrus fruit with kumquat, lemon oil, sourdough bread and a light musty earth flavor. Dense and layered, this is a simply outstanding effort that is a one-of-a-kind value. Drink 2018-2024." — Owen Bargreen as quoted by Tan Vinh for The Seattle Times 12/7/2018
Unfortunately my experience didn't quite live up to that glowing review.
I was originally planning to share my thoughts about the Kirkland Champagne as a 60 Second Review. But instead I think I need to talk about the risks of buying blindly on the recommendations of critics and wine writers.
At the end of this post I'll give my take on the Kirkland Champagne. But I'll blanket it with the same caveats that I'm going to discuss below.
First, let me say that this is not about bashing another blogger.
While I'm going to be disagreeing with a bit of Bargreen's assessment of the Kirkland Signature Brut Champagne, I've been a big fan of his work on the Washington Wine Blog.
Among some of my favorite posts have been his interviews with wine industry insiders like:
Kit Singh of Lauren Ashton
Benjamin Smith of Cadence
Jason Fox of Lagana Cellars
Master of Wine Billo Naravane of Rasa Vineyards
Brooke Robertson of Delmas
Nina Buty of Buty Winery
And many more.
Bargreen has a terrific sense of what's happening in the world of wine–particularly in Washington. He seeks out the people who are shaping the scene and produces content that is well worth following.
My intent is not to quibble about differences in tasting notes. Taste is highly subjective and personal. From one taster to the next, you are just as likely to agree with someone as you are to disagree.
And that's precisely the point.
When you buy a wine based on a newspaper, magazine or blog review, you're essentially gambling on how likely your tastes will align with the reviewers. And I'm not talking Somm Game gambling here. Because with written reviews (as opposed to personal recommendations from a sommelier or wine steward), you really are going out on a ledge.
The author of a wine review is writing solely from the perspective of their tastes and their opinions. They're not standing in front of you, listening to you describe the kind of wines that you like or don't like. They're not acting like a sommelier or wine steward, piecing together clues to recommend something that they feel confident that you're going to enjoy.
The reviewer may have a tremendous palate with lots of experience tasting a vast array of wines. But when it comes to recommendations published in articles, blogs, "Best of…" and "Top Whatever" lists, your tastes and your opinions do not enter the reviewer's equation whatsoever.
Yet it is your wallet that is buying the wine. Plus, either your mouth or your kitchen drain is going to end up with the contents of that bottle.
When you buy off of reviews, what are the odds that you're going to absolutely love the wine?
I would say about 25% or a quarter of the time. For another quarter, it's likely to be a complete whiff.
But for the majority of the recommendations you buy, the results will be in the middle of don't love, but don't hate or what I call "Meh wines".
Getting a "Meh wine" is certainly not the end of the world.
It's kind of like playing McDonald's Monopoly where you pull off a tab and win a small fry. You didn't lose per se, but you really didn't win either. You essentially got a token of a prize and with a "Meh wine" you end up with a token of an experience–something drinkable but not much more.
Now ask yourself. How much money and time do you want to spend on "Meh wines"?
Can You Hedge Your Bets?
You most definitely can. But to do that, you need to think more like a bettor at the horse races.
1.) Do Your Homework. Admittedly, a good chunk of this is trial and error. The only way to increase your odds for successful drinking is to learn how your palate aligns with the reviewers. Paying attention to how many Hits/Misses/Mehs you get with a certain reviewer will key you in on if it's worth the gamble. Even this is not absolute. There still may be wines that you don't completely jive with. But, at the very least, you'll be able to weed out more of the misses and the mehs.
2.) Pay Attention To The Jockeys–i.e. the wineries who made the wine. Often this is even better than betting on the horse. If you've had past experiences enjoying a winery's wines, your bet just got a whole lot better. Because now you're not really taking a blind recommendation from a reviewer but rather letting your own palate and experience have a say.
3.) Don't Bet Big On An Unknown. Buying blindly on a review is never an occasion to buy a case. It doesn't matter what high score or glowing review it got or how killer of a deal it looks like. It could still wind up being a colossal dud. You're far better off taking a flyer on a single bottle to try first. Even though I really loved the idea of a $20 Champagne to drink all month, I am so grateful that I only spent $20 on the Kirkland Brut instead of a couple hundred.
4.) Spread Out Your Risk. Don't bet it all on one wine. While I'm a huge supporter of trying new things, it's always a good strategy to spread your bets out between long-shots mixed with a few favorites. Go ahead and take a chance on that new bottle, but also pick up something that is more of a sure bet just in case.
A Personal Note
Since I do reviews here on the blog, I hope all my readers take the above to heart and apply these strategies to my recommendations as well.
My favorite wines might only hit a 25% jackpot with you–or even less. Our tastes could be polar opposites and that is perfectly fine. My hope is that with the Geekery tidbits and other posts, you're still finding resources that'll help you find bottles you enjoy.
In the end, finding great wines that give you pleasure is the only thing that matters. Life is too short to drink "Meh wines".
Now About That Kirkland Champagne
Medium intensity nose. Definitely citrus driven but more bitter green citrus notes like unripe pomelo and Bergamot orange. Noticeable yeasty notes reminds me of raw Pillsbury buttermilk biscuit dough.
On the palate, those green citrus notes carry through but they fade pretty quickly. It's definitely the dough notes that dominate but they taste much sweeter than the nose would have suggested. I couldn't find the exact dosage but it's certainly on the sweeter side of brut–likely 10-12 g/l.
The sweet dough with citrus flavors makes me think they were trying to go for the Veuve Clicquot style. However, the medium-plus acidity and moderate mousse has a tangy edge (like Bargreen's sourdough) that doesn't quite match the creamy mouthfeel that trademarks Veuve. The finish does have a hint of dustiness but is very short.
The Verdict
At $20, this isn't a horrible wine. It's definitely drinkable. If it's aiming to be a budget Veuve Yellow Label for half the price then it's not that far off. But it certainly tastes like a half-price "Meh" version of Veuve.
However, this is not "a one-of-a-kind value" by any stretch of the imagination.
There are so many stronger bottles of sparkling wines under $20–most notably the many available Cremants from Burgundy, Alsace and the Loire. These include wines like Levert Freres, Louis Bouillot, Albrecht, Gratien & Meyer and Champalou. Often these wines are aged as long as nonvintage Champagne (15 months) and many times much longer.
These Cremants may not have the magical "C-word" on the label like the Kirkland Brut but they are far more Champagne-like.
Then in the US, we have producers like Gruet, Jacqueline Leonne, Trevari and Roederer Estate who make very solid bottles in the $15-20 range. And, of course, Cava has some tremendous bangs for the buck with the Insito, Juve & Camps and Anna de Codorniu being highly reliable sparklers.
Champagne Dreams With a Budget-Friendly Reality
If you want to go Champagne, paying just a little bit more will give you huge quality dividends above the Kirkland Brut.
Bargreen's article mentions the Feuillatte Blue Label that is often around $27-29 during holidays. Then there is the Moët & Chandon Brut Imperial ($33-36), Petrois Moriset Cuvee ($30-33), Moutard Grand Cuvee ($30-33) Chanoine Frères Grande Reserve ($33-35), Montaudon Brut ($32-35), Pommery Brut Royal ($33-36) and Laurent Perrier La Cuvee ($33-36).
And if you really want a slightly cheaper Veuve Clicquot Yellow Label, the Heidsieck Monopole Blue Top hits those notes better than the Kirkland Brut does in the $33-36 range.
I'm sure you can find even more under $40 Champagne or under $20 sparkling wine options checking out your local wine shop. Plus, you can talk with a wine steward and let them know what you like or don't like.
That way you're more likely to go home with a Secretariat, Justify or American Pharoah than you would betting on "Meh".
Subscribe to Spitbucket