Forty-five years ago today, the Judgment of Paris happened. I'm sure we'll see lots of missives commemorating the occasion, all the more bittersweet with the recent passing of Steven Spurrier back in March.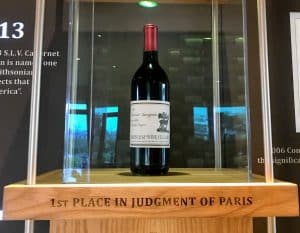 While I'll toast the success of Stag's Leap Wine Cellars and Chateau Montelena, I have to confess that, even as a wine geek, the glow of that achievement is waning for me a bit.
Sure, it's cool when you first hear about it with American pride and bottles in the Smithsonian. And that Alan Rickman movie certainly was fun. But after that, then what?
What does the Judgment of Paris mean for today's wine drinkers?
Why should we care about the judgment of history in the wines we drink today?
The Inertia of Nostalgia
At its best, wine stimulates emotions. However, nostalgia is a mellow emotion, one that lulls you in place. It's wistful and pleasant. And that's nice…for a moment.
But it's not incitement. It doesn't pull you towards something more than simply pleasant. When we look back at the success of the Judgment of Paris, what reasons do we have to look forward? That's one of the questions I keep coming back to as I work on a project on the Stags Leap District with author Kenneth Friedenreich.
As a millennial, born years after the Judgment of Paris, what pull do the wines of Stag's Leap Wine Cellars have for me today? What's going to keep me excited and eager to try them tomorrow?
Personality and Presence
Almost every premium brand in the world sells itself on the quality of its wines and their most blessed terroirs. It's the same old story on every back label and winery website. Now, of course, the ones like SLWC that are lucky enough to have the pedigree of history tout that too. But, as I describe above, these appeals to static, stationary emotions like nostalgia have a short shelf life. By itself, it's simply not enough.
Instead, it is people, not history, that drive the verve and vivacity of a brand. On this blog, I always hype that the people behind a label are the one truly unique selling point of every wine brand. However, this point is often sadly underutilized and hidden away behind boring bottle shots.
It's a particular Achilles' heel of many brands on social media such as SLWC's parent company Ste. Michelle Wine Estates, a frequent provocateur of bottle porn. So I'll fully admit to being quite surprised at how seriously good SLWC's Instagram Lives are.
Headed by winemaker Marcus Notaro, with appearances by vineyard manager Kirk Grace, the entire series is well worth watching.
They're chockful of geeky insights about what happens in the vineyards and winemaking. However, what's most enticing is that each one shows shades of Notaro's personality and his infectious passion for what he does.
The success of these IG Lives (and other SLWC virtual tastings that I've found) is that they make you want to drink with Marcus, and, therefore, want to drink SLWC. It encourages you to see the brand in a different light with little tidbits like Notaro explaining his preference for blending early with a nod to his Italian heritage and how the "sauce always tastes better the next day."
Having those personable nuggets rolling around the brain makes approaching even their larger production wines like the Karia Chardonnay more intriguing as you see the wine through the winemaker's eyes–tasting the different flavors in the sauce from the warm volcanic soils of Atlas Peak, the fruitful loams of Oak Knoll to the cool perfume from Coombsville and Carneros.
A Tale of Two Vineyards
There aren't many good deals in Napa–especially when it comes to tasting room fees. But one that is absolutely well worth your time and money is the $50 per person Estate Collection Tasting flight.
Along with the Arcadia Chardonnay ($65 a bottle) and headliner Cask 23 ($305), the showstopper is comparing side-by-side the Fay ($150) and SLV ($195) vineyards.
Separated only by a small drainage creek, the stark difference between these two Cabs is eye-opening on a Burgundian scale.  Of course, Napa has tons of different terroirs.  With a vast array of soil types and exposures from two very different mountain ranges flanking it and the spine of the Napa River running through, how could it not?
But, dang, if it's not always hard to see those differences–especially with Cabernet. With so much of Napa "dialed in" with perfect recipes crafted by a handful of well-known viticulturists and consulting winemakers, can you blame consumers for getting lost in a sea of sameness?
Sure, folks who live and breathe Napa can likely cut through the weeds to find those distinctions.
But for those of us who don't drink $100+ Napa Cabs regularly, the brush is still broad. And I'm not saying that Burgundy is better (especially when it comes to pricing). However, there's a lightning strike moment when you try even basic Burgundies from the same producer's neighboring lots and realize "Holy Cow. These do taste different…" That's not a moment that happens often in Napa–at least not at an attainable price point.
But it is a moment that happens here with the silky perfumed, blue & red fruit elegance of the Fay segueing into the brooding black fruit power and chocolate dustiness of the SLV. I get why other commentators often compare the Fay to Margaux and SLV to Pauillac. But, continuing my Burgundy theme, I would invoke tasting a Volnay next to Gevrey-Chambertin. But instead of being separated by miles, it's separated by a creek.  And that is freaking cool!
If you look at the specs, the wines are treated fairly similar each vintage. So some of that difference is terroir between the alluvial Fay and volcanic SLV vineyards. However, there's also a quirk of personality at play here in how Warren Winiarski wrote the next chapter of the legendary Fay Vineyard when he acquired it in 1986.
As Notaro and Grace explain below in another IG Live, Winiarski took a philosophical approach in replanting the site into separate experimental blocks of different clones, rootstocks, vine density and trellising. In an era of homogeny, the "bug" of miscellany is a fascinating feature.
The Velocity of Incitement
There's a lot to celebrate today as an American wine lover. The Judgment of Paris did quite a bit to put California and Napa Valley on the global wine map. Though it is a fair bet that the US wine industry would have gotten there anyway, especially with the pioneering work of folks like Robert Mondavi and Martin Ray paving the way. But the events 45 years ago undoubtedly shortened that curve.
However, that was the judgment of yesterday, with most of those bottles long since consumed and sent to museums. The relevance of the Judgment of Paris today is how wineries like Stag's Leap Wine Cellars approach those accolades. Do they take those slaps on the back and rest on the laurels of nostalgia? Or do they use it as a shove to keep delivering something exciting, inviting you to seek it out?
From the Judgment of Today, it looks to be the latter.
Subscribe to Spitbucket