Note: The wines tasted here were provided as samples during the Wine Bloggers Conference. 
As I was looking back at my notes and photos from the 2018 Wine Bloggers Conference, I realized that I had a serious Day 2 omission. That Friday was a jam pack day. Between the panel on Wine Blogging vs Influencing, Lewis Perdue's keynote speech and the mystery dinner excursion, I totally forgot to note all the fun discoveries at the lunch sponsored by Cascade Valley Wine Country.
Which is a downright shame on my part because this area is a hot bed for great family wineries. It was also the source of one of the best wines I had at the entire conference.
Some Geekery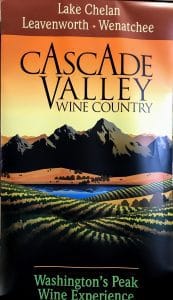 Located in north-central Washington State, Cascade Valley Wine Country includes the winemaking hubs of Lake Chelan, Wenatchee and Leavenworth. The area is home to over 50 wineries and many more satellite tasting rooms.
In some ways, the Cascade Valley Wine Country is more geography–rather than terroir–oriented. Just like Woodinville Wine Country, the vast majority of wines made in the area comes from fruit sourced elsewhere in the state like Red Mountain, Wahluke Slope, Horse Heavens and Walla Walla.
However, that dynamic is changing. Several of the wines I tried at the Wine Bloggers Conference (like Hard Roe to Hoe's Lake Chelan Pinot, Tipsy Canyon's Viognier and Stemilt Creek's red blend) came from fruit grown in the valley. With the establishment of Lake Chelan's own AVA in 2009 and the potential for Wenatchee to get one, the growth potential in this area is immense.
It's particularly intriguing for an industry grappling with the impact of climate change. While eastern Washington is a lot warmer than many people give credit for, the higher elevation sites around Wenatchee and Leavenworth and the moderate lake effect of Chelan does offer a more temperate climate compared to the very hot AVAs of Red Mountain and Wahluke Slope.
The Ancient Lakes region south of Wenatchee was designated as an AVA and has already shown an affinity for producing outstanding cool-climate wines.
It's very likely that the future of the Washington wine industry is emerging here in the Cascade Valley.
Wines I Tried
In addition to the lunch sponsored by Cascade Valley Wine Country, I also got a chance to try some of the region's wines at the speed blogging events on day 2 and day 3.
Hard Row to Hoe 2016 Pinot noir from Lake Chelan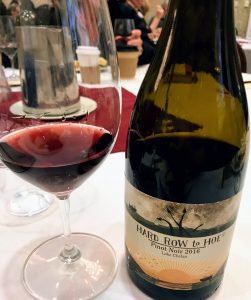 Outside of maybe Otis Kenyon, this winery has the best backstory in Washington. Let's just say the ladies of Moulin Rouge would be proud. If you are in Manson, it's well worth the visit to the Phelps family winery just to experience it and hear more of this place's fascinating history.
Pinot noir is a tough grape to market in Washington. As I noted in my review of Whidbey Island's Pinot noir from Puget Sound, few Washington Pinots have impressed me. But I do see a lot of potential in this Lake Chelan Pinot noir. It had bright acidity, good balance with oak and nice juicy fruit. It just didn't quite deliver the depth and layers that you can find from Oregon for the same $40 mark. I strongly suspect that vine age will play an important role because the climate and terroir of Lake Chelan seems, on paper, to be ideal for Pinot.
Succession 2017 Viognier from the Columbia Valley
Owned by Brock and Erica Lindsay, Succession Wines was named this year by Wine Press Northwest as the 2018 Washington Winery to Watch.
Their tiny production of 138 cases of Viognier definitely demonstrates the very fruity, tropical side of the grape. At around $26, I can see these appealing to fans of Pinot gris. I couldn't find any technical notes but I suspect this wine has a touch of residual sugar which amplifies the fruitiness.
Tipsy Canyon 2017 Viognier from the Columbia Valley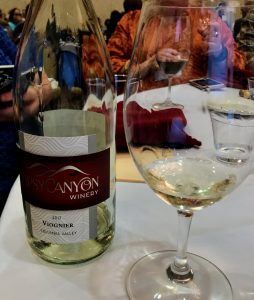 Owned by the Garvin family, this Viognier is sourced from the Antoine Creek Vineyard north of Lake Chelan. That vineyard is also the source of an outstanding sparkling Viognier made by Cairdeas Winery as well.
I will admit that this Tipsy Canyon Viognier was more of my personal style than the Succession one. It tasted noticeably drier with crisp medium-plus acidity and a little stoney minerality. You wouldn't confuse it for a Condrieu but it is a bottle that you could empty very easily in one sitting.
Unfortunately, they don't seem to have much of a website or web presence so I couldn't find out what this Viognier costs. For myself, I would rank this just slightly behind àMaurice's sinfully delicious Viognier that runs $28-35. If this Tipsy Canyon falls into the $23-28 range, I would have no problem buying multiple bottles of it.
Stemilt Creek 2014 Boss Lady Red from the Columbia Valley
Founded in 2001 by Kyle and Jan Mathison in Wenatchee, Stemilt Creek sources primarily from their own estate vineyard that they farm sustainably. The 2014 Boss Lady is a blend of 46% Syrah, 30% Merlot, 18% Cabernet Sauvignon, 3% Cabernet Franc and 3% Petit Verdot.
I am a huge fan of the "Hermitage'd" Bordeaux-style wines that add Syrah to the traditional Bordeaux blend. It takes the structure and dark fruit you typically associate with Cab-Merlot and adds gorgeous spiciness. At $24, this Boss Lady Red from Stemilt Creek is a killer value that should probably be priced more in the $30-35 range.
Baroness Cellars 2016 Riesling from Red Mountain.
Founded by Danielle Clements, Baroness Cellars is based in Leavenworth where Clements makes food-friendly European style wines.
While details on this 2016 Red Mountain Riesling is scare, I'm incredibly fascinated with how well she succeeded here. Though off-dry in style, this wine still had crackling acidity that reminded me a lively German Kabinett. Really surprising to see this came from the very warm Red Mountain AVA.
Put Chateau Faire Le Pont on your radars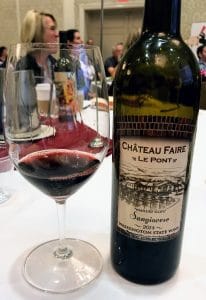 By far one of the most impressive wines at the entire conference was the 2014 Chateau Faire Le Pont Sangiovese from the Wahluke Slope.
Making good quality Sangiovese (especially domestically) is tough. Despite the proliferation of Chiantis, Brunellos and other Tuscan wines, the grape is actually rather finicky to grow outside of its native Italian homeland. The Antinori family invested millions into their Atlas Peak Antica project–feeling that was the ideal spot for Sangiovese–only to have to admit defeat and move many of those parcels over to Cabernet Sauvignon. For a family with 26 generations of winemaking experience, that's a tough pill to swallow.
Can Washington do better? Leonetti has been making a tasty Sangiovese sourced from vineyards in Walla Walla but that bottle is usually $80+. For rosé, it has shown great promise such as this delicious example from Davenport Cellars sourced from Ciel du Cheval fruit on Red Mountain. Kaella Winery in Woodinville also used to make a great Sangio rosé from the same vineyard before an ownership change altered its style.
Wine Notes
The 2014 Chateau Faire Le Pont Sangiovese had a terrific medium-plus bouquet with a mix of bright red cherries and savory spice notes. Ripe medium-plus tannins gave it great structure and held up the full-body fruit of the wine well. The medium-plus acidity enhanced the savory spices and contributed a mouthwatering quality which lingered on the long finish. Sangiovese's best role is usually on the table and this was certainly a winner at lunch with several bloggers going from table to table to find more bottles to finish off.
Again, details are unfortunately scarce outside of noting it was sourced from the Wahluke Slope and that it runs for around $40. Well worth that price.
Other Cascade Valley wineries I've enjoyed in the past
Full disclosure, I went to winemaking school with Jason Morin so I've had many opportunities to try his great food friendly wines. His 2017 Pinot gris, in particular, hits it out of the park and shows that not all Northwest Pinot gris have to been on the fruity, slightly sweet side.
Another disclosure, Charlie Lybecker is also a Northwest Wine Academy alum and I've been a big fan of his wines for a while. His Rhones are outstanding and the 2014 Caislén an Pápa Chateauneuf-du-Pape style blend was one my top wines from the 2017 Taste Washington Grand Tasting.
By far, some of the best domestic sparklers in the US. I may only rank Schramsberg in California above them but, honestly, the separation is not much at all. Their wines featured at this year's Taste Washington The New Vintage made dealing with that hellish cattle-call almost worth it.
Seriously, if you love bubbles. Check them out.
Rob Newsom is one of the most interesting figures in Washington wine. A trained musician, tasting a bottle of Leonetti Cabernet Sauvignon while passing through Walla Walla turned his life around. He learned a lot about winemaking from the Figgins family of Leonetti which he's used to produce very big, almost Napa-like wines in Washington. I've yet to have a bottle of Boudreaux that didn't beg to be paired with a juicy prime rib. If you like big, bold wines then you need to seek out Boudreaux.
Recommendations for Cascade Valley Wineries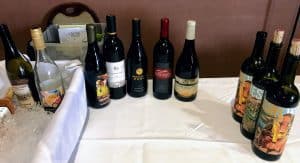 By far, one of the biggest barriers to success for the Cascade Valley wineries is getting their message and branding out.
I would definitely advise them to by looking at what message their websites are sending out. While tasting room traffic and one-on-one dialogue is great, in today's digital age there will be a lot of customers who are first introduced to a brand via their online presence–including social media.
As much as I enjoyed the wines from this region, I have to admit that writing this post was incredibly difficult. I had a heck of a time trying to find more info about the wineries and wines featured. As a geek, I acknowledge that I sometimes have to play detective and sleuth out details from a variety of sources but 99.9% of wine consumers aren't going to put in that same effort. You have to make it easy for them to find you and learn more about your wines.
While there are certainly great websites from Cascade Valley wineries (check out Cairdeas and Hard Row to Hoe in particular), most of the sites had very little information or were difficult to navigate. At the very least, tech notes of current and past vintages with details on vineyards and farming practice would go a long way towards filling in the blanks. Beyond that, it would be fantastic to hear more about the stories of the wineries and what make this region so unique and dynamic.
The future looks bright for Cascade Valley Wine Country, folks just need a little help to find these hidden gems of Washington wines.
Subscribe to Spitbucket