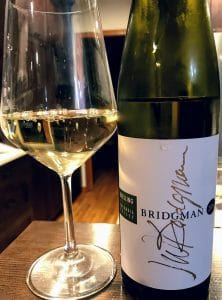 With more than 900 wineries producing over 17.5 million cases, the future of the Washington wine industry looks bright.
But as we wrap up Taste Washington Wine Month, it would be remiss to not take a look at a pivotal figure of the past who put Washington on the path to such a future–A Canadian ex-pat from Sunnyside, Washington named William B. (W.B.) Bridgman.
Early History and Irrigation Laws
Born in 1877, W.B. Bridgman grew up on the Niagara Peninsula in Ontario where his family grew Concord grapes. Ronald Irvine notes in The Wine Project that it was at Hamline University in St. Paul, Minnesota where Bridgman met Walter Hill, son of railroad tycoon James J. Hill. To help pay his way through law school, Bridgman became a tutor for the younger Hill and this arrangement led Bridgman to accompany Walter on a rail journey to the Pacific Northwest in 1899.
Intrigued at the opportunities in this new frontier, Bridgman found work at a local irrigation company and settled permanently in the Yakima Valley in the town of Sunnyside–about 175 miles southeast of Seattle. An expert in irrigation laws, Bridgman wrote many of the early statutes that outlined access and development of irrigation usage for agriculture in Eastern Washington–several of which are still on the books.
Due to the rain shadow effect of the Cascade Mountains, a significant portion of the central basin of Eastern Washington averages only around 8 inches of rain a year–most of it in winter months. To grow grapevines that often need 3 to 6 gallons of water a week during the heat of summer to avoid heat stress, the development and use of irrigation proved vital to the growth of viticulture in Washington.
Planting of Harrison Hill and Snipes Mountain
Settling into Sunnyside, Bridgman was elected mayor twice and in 1914 purchased land on two uplifts that are today separated by Interstate 82. Among the first vines he planted on Harrison Hill were Black Prince (Cinsault), Flame Tokay and Ribier. In 1917, he planted Muscat of Alexandria and Thompson Seedless on Snipes Mountain.
Eventually Bridgman expanded to plant Zinfandel, Alicante Bouschet, Carignan, Mataro (Mourvedre), Pinot noir, Semillon, Sauvignon blanc, Black Malvoisie and many other varieties.
In the early years, Bridgman mostly sold grapes to the Italian and Croatian immigrants in the towns of Cle Elum and Roslyn. But when Prohibition was enacted in 1919, Bridgman actually saw demand skyrocket as a "loophole" in the legislation permitted up to 200 gallons a year of self-made wine–essentially producing overnight what Ronald Irvine describes as "a nation of home-winemakers".
Upland Winery
Thomas Pinney notes in A History of Wine in America, Volume 2 that by the end of Prohibition, Bridgman had over 165 acres of vinifera planted. He decided to open a winery in 1934, hiring German winemaker Erich Steenborg–a graduate of the famous Geisenheim Institute who had worked for several wineries in the Mosel.
At Steenborg's urging and with his connections, Bridgman brought in around a half million cuttings of Riesling,
Sylvaner
, Gutedel (Chasselas),
Blauer Portugieser
and Müller-Thurgau vines. (Incidentally, Irvine notes that most of the Riesling cuttings that Upland brought in turned out to actually be Scheurebe.)
Named Upland Winery, Bridgman and Steenborg desired to make dry European-style table wines from vinifera grapes. However, post-Prohibition wine drinkers favored sweet dessert and fortified wines made from a mix of vinifera, hybrid and labrusca grape varieties so, to pay the bills, Upland also produced "ports" and "sherries" as well.
When Steenborg left in 1951, Bridgman hired Marie Christensen, who had been working as a lab assistant at Upland, to take over winemaking–making her the first woman in the state to head winemaking at a major winery.
Dealing with market forces that favored sweet and boozy wines eventually proved too much for Bridgman who sold the winery in 1960 to George Thomas. Thomas changed the name to Santa Rosa Winery and continued to operate it in some degree until 1972 when the winery was shuttered.
Today, the old buildings of Upland Winery and vineyards have been owned by the Newhouse family since 1968 with several of Bridgman's original 1917 Muscat of Alexandria vines still producing grapes. Paul Gregutt speculates in
Washington Wine
that these may be the oldest
Vitis vinifera
vines in the state.
In addition to selling grapes from Upland Vineyard to over 20 different wineries like Betz, DeLille, Pomum, K Vintners and Kerloo–the Newhouses produce wine under Todd Newhouse's Upland Estate and Steve Newhouse's Newhouse Family Vineyards made in partnership with Ron Bunnell.
Influence on the Washington Wine Industry
While Dr. Walter Clore is considered the "Father of Washington Wine", W. B. Bridgman can rightfully be called "the Grandfather".
After Prohibition, Bridgman and his Upland Winery were charter members of the Washington Wine Producers Association. Founded in 1935, Bridgman was the only charter member from the east side of the mountains as most of the winemaking during that period was done on the west side of the state by fellow charter members St. Charles Winery and Davis Winery on Stretch Island, Wright Winery in Everett, Werberger Winery on Harstine Island and Pommerelle Winery in Seattle.
In Goldendale, Bridgman advised Samuel Hill (who married Walter Hill's sister, Mary) to plant a mix of vinifera and American hybrids developed by Thomas Volney Munson in what is now Maryhill in the Columbia Gorge AVA.
Dr. Walter Clore
In 1940, Bridgman encouraged a young horticulturalist from Washington State University named Walter Clore to plant wine grape varieties at the Irrigation Experiment Station in Prosser. With Bridgman supplying many of the initial vine cuttings, this experimental vineyard would eventually become known as "The Wine Project" and include over 250 different varieties of vinifera, hybrid and American wine grape varieties.
Observing the success of several varieties in the vineyard, Clore authored academic papers extolling the viability of a wine industry in Washington State. Spurred on by the results of Dr. Clore's work, the Washington wine industry today is responsible for more than 27,000 jobs with an economic impact of nearly $15 billion dollars.
Associated Vintners
In 1954, W.B. Bridgman sold grapes to a group of University of Washington professors making wine under the name of Associated Vintners. Impressed by the wines made by Lloyd Woodburne, Bridgman gave the young academics advice and encouragement in their endeavors. In 1960, Bridgman met with the AV group at the Roosevelt Hotel in Seattle to discuss the future of the Washington wine industry.
That meeting would lead to a long term contract for grapes that eventually turned into Associated Vintners purchasing the 5.5 acre Harrison Hill Vineyard in 1962 from Bridgman. Uprooting most of the older plantings, AV replanted with Cabernet Sauvignon and other red grape varieties. While Associated Vintners is now known as Columbia Winery and owned by Gallo, those Cab plantings at Harrison Hill Vineyard (managed by the Newhouse family) are today
some of the oldest and most prized
plantings in the state.
Legacy Today
William B. Bridgman died in 1968 at the age of 90, leaving a last imprint on the Washington wine industry even as his name has faded into obscurity.
Beyond the irrigation laws he authored that allowed viticulture to prosper, the roots of Upland Vineyard and Harrison Hill Vineyard continue to produce world class wine grapes. The first Chardonnay in the state was planted here and cuttings from AV's replanting of Harrison Hill was used by Mike Sauer in the 1970s to plant Red Willow Vineyard.
To help keep the name of Bridgman alive, Washington Hills Winery (co-founded by Brian Carter) created a special line of wines in 1993 to honor the pioneer. When Precept Brands acquired Washington Hills in 2003, they kept the Bridgman Cellars label and today still produce wines that bare the name and legacy of W.B. Bridgman.
Subscribe to Spitbucket