Going to need more than 60 Seconds to geek out about the 2000 Krug Clos du Mesnil Blanc de Blancs Champagne from the Grand Cru village of Le Mesnil-sur-Oger.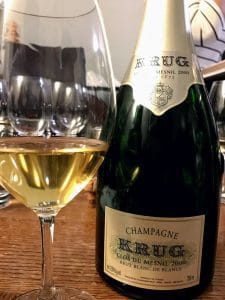 While Le Mesnil-sur-Oger is known for multiple outstanding wines like Salon, Pierre Peters' Les Chètillons, Jacques Selosses' Les Carelles, Pertois Moriset, Pierre Moncuit, Robert Moncuit, Gimonnet-Gonet, J. L. Vergnon and others, the Krug Clos du Mesnil stands apart as one of the most iconic bottles of Champagne. It also tends to be among the most expensive.
At the end of this post, I'll let you know if I think it's worth the money.
The Background
Krug was founded in 1843 by Johann-Joseph Krug. Tom Stevenson and Essi Avellan note in their Christie's World Encyclopedia of Champagne & Sparkling Wine that Krug got his start working for Champagne Jacquesson beginning in 1834.
He eventually married the sister-in-law of Adolphe Jacquesson and rose to second in command of the Champagne house. But instead of staying, he ventured out on his own so that he could put into practice his philosophy of winemaking.
In 1969, his descendants sold the house to the French spirits company Remy-Cointreau but still maintained a vested interest in operations. In 1999, Remy-Cointreau sold it to LVMH (Moët Hennessy Louis Vuitton) where it is today part of a vast portfolio of wines that includes Moët & Chandon, Dom Pérignon, Ruinart, Veuve Clicquot and Mercier as well as Clos des Lambrays, Château d'Yquem and Château Cheval Blanc.
However, members of the Krug family are still involved in production with 6th generation Olivier Krug being part of the tasting panel that selects the final blends of all the wines.
While Krug only owns around 50 acre of vines (with 70% of their grapes provided by long-term contract growers & co-operatives), the Champagne house has been steadily converting all their estate vineyards (like Clos du Mesnil) to organic viticulture.
Unique Winemaking
Krug is notable for conducting the primary fermentation of all its cuvees in 205 liter oak barrels. Tyson Stelzer notes in his Champagne Guide 2018-2019 that Krug buys all of their barrels new and then keeps them for up to 50 years. Sourced from Seguin Moreau and Taransaud, the average age of the house's 4000+ barrels is around 20 years.
When the new barrels arrive they are "seasoned" for 3 years with the juice from the second and third pressing. This wine never makes it into any Krug Champagne and is instead sold off for distillation. All together the wine spends only a few weeks in oak due to Krug's preference for warm and fast fermentations that produce richer flavors. The wine is then transferred to stainless steel tanks.
Oxidative Style
Like Alfred Gratien, Charles Heidsieck, Selosse, Bernard Bremont, Vilmart and Bollinger, Krug is known for its oxidative style of winemaking with less SO2 used. This style tends to emphasize a more broader palate with rounder flavors compared to the reductive winemaking style of houses like Salon, Taittinger, Laurent Perrier, Franck Bonville, Ruinart and Dom Perignon.
While common for many oxidative-style Champagnes, malolactic fermentation is never intentionally induced at Krug. However, it is also not actively suppressed either so it will happen in some lots. But, in general, Krug Champagnes tend to have high levels of malic acid and low pH which contributes to the wines' legendary longevity.
The non-vintage Grande Cuvée comprises the bulk of Krug's 650,000 bottle production with vintage Champagnes like the Clos du Mesnil, Clos du Ambonnay and Brut Vintage making up only around 10% of the house's Champagnes. This scarcity is a big reason for the Champagnes' high price tags.
The Production Team
Since 1998, the chef de cave of Krug has been Eric Lebel. He was previously the winemaker at De Venoge where he made the notable 1996 Louis XV Tête de Cuvée. His assistant and heir apparent, Julie Cavil, now personally oversees the production of Clos du Mesnil. She has been with Krug since 2006, joining after previously working harvests at Moët & Chandon.
The 2000 vintage of the Clos du Mesnil spent more than 11 years aging on its lees. Krug only produces the wine in exceptional vintages with around 10,000 to 12,000 bottles made. I could not find the exact dosage for this wine but the house style of Krug tends to be on the lower side with an average of 6 g/l. Another trademark of Krug is to use reserves of the same base wine as part of the finished Champagne's dosage.
The story of the 1999 Clos du Mesnil is an interesting one. Initially set for release after 12 years of aging on the lees, complete with labels printed, the production team of Krug decided at the last minute not to release the wine at all. Instead the wine was uncorked, the bottles destroyed, and the 1999 Clos du Mesnil blended away into other wines.
The Vineyard
Clos du Mesnil is a tiny 1.84 ha (4.55 acre) vineyard located in the heart of Le Mesnil-sur-Oger. A true clos, the vineyard is surrounded by walls that were erected in 1698. An inscription in the clos notes that vines were first planted around this time as well.
In the late 19th century, the plot was owned by Clos Tarin whose winemaker was Marcel Guillaume, brother-in-law to Eugène-Aimé Salon. Intrigued by the Champagne business, Salon joined his brother-in-law at Clos Tarin. As he worked the vines of Clos du Mesnil with Guillaume, Salon was inspired to start his own house.
Krug purchased the Clos du Mesnil vineyard in 1971 with the fruit originally destined for use in the Grande Cuvée. The quality of the 1979 vintage inspired the house to do a dedicated bottling that year which was released in 1986. Peter Liem notes in his book Champagne that Krug's foray into vineyard-designated Champagne was a game-charger for an industry that has historically focused on blending from multiple sites.
The vineyard is divided into 5 to 6 parcels. With varying vine ages and exposures, harvest usually takes place over multiple days with some vintages taking up to 10 days to complete. In the winery, the lots are further subdivided into around 19 different fermentation. The wine is constantly tasted during the aging process with some lots declassified into different bottlings of Krug or wines destined for other LVMH Champagnes.
Behind the Scenes at Clos du Mesnil
Krug's YouTube channel has several "behind the scenes" videos including this one published in 2014 about Clos du Mesnil. Featuring enologist Julie Cavil, you get a great feel for the vineyard and how much it is like a tiny garden in the middle of the village. It is believed that the site's urban location adds to the ripeness of Chardonnay in Clos du Mesnil with heat radiating off the nearby buildings onto the vines.
The short (less than 2 minutes) video below also gives some great insights about the 2000 vintage  as well. That year saw hail storms devastate Le Mesnil-sur-Oger though Clos du Mesnil was spared.
The Wine
High intensity nose. This wine smells like freshly harvested raw honeycomb. There is also a spicy ginger element along with a subtle smokiness. It reminds me of an aged botrytized wine like Sauternes. But not quite as sweet smelling. As the Champagne warmed up a bit in the glass, grilled pear notes emerged.
On the palate, the ginger and pear notes carry through and bring a citrus tang as well. The raw honeycomb is also present but takes on more of a baked element like honey shortbread cookies. Racy vibrant acidity makes this Champagne feel very youthful and contributes a streak of salty minerality. Very silky and creamy mousse. Long finish lingers on the smokey, spicy botrytized notes.
The Verdict — Is it worth the money?
Right now the 2000 Krug Clos du Mesnil averages around $994 a bottle with some vintages, like the 1996, topping over $1800.
I had the opportunity to try this bottle as part of the Archetype Tasting series conducted by Medium Plus. Founded by Seattle sommelier Nick Davis, this tasting group allows participants (usually 8 to 10 people) to split the cost of an iconic wine. For this event, attendees contributed $100 each towards the cost of the Krug Clos du Mesnil as well as bringing another fun bottle of Champagne to analyze in an educational setting.
The event was well worth the $100 ($200 with my wife attending) and the add-on bottles to taste the 2000 Krug Clos du Mesnil along with the 2006 Taittinger Comtes de Champagne, 2006 Perrier Jouet Belle Epoque, Frederic Savart 'l'Ouverture', Suenen Oiry Grand Cru Blanc de Blancs, Paul Bara and others Champagnes featured.
But would I spend around a $1000 to get another bottle or splurge for an older vintage?
Nope.
Now I will confess that I was recovering from a cold this evening so my tasting impressions were probably a little skewed. But even at less than 100% I found myself much more wowed by how delicious the 2006 Taittinger Comtes (WS Ave $136) was. While the 2004 Comtes Rosé I had earlier this year was a tad disappointing, this 2006 Blanc de Blancs from Taittinger was lively and intense with a long minerally finish that I can still taste.
Sure, I will put the 2000 Krug Clos du Mesnil ahead of it in terms of depth and complexity but I wouldn't put it nearly 10x ahead. Likewise, the Savart L'Ouverture (WS Ave $47) was an absolutely scrumptious bottle just oozing with character.
I'll be honest, when we had an opportunity to revisit the Champagnes later in the night, including more of the Clos du Mesnil, I let my wife (who really loved the Clos) get my extra pour so I could enjoy more of the Taittinger and Savart. Since I was the one driving home, I had to prioritize what wines I was going to savor and those were my picks.
If the Krug Clos du Mesnil was more in the $300-400 range, I could see myself wanting to give it another shot. It's not a disappointing wine at all. But it's hard to justify the cost especially when there are other wines even in the Krug stable (like their super solid Grande Cuvée at around $200) that can give me just as much pleasure for a better price.
Subscribe to Spitbucket