A few quick thoughts on the 2004 Taittinger Champagne Comtes de Champagne Rosé Brut.
The Geekery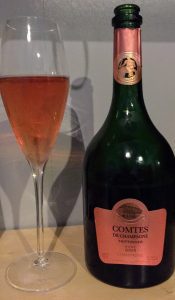 Tom Stevenson and Essi Avellan note in Christie's World Encyclopedia of Champagne & Sparkling Wine that the historical Comtes (or Counts) of Champagne date back to the mid-9th century but the title of Count of Champagne did not appear in records till 1077.
Among the notable Comtes was the 12th century Theobald II who was one of most powerful people in France and a rival to the king. When his descendant Joan of Navarre married Philip IV, the titled was united with the crown under their son Louis X.
The Taittinger line is named after Joan's grandfather, Theobald IV, a famous poet that moved the court from Troyes to Reims. The Taittingers purchased his 13th century home shortly after World War I and named their prestige cuvee after the Comte in 1952. The first Comtes de Champagne Rosé was released in 1966.
The 2004 Comtes Rosé is sourced 100% from Grand Cru vineyards (Ambonnay, Avize, Mesnil, Mailly, Oger, Verzenazy and Verzy) and is a blend of 70% Pinot noir (including 12-15% red wine from Bouzy) and 30% Chardonnay. It was aged for 5 years on its lees before being bottled with a dosage of 9 g/l. Around 25 cases was imported to the United States.
The Wine
Medium-plus intensity nose. Very red fruit dominant–raspberry, strawberry and even pomegranate. There is also quite a bit of Asian spices as well.
On the palate, the Champagne is very rich and full-bodied. The red fruits and spice carry through and bring some toasty notes along. The finish is very short which may hint that this wine is still too young.
The Verdict
Around $220-250, this rosé has a lot of weight and presence. It's almost calling to be paired with a steak.
There is a lot of complexity that makes it well worth the price. However, the short finish is a bit disappointing. If you're going to splurge, probably should wait a couple more years.
Subscribe to Spitbucket