A few quick thoughts on the 2015 Les Faverelles Le nez de Muse Bourgogne Vézelay.
The Geekery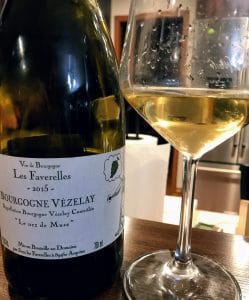 Les Faverelles was founded in 2001 by Patrick Bringer and Isabelle Georgelin in the village of Asquins tucked in the foothills of the Morvan massif in northwest Burgundy.
Part of the Yonne department, south of Chablis and the Sauvignon blanc AOC of Saint-Bris, Vézelay is a Chardonnay-only AOC that was recently promoted to village-level classification (like Meursault or Chassagne-Montrachet) in 2017. Red wines produced in the region qualify for only the Bourgogne AOC.
The husband and wife team of Les Faverelles farm all 13.5 acres of Pinot noir, Chardonnay and César organically with some plots biodynamic. The wines see little to no sulfur additions and are bottled unfined and unfiltered. The entire estate produces around 20,000 bottles a year.
The Le nez de Muse Bourgogne Vézelay is 100% Chardonnay from vines that are over 18 years of age.  The wine saw no oak during production, being fermented and aged in stainless steel.
The Wine
Medium intensity. A mix of citrus and apple notes with some subtle floral notes like lillies. Very fresh and clean smelling.
On the palate, the citrus notes carry through. The wine tastes like you plucked a lemon off the tree and sliced into it. Noticeably high acidity but the medium weight of the fruit balances it surprisingly well. Moderate finish brings a suggestion of some stoney minerality but fades fairly quickly.
The Verdict
This was my first time trying a Vézelay and it was certainly pleasant enough. I paired it with seared scallops which, given the racy acidity and citrus notes, was probably the best approach.
The pricing is on par with Petit Chablis at around $16-20. While there are some similarities, I do think you're paying a premium. Especially when you consider the value of an over-performing Petit Chablis like the Dauvissat from my review of the SommSelect Blind Six, it's hard to say this wine is a compelling value worth hunting for.
Subscribe to Spitbucket