It's English Wine Week, so I'm sharing a few quick thoughts on the non-vintage Digby Fine English Brut sparkling wine.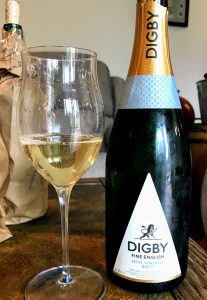 The Geekery
American Trevor Clough and Englishman Jason Humphries founded Digby Fine English in 2013 as a negociant house in the style of many Champagne firms. Purchasing wine (and later fruit) from several sources, they released a 2009 vintage brut and rosé that year.
Clough and Humphries named their venture in honor of the 17th-century philosopher and scientist Sir Kenelm Digby.  Also an inventor, Digby pioneered several new techniques in glassmaking–essentially inventing the modern wine bottle.
The wines are made at Wiston Estate Winery by Irish winemaker Dermot Sugrue. Vineyards for the NV Brut were sourced from the North and South Downs region of Kent as well as Sussex and Hampshire.
The non-vintage Brut is 40% Pinot noir, 35% Chardonnay and 25% Pinot Meunier with the Chardonnay seeing an additional 18 months of lees contact before being used in the blend. The finished wine was aged 24 months in the bottle and then disgorged with a 12 g/l dosage. Around 25,000 bottles were produced.
The Wine
Medium intensity nose. Appley with some toasted tart pastry.
On the palate, the apple pastry notes carry through with a little subtle earthiness as well. Lively mousse and acidity complement the weighty feel of the wine. However, the flavors and the finish quickly fade.
The Verdict
In general, I'm a huge fan of English sparklers and have had several that go toe-to-toe with quality Champagne. Chapel Down is probably my favorite. But they haven't been the easiest to find in the US and I will admit that this one (which I got at a Seattle wine shop for $50 USD) was rather underwhelming.
In the UK, this is direct from the producer at £30.99 (about $40 USD) with some merchants selling it closer to $30 USD. That is a much better price point for this quality level. Without a doubt, US consumers are paying a premium for the novelty.
Subscribe to Spitbucket