A few quick thoughts on the Arthur Metz Cuvee Prestige Cremant d'Alsace.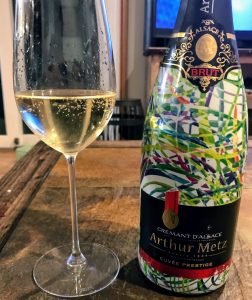 The Geekery
Founded in Marlenheim in 1904, Arthur Metz was an early pioneer of sparkling Cremant d'Alsace. However, he wasn't the first with Julien Dopff of Dopff au Moulin likely beating Metz by a couple of years after being inspired by the wines of Champagne while visiting the 1900 Paris Universal Exposition.
However, there is some evidence that Alsatian winemakers were making sparkling wines in the traditional method as early as the late 19th century. The official AOC for Cremant d'Alsace would later be established on August 24, 1976.
Today the house of Arthur Metz includes three properties (Domaine de la Ville de Colmar, Clos St-Jacques and Hospices de Colmar) as well as two pressing rooms–Scharrachbergheim in northern Alsace and Epfig in central Alsace. The estate also works with more than 400 small growers giving the winery access to over a 1000 hectares of grapes.
The Cuvee Prestige is a blend of Pinot blanc, Pinot noir and Riesling grapes grown from both estate and contract fruit. Some releases may also have Auxerrois blended in. Other cremants in the Metz line-up will sometimes feature Pinot gris and Chardonnay. The wine was aged 12 months on the lees before being bottled with a brut level dosage.
The Wine
Medium-plus intensity nose. Lots of citrus and apple tree fruit notes. There is also some white flowers.
On the palate, the citrus becomes more defined as Meyer lemon, but the apple notes are the most prominent. The wine has a lively mousse that is silky without being creamy. My best guess of the dosage is in the 0.7-0.9 g/l range. The long finish adds freshness to the apples like sliced Granny Smiths.
The Verdict
At $16-20, this is a very solid sparkling Cremant that's on the crisp and light side of the equation. Excellent warm weather bubbles that are refreshing without being weighty. Definitely a bottle I'll be getting again.
Subscribe to Spitbucket