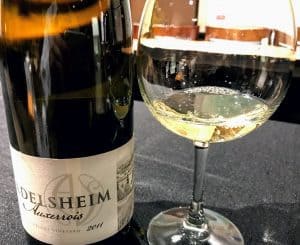 Going to need more than 60 seconds to geek out with the 2011 Adelsheim Auxerrois.
The Background
Adelsheim Vineyards started in 1971 when David & Ginny Adelsheim purchased land in what is now the Chehalem Mountains AVA. The next year they established their Quarter Mile Lane vineyard, becoming the first to plant in this northern part of the Willamette Valley.
In 1994, Jack and Lynn Loacker joined the Adelsheims as co-owners and began planting their Ribbon Springs Vineyards in the Ribbon Ridge sub-AVA of the Chehalem Mountains. Among the varieties planted in this vineyard are Pinot noir, Pinot gris and a little over 2 acres of the obscure French variety Auxerrois.
On all the estate vineyards, Adelsheim practices sustainable viticulture and are certified Salmon Safe and LIVE.
It was announced in December 2017 that Adelsheim's winemaker David Paige was stepping down with associate winemaker Gina Hennen being promoted to replace him. This makes Hennen only the third head winemaker in Adelsheim's 40+ year history with Paige following founder David Adelsheim in the position in 2001. She joins vineyard manager Kelli Gregory as one of the few all female winemaker/vineyard manager combos at a major winery.
The Grape
According to Jancis Robinson's
Wine Grapes
, Auxerrois is the second most widely planted white grape variety in Alsace after Riesling.
While it is not permitted in Alsatian Grand Cru or the dessert wine styles of Vendange Tardive or Sélection de Grains Nobles, it is often used in the production of Crémant d'Alsace and Edelzwicker as well as wines labeled as Klevener and Pinot blanc. In fact, it is a quirk of Alsatian wine laws that a wine can be 100% Auxerrois but labeled as Pinot blanc.
The close association with Auxerrois and Pinot blanc is due to the similarities in wine styles produce by both. Typically low in acid but with a rich mouthfeel that has weight and texture. DNA analysis has shown that Auxerrois is a progeny of Pinot and Gouais blanc–making it a sibling of Chardonnay, Aligote, Melon de Bourgogne and Gamay. It is also a half-sibling of Blaufränkisch and Colombard.
Outside of Alsace, Auxerrois can be found in the French Moselle, Côtes de Toul, Luxembourg, England and the Netherlands. The grape can also be found in Germany in the Baden, Nahe, Palatinate and Rheinhessen.
Outside of Europe, Canada has a few plantings of Auxerrois in Ontario as well as the Okanagan Valley and Vancouver Island wine producing regions of British Columbia. The grape was unexpectedly discovered in South Africa in the 1980s when vines that were thought to be Chardonnay turned out to actually be Auxerrois.
This "Chardonnay Scandal" in South African wine history began in the 1970s when growers responding to the rush to plant more Chardonnay tried to get around quarantines and bureaucratic paperwork by turning to smugglers for their vine materials. In addition to getting Auxerrois vines instead of Chardonnay, the smugglers also inadvertently brought in Chenel (a crossing of Chenin blanc and Ugni blanc).
In the United States, beyond the Willamette Valley, there are small plantings of Auxerrois in the Lake Erie region of Ohio and the Leelanau Peninsula AVA of Michigan which Appellation America proclaims is the "best home" for the grape. Here the Bel Lago Vineyards & Winery stakes claim to producing the first American Auxerrois in 1998 with Adelsheim's first bottling coming in 2004.
The Wine
The 2011 Adelsheim Auxerrois has medium plus intensity on the nose which is very surprising for a 6 year old white wine. The aromas are a mix of spiced tree fruit (mostly pear) with some floral herbal elements like bay laurel and tarragon.
The palate has lively medium plus acidity which is, again, surprising for its age and with Auxerrois typically being considered a "low acid" variety.
This fresh acidity brings out citrus notes but for the most part the spiced pear and herbal notes carry through. The medium body has the texture of an unoaked Pinot blanc and Chardonnay which would give me some trouble in a blind tasting. Ultimately it is the floral herbal notes that distinguishes this as a different grape variety. The wine's age finally catches up to it with the finish that is very short and quickly fades.
Still this is an impressive wine that has held up much better than how many domestic white wines (outside of Riesling) usually do. For the most part I try to open up my domestic whites within 3 years of vintage date and start getting really nervous when they get close to 5 years. But this Adelsheim Auxerrois still has a good story to tell and I would be quite interested in trying a newer release.
At around $20-25, it does command a premium for an obscure white variety but I think that premium is worth it for a very character driven wine that clearly has aging potential.
Subscribe to Spitbucket