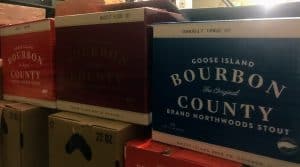 While the trend of aging wine in whiskey barrels is still relatively nascent, the technique of barrel aging is firmly entrenched in the world of beer. Since 1992 (or 1995, depending on the source), Goose Island in Chicago has been releasing annually their highly anticipated Bourbon County series of beers aged in whiskey barrels.
After a disastrous 2015 release that saw several beers infected with lactobacillus acetotolerans and a truncated 2016 release that had at least two offerings pulled back because they weren't, in the eyes of brewmaster Jared Jankoski, "where I wanted them to be", in 2017 Goose Island released a staggering 7 offerings in their Bourbon County series.
Released the day after Thanksgiving, these highly allocated beers quickly flew off the shelves at many accounts. I was able to snag a couple–the original Bourbon County Stout, the Barleywine and the Northwoods Blueberry Almond Stout.
2017 Goose Island Bourbon County Stout
I will preface my reviews of these with the same confession I made in my review of my top beer of 2017–the Firestone Walker Anniversary Ale–I'm not really a stout fan. I love big malty Scotch Ales, Barleywines, German Dopplebocks and Belgian Dubbel and Quads but most stouts and porters come across as too bitter and in-your-face coffee for my taste. Perhaps it is the coffee notes that turn me off the most. Despite living in the coffee-mecca of Seattle, I buy hot chocolate when I go to Starbucks.
So take these reviews with a grain of salt and keep the subjectivity of my personal taste in mind.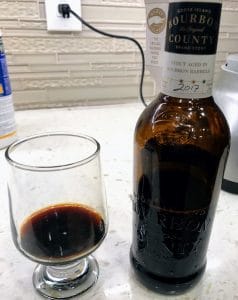 That said, I actually liked the 2017 Goose Island Bourbon County Stout namely because it wasn't very "stouty". Right off the bat you could get some oak spice, smoke and maple vanilla notes on the nose. The mouthfeel was very smooth and creamy without the bitter edge I associate with a lot of stouts. While I got some chocolate latte notes, the amount of coffee flavors itself was rather muted.
The beer was aged in a combination of 5-7 year old Bourbon barrels from the Heaven Hill distillery–makers of such well-known Bourbons as Evan Williams and Elijah Craig as well as Bernheim Straight Wheat and Rittenhouse Rye.
While I don't feel that the Bourbon County Stout is necessarily worth, for me, $10-13 for a 16.9 oz bottle, it was an interesting brew that I'm glad I tried.
2017 Goose Island Bourbon County Barleywine
Obviously with my prejudices and affinity for Barleywines noted above, this was the brew that excited me the most to try. Some of my favorite Barleywines have been AleSmith Old Numbskull, Firestone Walker Helldorado and Dogfish Head's Olde School. While technically not a Barleywine, I also had fun with the 28% ABV Sam Adams Utopias.
The Bourbon County Barleywine clocks in at 14% ABV and was aged exclusively in second-use Bourbon barrels.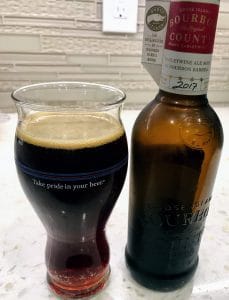 The nose was exceptionally sweet, very vanilla and port-soaked raisins. It reminded me of Black Raven's Old Birdbrain which is just a bit too sweet for my taste. The palate had a little more balance with the weight of the high ABV and more of the oak influence from the barrel coming out. I can appreciate how smooth and silky the mouthfeel is which seems to be a consistent trait among the Bourbon County series.
Again, a tasty brew but at $15-17 for a 16.9 oz, it still doesn't wow me enough to want to get another bottle (not that I could get one easily). It's always hard to ride that fine edge between malt, weight and sweetness with Barleywines (like it is with Quads) and everyone's threshold for sweet is different. This one is just a tad too sweet to make it a "must find" for me. If it was around $10-12, and didn't involve calling around stores to find, I would be far more excited about it.
2017 Goose Island Bourbon County Northwoods
A Blueberry Almond Stout with 13.2% ABV just screamed weird so I had to try it. And it was pretty damn weird.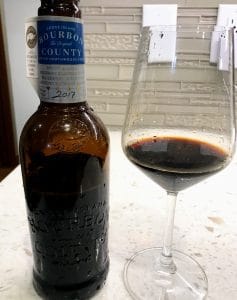 Brewed with fresh blueberry juice and almond extract, this beer smelled like chocolate covered blueberries. I didn't immediately get the almond note on the nose–much more vanilla from the barrel. It smelled like a dessert which was priming me to expect something a bit sweet.
And lord was it sweet. It didn't have the "coffee stouty" notes I dislike so that was a plus but it still didn't jive with me. Instead of rich dark chocolate, it was more sweeter milk chocolate and instead of fresh blueberries, this beer had me thinking of Welch's jam instead. The almond finally came around towards the finish but this, again, veered more towards the sweeter marzipan side of almond instead of a nutty, roasted almond note I was hoping for.
Needless to say, this was my least favorite of the bunch. It's definitely a pass at $15-17 but I'm not sure I would be tempted even if it was under $10. If I'm craving sweet, I feel like there are tons of better made Quads like Boulevard Bourbon Barrel that comes in a 4pk of 12 oz for around $13-15.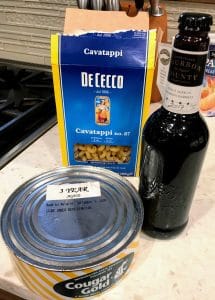 They do make damn good Mac & Cheese
While the Barleywine and Northwoods were limited 1 per customer, there was no limit on the regular Bourbon County Stout so I bought a couple of them. Even though I liked the stout, tasting it didn't excite me enough to look forward to opening up the other bottle I had.
But my work was doing a Mac & Cheese contest and I struck upon the idea of going hard core to win. Taking a riff on this recipe for Guinness Mac & Cheese, I decided to use the Bourbon County Stout with some aged Cougar Gold. Boy did I hit pay dirt!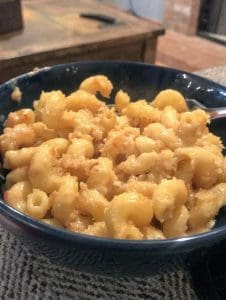 The lack of "coffee stouty" notes really was a plus here with subtle smokiness in the Bourbon County playing off the umami goodness and tang of the aged cheddar exceptionally well. This was by far the most expensive mac & cheese I ever made but it was definitely one of the best things that I've ever tasted.
You better believe that I won the mac & cheese contest.
And for that, it may be worth grabbing a bottle of the 2018 release.
Cheers!
Subscribe to Spitbucket