Some quick thoughts on the 2015 Albino Armani Colle Ara Pinot grigio.
The Geekery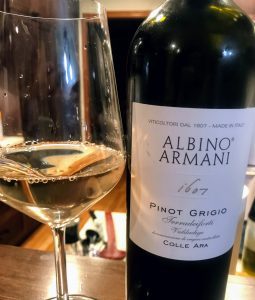 Albino Armani is a family owned winery in the Alto Adige region with a long history dating back to 1607. The current steward, also named Albino Armani, was interviewed by Elisabetta Tosi of Palate Press in 2016, and has earned the reputation of being an adventurer both in the vineyards and out.
The Colle Ara Pinot grigio comes from the calcareous soil of terraced vineyards located within the Lessinia Natural Park in the province of Verona. The wine is unique among Pinot grigios in that the pink skin grape spends 3 days cold soaking before pressing and fermentation.
The Wine
High intensity aromatics that is a mix of tropical and citrus fruits. Very ripe melon, papaya and mangosteen with some citrus and apple blossom floral notes as well. The color is richer than typical Pinot grigio, almost like an oaky Chardonnay, but there isn't the slightest hint of oak on the nose.
On the palate there is a lot of texture and weight. Here is where I feel the phenolics from skin contact but there isn't any bitterness or astringency. If anything the weight deepens the sense of ripeness with the fruit. Once again, this Pinot grigio feels very Chardonnay-like even though the flavors are clearly that of an unoaked Pinot grigio.
The Verdict
There is a lot of depth and complexity going on with this Pinot grigio. At around $17-20, it is a bit pricier than your typical Pinot grigio but I think it is well worth it. This is clearly a top-shelf Pinot grigio and when you compare it to the most well-known "luxury Pinot grigio" on the US market, Santa Margherita, there is no contest.
While Santa Margherita is the standard bearer of the "light-bodied and watery patio-sippers" stereotype of Italian Pinot grigio, the Albino Armani Colle Ara is a Pinot grigio for red wine drinkers and anyone who craves depths and substance with their whites.
Subscribe to Spitbucket