A few quick thoughts on the La Vostra Prosecco from the Friuli-Venezia Giulia.
The Geekery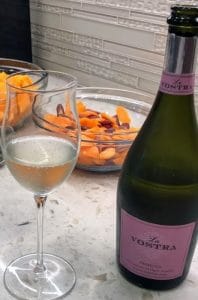 La Vostra is made by Cantina Vini La Delizia, a co-operative of growers based in the Friuli region of northeast Italy.
Founded in 1931, the co-operative began with 70 growers but has grown over the years to include 500 growers farming 2000 ha (4942 acres) of vines mostly in the Friuli Grave and Prosecco DOCs. Wine is produced under both the La Delizia name and other associated labels like Naonis, Sass Ter, Vigneti and La Vostra.
The co-op has been producing sparkling wine since 1981. More than 65% of the winery's production is exported with the United States, Western Europe, Canada, Russia, China and the Baltic region being the largest markets.
Technical details about the La Vostra Prosecco are scarce. Much of the Friuli-Venezia Giulia falls within the large Prosecco DOC. Like DOCG Prosecco from Conegliano and Valdobbiadene, this wine must be at least 85% Glera with up to 15% of other grapes such as Pinot grigio, Pinot bianco, Bianchetta, Perera, Verdiso and Chardonnay permitted.
Considering that La Delizia makes several bottlings of Pinot grigio and Chardonnay (including a frizzante Chardonnay), it is possible that some of these other grapes are utilized.
The Wine
Medium-plus intensity nose. Very floral and citrus driven with also a little bit of apple blossoms.
On the palate, more apple than citrus notes carry through. There is a tad of sweetness so this is probably an extra-dry style like LaMarca and Ruffino. Well balanced by the smooth bubbles which don't stray into the coarse, aggressive frothiness that can plague many Proseccos. Lively medium-plus acidity also helps with the balance and contributes to a feather light body. Moderate length finish brings back the floral notes.
The Verdict
At $7-10, this is a pretty solid, easy drinking Prosecco. It certainly won't wow you with complexity. However, it will do the trick for a simple sipper or something to mix with cocktails and mimosas.
Subscribe to Spitbucket