A few quick thoughts on Diageo's Game of Thrones Limited Edition Cardhu representing the House Targaryen.
The Geekery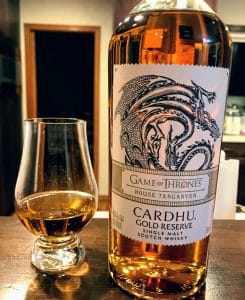 The House Targaryen Cardhu is the latest release in Diageo's Game of Throne Scotches. The first release was the Johnnie Walker "White Walker" that came out this past October.
In my review here on the White Walker, I talk about this series as well as some geekery about Cardhu.
The Whiskey
High intensity nose. It smells like freshly baked apple pie with cinnamon and nutmeg. More toasted pastry than smoke. Around the edges are some white floral notes like lillies.
On the palate, those baking notes come through with the spice and vanilla complimenting the malty weight. Noticeably fruity, it is not as sweet on the palate as the nose would've suggested. Creamy mouthfeel is well balanced with no back-end heat. It actually feels heavier in the mouth than what you would expect with its low 40% ABV. No peat. Long finish ends on the baked apple notes with a little bit of lingering salinity.
The Verdict
Regular readers know that I'm not a big fan of marketing gimmicks. I accept them as a reality of the beverage industry and do my best to explore them with an open mind–whether they be coffee-infused wine, bourbon barrel-aged beers and wine, IPA cask whiskeys, sparkling mango and sangria crazes, etc.
But, gimmicks aside, this GoT Cardhu is actually a really good whiskey that is worth buying on its own merit.
At $40-50, it is a little less than the Cardhu 12 year that's usually around $53-60. While I would still give the nod of more complexity towards the 12 yr, this Scotch isn't that far off.
Like its big brother, the GoT Cardhu carries the banner of beautiful floral and fruit notes. It also expertly walks a tight rope of being fruity but not sweet. It's an immensely drinkable dram that I will certainly be getting another bottle of.
Subscribe to Spitbucket