I like whiskey. I like Game of Thrones. I sometimes like Johnnie Walker. That was enough for me to decide to give the Johnnie Walker "White Walker" Limited Edition Scotch a try.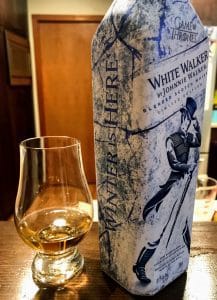 My experience with Johnnie Walker's Scotches are very hit or miss. Often when I'm cruising and can't stomach the exorbitant prices for sub-par wines, I turn to whiskies which seem to be a better value on the ship. Many times (and with some good tips), the bartenders often indulge my geekiness. This has given me several opportunities to try all the different Johnnie Walkers side-by-side.
After one such flight I composed a little ditty of my impressions. With my deepest apologies to Lord Byron.
Black and Blue are overrated
Though the Green is far less jaded.
While Gold and Platinum offer much,
Of the Red should never touch.
Let's see how much I need to drink before I can think of something to rhyme with White Walker.
The Background
Unlike the highly patronizing and ridiculous Jane Walker Limited Release, the White Walker is a completely new blended Scotch composed primarily of malts from Cardhu and Clynelish. Unusual for whiskeys, this blend is designed to be served cold from the freezer. While serving with a ice sphere will chill it down, the most ideal temperature for many whiskeys are in the 60-65 °F range.
Launched in October, the cheeky packaging features the Johnnie Walker logo re-imagined as the Night King. It also notes that the whiskey was distilled, blended & bottled "north of the wall". Which I guess is true if we're talking about Hadrian's.
The White Walker bottle also proudly touts that this whiskey is "chilled filtered". While often looked down upon by Scotch aficionados, it makes sense why Johnnie Walker would do this apart from just marketing gimmicks. Serving this whiskey ice cold from the freezer would undoubtedly leave it looking very cloudy which confuses and turns off a lot of consumers. Much like tartrates with wine, aesthetics often trump education.
More GOT Whiskies on the Way
Apparently Diageo, the parent company of Johnnie Walker, will also be releasing a whole line-up of single malts with different bottlings representing the houses of Westeros.
Singleton of Glendullan Select (House Tully)
Dalwhinnie Winter's Frost (House Stark)
Cardhu Gold Reserve (House Targaryen) UPDATE: Really good Scotch! Click the link for my review of it.
Lagavulin 9 Year Old (House Lannister)
Oban Bay Reserve (The Night's Watch)
Talisker Select Reserve (House Greyjoy)
Royal Lochnagar 12 Year Old (House Baratheon)
Clynelish Reserve (House Tyrell)
Cardhu
Cardhu has long been one of my favorite Scotches with a great history of badass women. Founded in 1810 by John Cumming whose wife, Helen, became something of an expert in "distracting" the excisemen who visited the farmhouse to collect taxes. When John died in 1846, he was succeeded by his son Lewis with Helen helping to run the distillery. When Lewis died in 1872, his widow Elizabeth ran the distillery until selling it to John Walker & Sons in 1893.
During Elizabeth's time, the distillery was completely rebuilt with new stills and warehouse. According to Charles MacLean's Whiskeypedia, Cumming's Cardhu was one of the few Speyside malts not named "Glenlivet" that was sold as a single malt in London. She also played a significant role in helping William Grant start Glenfiddich.
Clynelish
I haven't had much experience with single malt bottlings of Clynelish. My one tasting of the 14 year was a bit too grassy for my personal style.
While distilling has been taking place in the parish of Clyne since 1819, the modern incarnation of Clynelish is relatively young and short. Built in 1967, the distillery became part of the Distillers Company Ltd in 1969. After recently losing Coal Ila, DCL turned Clynelish/Brora into a heavily-peated "Islay-style" malt until 1977. In 1975, a new distillery was built and renamed Brora but whiskey under the Clynelish label was still being produced.
Dave Broom notes in The World Atlas of Whisky that Brora/Clynelish had a bit of a post-peat renaissance until 1983. Today it is part of the Diageo stable which produces whiskies under both the Clynelish and Brora labels.
The Scotch is known for its waxy, oily character which often has hints of smoke, pepper and grass.
The Whiskey (Served Cold)
Taking it from the freezer, the whiskey is surprisingly fruity and floral on the nose. Usually the colder something is, the more muted the aromatics are. Medium-plus intensity nose with a mix of cherry and peaches. Not quite sweet smelling like in a pastry but more fresh like making a fruit salad. The Cardhu pedigree comes out with the white floral notes. There is also a little woodsy vanilla but no sense of smoke at all.
On the palate, the whiskey is lively and very easy to drink. The cherries are still surprisingly vibrant but I think the peach notes become more apple. Much to my surprise this isn't a sweet whiskey at all but is rather well balance and crisp. No heat whatsoever but that is not surprising with its low 41.7% ABV. Moderate length finish lingers a little on some of the oak spice but is mostly dominated by the fruit.
Whiskey Neat at Normal Temperatures
The nose changes dramatically when warm. Instead of being fresh, the fruit smells more dried and all the floral notes are gone. There is much more caramel and even a slight diesel smell which is vaguely reminiscent of Johnnie Walker Red.
On the palate, some of the cherry notes carry through but is very muted. The lightness of the whiskey's low ABV really stands out more as well. While not quite "watery", it does feel exceptionally thin on the mouth. Still no back-end heat but the short finish has a slight bitter phenolic quality. Again, this reminds me of Red in a not so flattering way.
The Verdict
On the bottle of White Walker it says "This whisky develops in complexity as it warms to room temperature." That's bullshit.
Served cold, this whiskey is definitely a curiosity that's fun to have at least once. It's easy drinking and perfectly fine to share with friends while watching Game of Thrones. It's not quite worth its $35-40 price tag but that's not an outrageous premium either. It's far more interesting than Johnnie Walker Black at $30-35.
But warm? This is nothing more than an overpriced mixer.
Subscribe to Spitbucket