Some quick thoughts on the Glenfiddich 18 Single Malt Scotch.
The Geekery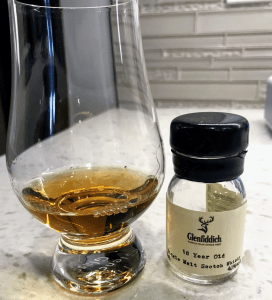 Founded in 1886 by William Grant, then manager of Mortlach, with distilling equipment purchased from Elizabeth Cumming of Cardhu, Glenfiddich made history in 1963 with the first commercial release of a single malt bottling. Prior to this, Scotch was almost universally sold as blended whiskeys.
Still owned by the Grant family, the fifth generation of William Grant & Sons manages an extensive portfolio that, along with Glenfiddich, includes–Balvenie, Grangestone, Tullamore D.E.W., Grant's, Drambuie, Monkey Shoulder, Sailor Jerry's, Hendricks, Milagro, Reyka, Solerno, Clan MacGregor and Flor de Caña.
Glenfiddich uses water sourced from Robbie Dubh springs (as does its sister distilleries of Balvenie and Grangestone) outside of Dufftown in the Speyside region with the whiskeys aged in a mix of ex-bourbon (majority) and sherry casks.
The Whiskey
Lots of caramel toffee on the nose. Little butterscotch too. Makes me think of a Werther's Original. Some star anise spice and apple peel but the sweeter notes dominant.
On the palate the mouthfeel is very smooth with a slight oiliness—but very slight. All the sweet notes on the palate carry through but the spice apple comes more out. There is a bit more back-end heat than what I would typically expect from only 40% ABV. Rather than neat, this whiskey could use a few rocks for balance.
The Verdict
Definitely a whiskey on the light-bodied and sweet side. A "breakfast Scotch".
Overall it is pleasant and quaint but nothing really wows me to make the $110+ price tag worth it. Especially when I can get much of the same pleasant quaintness from the Glenfiddich 15 year for around $50 and a bit more complexity with Glenfiddich's sister distileries' Balvenie 17 year Double Wood ($160) and Grangestone 18 ($70).
Subscribe to Spitbucket