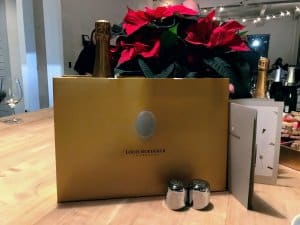 On November 29th, Esquin Wine Merchants in Seattle hosted a tasting featuring the Champagnes of Louis Roederer. The event featured 7 wines that was highlighted by a sampling of the newly released 2009 Cristal and curated by Roederer brand ambassador Cynthia Challacombe and Esquin's Arnie Millan.
It was a wonderful evening of trying some truly outstanding Champagnes. I left the event not only with several bottles but also with two important lessons learned.
1.) The Roederer vintage Brut and Blanc de Blancs are some of the best bang for the bucks not only in the Roederer portfolio but also among all premium Champagne.
2.) Mamas, don't let your babies grow up to open their Cristal too soon.
The Geekery
There is a big dichotomy in the world of Champagne between the huge mega-corp producers like Louis Vuitton Moët Hennessy (LVMH), which produces tens of millions of cases across its various brands like Dom Perignon, Veuve Clicquot, Moët and Chandon, Krug, Ruinart and Mercier, and smaller growers and producers.
While the wines of huge négociant houses like those of the LVMH stable aren't bad, some, like Ruinart, in particular, are outstanding, it is a fair argument that sometimes the produce of these Goliaths can lack some of the character, heart and excitement of what you can find in the Champagnes of smaller growers. I say sometimes because magnificent wines can be found in many different incarnations–including in the cloths of Goliaths–but there is a reason why the marketing of the big mega-corps is more about the image and the brand than it is about the story of the vineyards and the people behind it.
As a sommelier friend of mine once aptly noted, "You buy the big houses for the name, you buy the growers for the wine."
That said, while the house of Louis Roederer and its MTV-ready prestige cuvee of Cristal is often grouped as one of the big Goliaths, I can't help but admire the twinkle of a "grower's soul" that peaks out underneath the glitzy exterior of these wines.
Founded in 1733, the house is still family owned with Frédéric Rouzaud, great-grandson of Camille Olry-Roederer, being the 7th generation of the Roederer-Rouzaud family to run the estate. While officially a négociant, Louis Roederer owns a substantial amount of vineyards including nearly 600 acres of
Grand Cru and Premier Cru vineyards
that supply the vast majority of their needs. I was very pleasantly surprised to hear from brand ambassador Cynthia Challacombe that the only Champagne that Roederer uses purchased grapes for are for its entry-level non-vintage Brut Premier and even that is 70% estate fruit.
While Roederer does make around 3 million bottles of Champagne a year (or 250,000 cases), that doesn't even crack the top 10 in production/sales in the Champagne region–lagging behind not only Pommery and Piper-Heidsieck but also far behind the 48 million bottles combined produced by the LVMH mega-Goliaths of Moët and Chandon and Veuve Clicquot.
This relatively small scale of production and majority control of grapes allows Roederer to be more hands on throughout the winemaking process from grape to bottle. This can also be seen in the house's push towards converting eventually all of its vineyards to biodynamic viticulture. By 2012, they were Champagne's largest biodynamic grower with around 160 acres (65 ha) being farmed under the system. Ms. Challacombe noted that the estate is now 41% biodynamic (around 246 acres) with the rest still being farmed organically and sustainably.
The Wines
Prices listed were the event pricing for the evening at Esquin.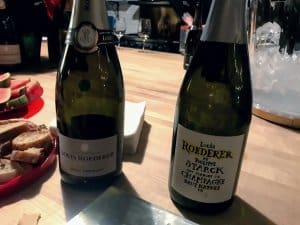 NV Brut Premier- ($49) A blend of 40% Chardonnay, 40% Pinot noir and 20% Pinot Meunier that is aged 3 years on the lees and bottled with 9-12 g/l dosage. Considering that the minimum aging requirement for non-vintage Champagne is only 15 months on the lees, it is admirable that Roederer holds their entry-level non-vintage to the same minimum of 3 years aging that is expected of vintage Champagnes.
The extended aging does pay off with a medium-plus intensity nose with aromas of tree fruit, candied ginger and apple pastry tart. On the palate, the mouthfeel is round and smooth with more apple notes coming out. It's a tasty Champagne but my qualm is with how quickly the flavors fade and how short the finish is. I was expecting more persistence on the palate with how aromatic the nose was. For a sub $50 Champagne it is solid but I wouldn't pay above that price.
2009 Brut Nature (Philippe Starck edition)- ($79) A blend of 66% Pinot noir/Pinot Meunier and 33% Chardonnay that is aged 5 years on the lees and bottled with no dosage. Sourced from a single vineyard in the village of Cumières in the Montagne de Reims, with a label designed by French designer Philippe Starck, this wine stands out from the rest of the Roederer line-up in both aesthetics and in profile. With its zero dosage and intense acidity, this was a sharply controversial wine at the tasting with many people not preferring this style.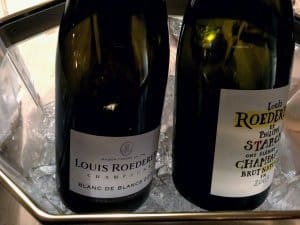 I, on the other hand, absolutely adored this wine. It was by far the most mineral-driven and complex wine of the evening. High intensity aromatics of spiced pears, white flowers coupled with Turkish figs and graham cracker crust. On the palate, another chapter of the story unfolds with apple peels, water chestnuts and white pepper all backed by a bracing streak of rocky minerality. Even after the glass was empty, you could still smell the intense aromatics of the Champagne inside the glass. Stunning wine. It's not for everyone but, for someone like me, it is a remarkable value for how much complexity it delivers.
2010 Blanc de Blancs- ($79) 100% Chardonnay from declassified vines in the Grand Cru villages of the Côte des Blancs, particularly Avize, that are usually allocated for Cristal. The wine is aged 5 years on the lees and bottled with 9 g/l dosage. Again going above and beyond the minimum aging for a vintage Champagne (3 years), the Blanc de Blancs is treated like a Tête de cuvée and, in many ways, this bottle of Champagne outshines many houses' Tête de cuvée–even Roederers!
Essentially a "baby Cristal", the medium plus intensity nose is extremely floral and fresh. It smells like Spring time with a neighbor baking cookies next door and the warm air bringing you a waft of that aroma intermingling with flowers and fresh cut grass. On the palate, the floral notes continue with an incredibly satiny mouthfeel that actually feels like you are drinking flower petals. The cookie notes on the nose morph into more brioche on the palate, still serving as a back drop to the overwhelming floral notes. Liquid lillies. Considering that this wine outshone the $200+ Cristal, and easily puts many other $100+ Champagnes to shame, this wine is an absolute steal for its quality level.
2011 Brut Rosé-
($67) A blend of 63% Pinot noir and 37% Chardonnay that is aged 4 years on the lees and bottled with 9 g/l dosage. For the rosé color, both short maceration and blending with red Pinot noir wine is used. The keynote of "freshness" being part of the Roederer house style strikes through with this rosé taking me back to Plant City, Florida outside Tampa for their
Strawberry Festival
held every March.
Medium intensity on the nose with fresh strawberries and an intriguing streak of basil as well. Unfortunately the aroma fades rather quickly which made it a bit of a let down following the downright intoxicating bouquets of the Brut Nature and Blanc de Blancs. The mouthfeel is smooth and well balanced with the strawberry and basil notes carrying through. But, again, it fades with a short finish. There is always a bit of a premium when it comes to the pricing of rosés but this one is a bit of a stretch for delivering quality that matches its near $70 price point.
2008 Vintage Brut- ($70) A blend of 70% Pinot noir and 30% Chardonnay that is aged 4 years on the lees and bottled with 9 g/l dosage. Like the Blanc de Blancs, this Champagne also gets some of the declassified lots (presumably Pinot noir) that are allocated for Cristal as well as being sourced from it owns dedicated estate vineyards in the Grand Cru villages of Verzy and Verzenay.
Medium plus intensity nose that was only bested by the 2009 Brut Nature for best nose of the night. Cream puff pastry and hazelnuts. What was most enthralling was how it evolved over the short sample tasting to show the many different stages of making cream puff pastry from the fresh dough to baking the golden puffs and filling them. The freshness of the cream is also quite noticeable on the nose and carries its way to the palate where it is met by a little orange zest.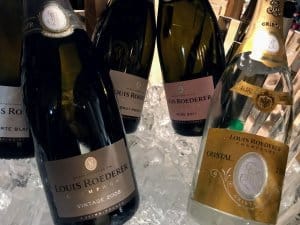 The mouthfeel was knee-bendingly silky, bested again only by one other wine–the 2010 Blanc de Blancs. Between the nose and mouthfeel, this Champagne was as close to a complete package as you could get and overall was my wine of the night. At around $70, this is an absolute steal that should leap frog on any Champagne lover's purchasing list many, many Champagnes that are much more expensive.
NV Carte Blanche Demi-Sec- ($44) A blend of 40% Chardonnay, 40% Pinot noir and 20% Pinot Meunier that is aged 3 years on the lees and bottled with 38 g/l dosage. As any sommelier or retailer who inwardly cringes when consumers request dry Brut bubbles to be served with their sweet wedding cake will tell you–the Demi-Sec category of sparklers is often woefully overlooked. I truly think it is because most people haven't experience these wines and have painted a picture in their mind of wines that taste much more overtly sweet than they actually do.
The key to demi-sec wines is balance and the Roederer Carte Blanche is one of the most exquisitely balanced demi-sec bubbles that I've ever had. Medium intensity note redolent of fresh peaches with apple pastry tart mixed in. Focusing on the tip of your tongue, you can pick up the sweetness but it is so subtle and balanced by the acidity and bubbles that I would wager that even many experienced tasters would think it was more in the 12-17 g/l Extra Dry category than a Demi-Sec. Many Proseccos taste far sweeter than this elegant and exceptionally well made Champagne.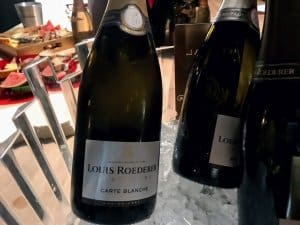 Unlike the premium pricing for rosés, this under-the-radar category is exceptionally undervalued with the Roederer Carte Blanche being a screaming good deal for under $60 much less under $45.
2009 Cristal ($232) A blend of 60% Pinot noir and 40% Chardonnay that is aged 6 years on the lees and bottled with 8 g/l dosage. Sourced exclusively from Grand Cru vineyards in the villages of Avize, Aÿ, Beaumont-sur-Vesle, Cramant, Mesnil-sur-Oger, Verzenay and Verzy this is the crème de la crème of the Roederer portfolio. It's a wine with a legendary history that was created for Russian royalty and is featured in music videos, movies and the Instagram pics of anyone wanting to show off. It elicits "oohs and ahs" whenever it is brought out. It truly is one of the Champagne world's top prestige cuvees.
It's also one of its most disappointing.
To be fair, this is because Cristal's Veblen and "bling-worthy" status encourages people to pop and pour them almost as soon as they hit the market. Despite wine writers and Champagne lovers repeatedly urging people to hold onto their Cristals, these wines are often opened far too young. As Antonio Galloni of Vinous noted in his survey of Cristals from 1979-2002, this behavior is "… ironic, if not downright tragic, considering Cristal is a wine that starts peaking around age 15-20, and that can last much longer under ideal storage conditions."
Now my experience with Cristal is no where near as extensive as Galloni's but the opportunities I've had to taste of now four different vintages of Cristal (the 2004, 2006 and 2009 soon after release and the 1994 when it was 12 years of age) have followed a consistent pattern. The newly release Cristal Champagnes that I tried when they were 6 to 8 years old were very underwhelming with my tasting notes littered with descriptors of "short" and "simple". While the 1994, which was still relatively too young and from a rather sub-par vintage, was vastly more intriguing and has ranked as one of the best wines that I've ever had.
This 2009 Cristal, while undoubtedly well made and with immense potential, ranked only above the entry NV Brut Premier in its showing at the tasting. And that's not an indictment on the wine. It's just a reality of tasting a wine that is miles away from it peak drinking window.

But it is not like the wine was undrinkable. It was just exceedingly simple. Medium minus intensity nose with vague floral and tree fruit notes. Some slight pink peppercorn. Its strongest attribute at the moment is the mouthfeel that shows hint of the silky flower petal texture you with get the Blanc de Blancs. In fact, the whole profile of Cristal is its litany of hints.
It has hints of the nose of the 2008 Vintage Brut.
It has hints of the mouthfeel of the 2010 Blanc de Blancs.
It has hints of the complexity of the 2009 Brut Nature.
If you could combine those 3 Champagnes into one bottle, and tell folks that it was Cristal, you would have legions of happy Champagne drinkers who would gladly shell out $200+ and feel like they're getting more than their money's worth. But, instead, you have a bottle that is drinking at this moment on par with what you can get from the Roederer house already for between $49 (NV Brut Premier) and $67 (2011 Brut rosé).
It truly is about this moment.
But, again, the 2009 Cristal is not a bad wine and I'm not saying that this is a wine that you shouldn't buy if you have the money and inclination. I'm just saying that this isn't a wine that you should open right now. The pedigree is there. The terroir is there. The care and dedication of the Champagne house is there. But if you are going to invest the money and your personal pleasure into getting a spectacular bottle of Champagne than you have to have patience and/or be willing to splurge for the premium of an aged example of Cristal that has been properly cellared.
Otherwise, do yourself a favor and save a boatload of cash by checking out some of the far less heralded and less "bling-worthy" bottles of vintage Champagnes from Roederer. There is truly some spectacular stuff coming out this house that over deliver on pleasure.
Subscribe to Spitbucket