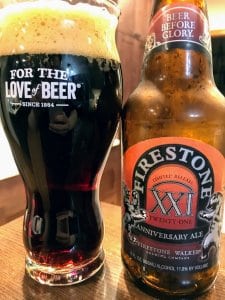 There is still 28 days left but I'm going to be hard-pressed to find a beer more utterly scrumptious than the 2017 edition of the Firestone Walker Anniversary Ale. With all apologies to the Samuel Adams Utopias, which I'll continue to enjoy well into the next year, this beer hits it out of the park and is actually something that I would call beer.
First some geekery.
The Anniversary Ale is a limited release done each year by Firestone Walker that blends together several of their vintage barrel-aged brews into a unique expression. I couldn't find the exact amount of cases produced but the 2009 edition had around 1000 cases and the 2016 edition was around 3500 cases. However, all those previous editions were bottled in 22 oz bomber size bottles with the 2017 edition following the pattern of the other 2017 vintage-series releases and now being packaged in smaller 12 oz bottles.
Being located in Paso Robles, a well known wine-making region, the brewmasters at Firestone Walker invite local winemakers to help participate in the blending process. The 2017 blending committee featured an impressive cadre of winemaking talent including Justin Smith of Saxum Vineyards, Neil Collins & Chelsea Franchi of Tablas Creek Vineyards, Fintan Du Fresne & Mike Callahan of Chamisal Vineyards and Kevin Sass & Molly Lonborg of Halter Ranch.
The blending was done as a competition with the winemakers and brewers split up into teams with the winning blend for the 21st Anniversary Ale being crafted by Anthony Yount of Denner Vineyards and Jordan Fiorentini & Kyle Gingras of Epoch Estate Wines.
The final blend for the Anniversary Ale XXI included:
42% of the Velvet Merkin, an Oatmeal Stout aged in bourbon barrels with 8.5% ABV and 32.5 IBUs.
18% of the Parabola, a Russian Imperial Stout aged in bourbon barrels with 13.1% ABV and 80 IBUs.
17% of the Stickee Monkee, a Central Coast Quad aged in bourbon barrels with 12.5% ABV and 45 IBUs.
14% of the Bravo, an Imperial Brown Ale aged in bourbon barrels with 13.5% ABV and 35 IBUs.
9% of the Helldorado, a Blonde Barley Wine aged in rum barrels with 13.5% ABV and 32.5 IBUs.
The Beer
Now I must confess that I am not a big stout fan. I love malty Belgians, dopplebocks, scotch ales and barley wines but many stouts I encounter often have too much bitter roasted coffee or burnt chocolate notes on the nose that turn me off. Often when I smell a stout, I feel like I'm trapped inside a burning Starbucks.
Looking at this blend with with the Velvet Merkin and Parabola being the majority components, I wasn't optimistic about this beer being my style. But pouring the beer into the glass, I was entranced by the smell of fresh Mexican chocolate with its subtle smokiness and cinnamon and nutmeg spices. From the bourbon barrel components, I could also get noticeable vanilla but it wasn't a syrupy sweet vanilla like you get with Bulleit bourbon but more of a robust spicy vanilla like with a Basil Hayden bourbon. Around the edges there was the slightest twinge of coffee but it plays a very minor role. What I loved about the nose is that the savory components of spice and chocolate were at the forefront with the sweeter elements wrapped underneath as a cushion instead of blanketing it.
On the palate, the intermingling of savory and sweet continued. The beer is downright mouthwatering!
The vanilla morphs a little more into caramel in the mouth but unlike with the Utopias, there is not really a salted element, but rather its the spiced Mexican chocolate flavors that compliment it.
The flavors from the rum barrel of the Helldorado make an appearance with a dried citrus fruitiness and more exotic spices that really persist throughout the finish. Relatively low in hops, there is just enough there to add a balance of freshness and structure.
But the star of the beer is truly the mouthfeel. Silky, creamy and very sexy, this beer rolls around your tongue and continues to tease you all along the way. It begs you to immediately want to take another sip even though you want to wait to savor the long, lingering flavors on the finish. It becomes a bit of an internal battle between wanting to intellectually enjoy and unwrap all the flavors the beer can provide (especially as it warms up) and it being so irresistibly delicious that you just want to indulge your inner hedonist and chug. Despite being a hefty 11.8% ABV, the beer is inimitably session-able.
Verdict
Delicious. Scrumptious. Mouthwatering. Smooth. Complex. This beer delivers in spades and is bloody fantastic. Yeah, it is a bit pricey at around $13 for a 12 oz bottle (though that is a fraction of the price of the Utopias) but it is a treat and would make a great stocking stuffer for a beer lover.
Subscribe to Spitbucket