I finally got a chance to try one of my bucket list wines–a bottle of 2006 Petrus from Pomerol. My wife and I originally bought it for our early December wedding anniversary, but then I got a cold, so we shelved that idea.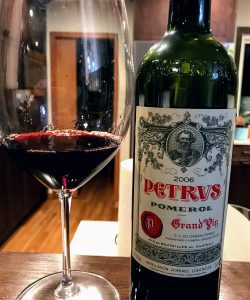 We were going to open it up for Christmas Eve, but another cold hit. So we decided to hold off till we both were 100% healthy and entirely on point with our tasting sensibilities before cracking into this baby. My tasting notes (and whether I think it is worth the cost) are below after a bit of geeking.
The Geekery
What makes Petrus, Petrus?
As Clive Coates notes in Grands Vins: The Finest Châteaux of Bordeaux and Their Wines, the phenomenon of Petrus as a cult wine for Bordeaux lovers is a relatively new creation. As recently as the post World War II years leading up to 1955, the wine merchant Avery's of Bristol had exclusive rights to buy up virtually all available allocations of Petrus–which it usually did–but would struggle to find buyers.
While there is some evidence of winemaking at the estate dating back to the 1750s, the first recorded mention of Petrus can be found in the 1837 notebooks of the merchant house Tastet and Lawton. Here the estate was owned by the Arnaud family and considered the third best property in Pomerol behind Vieux Château Certan and Trotanoy. In pricing, it fetched far less than the top estates of the Medoc and only a third of the top estates of St. Emilion such as Ch. Belair. But its reputation for quality was soon to be discovered, as David Peppercorn noted in his work Bordeaux. At the 1878 Paris Exhibition Petrus won a gold medal–becoming the first wine from Pomerol to earn such an achievement.
The fortune (and pricing) of Petrus began to change in the 1920s when its owner, M. Sabin-Douarre, started selling shares of Petrus to the proprietor of his favorite restaurant in Libourne, l'Hotel Loubat.  The restaurant's owner, Madame Loubat, continued purchasing shares from Sabin-Douarre until she was the sole owner of Petrus.
The Loubat and Moueix Era
Stephen Brook notes, in The Complete Bordeaux, that at this point Petrus was being priced on par with the Second Growths of the Medoc. However,  Mme. Loubat wanted everyone to know the high quality of Petrus and began demanding higher prices.
In 1943, she hired Jean-Pierre Moueix as the sole agent in charge of not only distribution of her wine but also production. Soon Petrus was never priced below the acclaimed Premier Grand Cru Classé 'A' estate of Cheval Blanc. It was also beginning to rival the First Growths of the Medoc.
Moueix started out owning Ch. Fonroque in St. Emilion before beginning his négociant business–mostly to help sell his estate wine. When Mme. Loubat passed away in 1961, she bequeathed Moueix a single share of Petrus while splitting the rest between her niece and nephew. Over the next few years, Moueix gradually bought out Loubat's heirs and assumed full ownership of Petrus by 1969.
Today the Moueix family owns several estates in Bordeaux including Trotanoy, La Fleur-Pétrus, Hosanna, Latour à Pomerol, La Grave, Lafleur-Gazin and Ch. Lagrange in Pomerol; Ch. Bélair-Monange and Clos La Madeleine in St. Emilion as well as Dominus, Napanook, Othello and Ulysses in Napa Valley.
The Blend (or lack thereof)
While historically Petrus has kept a small parcel of Cabernet Franc on the property, they have been gradually replacing them all with Merlot. The 2006 vintage I tasted was 100% Merlot.
Why So Expensive?
Petrus certainly has distinctive and unique terroir.  Wine writer Oz Clarke describes it in his work Bordeaux as "…one of the muddiest, most clay-clogged pieces of land my shoes have ever had the ill luck to slither through."
Petrus sits on a "button-hole" of blue muddy clay which covers a subsoil of gravel that is followed underneath by a virtually impenetrable layer of hard iron-rich crasse de fer. The soil is around 40 million years old compared to the 1 million-year-old gravel soils surrounding the Pomerol plateau. The dense, hard smectite clay causes the vine to struggle as its roots cannot penetrate deep.  However, the soil amply retains moisture. This trait becomes invaluable during warm years and dry summer months when the risk of hydraulic stress is high. As Jeff Leve of The Wine Cellar Insider notes, there is no other wine producing region in the world that has this soil structure.
There are about 50 acres of this unique soil in Pomerol.
While neighboring estates like Vieux Château Certan, La Fleur-Pétrus, La Conseillante and L'Evangile have some parcels featuring this terroir, Petrus is the only estate exclusively planted on this soil with 28+ ha. Additionally, Petrus is located on the top of this gently sloping button-hole which allows for better drainage during wetter years.
The vines of Petrus are relatively old with some parcels dating back to 1952. The root systems of other parcels are even older because of (interestingly enough) the 1956 frost that devastated the Right Bank. It killed nearly 2/3 of Petrus' vines. However, Mme. Loubat refused to replant completely and instead attempted the untested technique of recépage. She ordered her workers to graft the new vines onto the established root-stock. The move was criticized by viticulturists and other estate owners who thought that these vines would only produce for a few vintages. However, decades later these vines are still viable.
High Priced and Labor Intensive Viticulture
The Moueix family spares no expense when it comes to tending the vines, with severe yield restrictions of 32 to a max of 45 hl/ha (3 tons an acre) with some years going as low as 17.5 hl/ha. In contrast, many well-regarded estates frequently harvest at 60-70 hl/ha.
If inopportune rains hit close to harvest, Moueix will rent a helicopter to hover over the vines and dry them off. In 1992, they covered the entire vineyard in plastic sheeting to avoid excess moisture seeping into the ground. They wanted to avoid any chance of the rain plumping up the berries and diluting flavors.
Like with top Sauternes, harvest is done at Petrus on a berry by berry basis with vineyard workers manually picking the individual grapes off the vines. These 100% de-stemmed berries are then hand sorted with an optical sorter joining the process only since the 2009 vintage.
Limited Supply and Very High Demand
After fermentation and malo, the wine is aged in 50% new French oak for 18-20 months before going through a rigorous selection process. During this time the winemakers narrow the barrels down to only the very best that will go into the final Grand Vin. Anything that doesn't meet the grade is sold off as anonymous Pomerol. It's every Bordeaux insider's dream to figure out where these "discard barrels" of wine go.
Here is where we ultimately get down to the most significant cost driver. Each year, the estate produces only around 2,500 cases (30,000 bottles) of a single wine.
Compare this to the 31,000+ cases of Ch. Latour, the 10,000+ cases of Opus One or even the 5 million+ bottles of Dom Perignon produced virtually every year. The scarcity and high demand mean that so few people will ever get a chance to try this wine. Those that do, unfortunately, have to pay dearly.
The Wine
So how was it? I knew that this was a wine that really should've been holding onto for at least 15-20 years and, even then, given a good several hours of decanting. But this was more about sharing a moment with my wife.  So we popped it open when she got home and watched it evolve as we cooked and savored dinner.
Pop and pour
Medium intensity nose. Red fruits–plums, raspberry and a little earthy funk that is not defined but intriguing.
Palate has medium-plus acidity, very juicy and fresh, with medium tannins and medium-plus body. The red fruits carry through and then WHOA the mid-palate jumps with an assortment of spice that I will need some time to piece out. Minute and half long finish right now.
After an hour and a half in the decanter
Nose is now medium-plus intensity with the spice notes coming out more with a little herbal thyme. The fruit is also more rich deeper and dark–like Turkish fig and black currants.
The palate is still juicy with medium-plus acidity. The spices are getting a little more defined–making me think of Asian cuisine with tamarind fruit, star anise, coriander seed and pink peppercorn.
After 3 hours
Still medium-plus intensity nose but a little tobacco spice has joined the party. Still has the mix of Asian spice with black currants and a smidgen of eucalyptus. Pretty remarkable how this keeps evolving. Truthfully, I can only imagine how much more evocative this would get if I had the patience and restraint to milk this out over several more hours.
The palate is still incredibly juicy with medium-plus acidity.  The wine seems to works against any desire to ration and be restrained.  The mouthwatering acidity makes you want to take another sip and then another. The tannins have gotten more velvety at this point. The finish has topped out at about 2 minutes with the cornucopia of spices being the last notes.
The Verdict
So is it worth $2600 (when I got it in November 2017) to now at $3000 a bottle?
Kinda.
It truly is a remarkable wine that enchants you as it continuously evolves in your glass. Not just hour by hour but sip by sip. It's an experience that I'm quite pleased to have had but, at the same time, it is not necessarily an experience that I feel compelled to ever splurge on again.
As I mentioned in my reviews of the Samuel Adams' Utopias and the Pappy Van Winkle 20 yr, a lot of the cost (and subsequent pleasure) for these Veblen goods often comes from the hunt to finally acquire them. For me, getting a chance to try a Petrus was a bucket list item–just as jumping out of an airplane and meeting Jancis Robinson is. It is always a thrill to check a bucket list item off.
I'll also somewhat borrow an analogy from my Behind the Curtain post about wine pricing. In many ways, drinking a wine like Petrus is like attending the Super Bowl.
How much would you pay for one night of entertainment?
With only around 70,000 tickets for a single game each year, how many people in their lifetime get a chance to watch the game in person?
Ask yourself, how much of a premium would you pay for the privilege of attending a game that could very well suck (especially if your team loses)? And what are you really paying for but just a single night of an experience that is over after a few hours? How different is that from sharing a single bottle of wine?
Now compare that to how much you pay to attend a regular NFL playoff game, a regular season game, a college game or even your local Friday night high school game? Of course, you can argue about the potentially superior play of NFL players playing at the pinnacle of their profession but, likewise, you can debate the potentially superior terroir of Petrus, the craftsmanship of Pappy Van Winkle, the uniqueness of Utopias, etc.
The truth of the matter is–no one needs to attend the Super Bowl just like no one needs to try Petrus. There are a lot of great football games at all different levels. Likewise, there are lots of great wines at all different price points. Whether or not it is "worth it" is purely about how much the experience means to you.
For me, they were both worth it.
After attending the Super Bowl once and tasting Petrus once, I treasure both experiences. I am grateful that I had those opportunities.
But I don't feel like I ever need to do either again. When I think of all the other things I could do for the same costs (travel, enjoy multiple bottles of Ch. Angelus, Ch. Palmer, etc.), I am content to happily check those things off the bucket list and move on to the next experience.
Subscribe to Spitbucket