A few quick thoughts on the New Belgium Brewing Oakspire barrel-aged ale.
The Geekery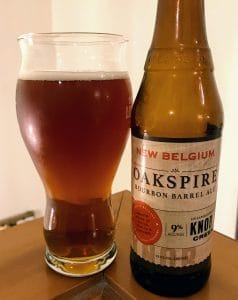 New Belgium Brewing was founded in 1991 by Jeff Lebesch and his wife, Kim Jordan, in Fort Collins, Colorado.
The goal of the brewery was to make Belgium-style ales and in 1996 Peter Bouckaert, a former brewmaster at Brouwerij Rodenbach in Belgium, was brought on. When Lebesch left in 2009, Kim Jordan took over management of the brewery. Bouckaert would later leave in 2017.
The Oakspire was fermented using Pale, Munich, Caramel 80, rye and roasted barley malts with ale yeast. The idea was to use a mashbill similar to high-rye bourbons. However, this is a bit different than the typical Knob Creek mashbill of 75% corn, 13% rye and 12% barley with "high-rye" bourbons often having 20-35% rye.
The beer was hopped to 20 IBUs using Nugget (a "Super-Alpha" bittering hop) and HBC 472 (an experimental flavoring variety) hops.
The beer was then aged in barrels with oak "spires" and barrel char that were soaked in Knob Creek bourbon before finishing with 9% ABV.
The Beer
Medium intensity nose. Lots of sweet vanilla has it smelling almost like a cream soda. Not much whiskey character.
On the palate, the beer is surprisingly light for its ABV. The vanilla carries through but the beer isn't as sweet as the nose would hint. Noticeable malt with subtle toffee flavors. Again, the whiskey character is not showing outside of the vanilla. Short finish ends on that same one-dimensional vanilla note.
The Verdict
I usually adore Belgian strong ales and barleywines as I really dig the heft and fuller-bodied flavors from higher ABV brews such as the Firestone Walker Anniversary Ale.
However, with bourbon barrel-age beers (and wines), my experience has been more mixed such as with Goose Island Bourbon County series–often finding them underwhelming.
You can add the New Belgium Oakspire to the "mixed pile" as a rather simple brew that doesn't offer anything exciting for $12-15 for a 6 pack.
Subscribe to Spitbucket