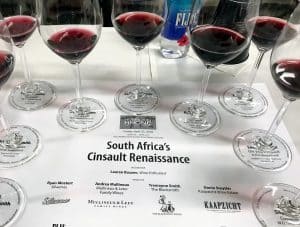 As promised in my summary post about the 2018 Hospice du Rhône Weekend, I'll tackle each of the four seminars with their own posts beginning with the first seminar on Friday — South Africa's Cinsault Renaissance.
I'm hard-pressed to narrow down which of the four seminars were my absolute favorite but, without a doubt, this seminar was the most eye-opening. In my Quick Take on Day 1, I commented how neither Cinsault nor South Africa tends to be on the radar of most US consumers. The trade organization WOSA (Wines of South Africa) reported in 2016 that the US receives only 3% of the wine exported from South Africa. In 2014, when US sales of wine (both domestic and exported) were around 370 million cases, wines from South Africa accounted for less than 0.33% of those sales.
But after attending this seminar moderated by Lauren Buzzeo of Wine Enthusiast and reading about my friend Adrienne's wine adventures drinking South African wines in Nambia, it's clear that South Africa is a wine producer worth paying attention to—not the least of which for the country's treasure trove of old vine Cinsault.
The seminar featured 9 Cinsaults and Cinsault-dominant blends from 7 producers with winemakers Tremayne Smith (The Blacksmith Wines), Andrea Mullineux (Mullineux & Leeu Family Wines), Danie Steytler (Kaapzicht Wine Estate) and Ryan Mostert (Silwervis) on the panel.
I will get into my tasting notes on the individual wines in the moment but first some geeking about Cinsault.
Cinsault: The Mediterranean "Pinot noir"?
Jancis Robinson notes in Wine Grapes that the earliest recorded mention of Cinsault was under the synonym 'Marroquin' in 1600 by the French writer Olivier de Serres. The modern spelling 'Cinsault' emerged in the 1880s as a likely derivative from 'Sinsâou' that was used in the Hérault department along the Mediterranean coast as early as 1829.
DNA analysis suggest this area is the probable birthplace of Cinsault due to its close genetic relationship to the Piquepoul varieties and the potential parent-offspring relationship with Rivairenc (Aspiran), the very old Languedoc grape.
Today some of the oldest vines of Cinsault in the Languedoc date back to 1900. While Cinsault suffered the same post-WW II image problem here it did in South Africa, it is also benefiting from renewed interest in the variety with even acclaimed Burgundian producers like Anne Gros (of the notable Vosne-Romanée family) and her husband Jean-Paul Tollot tending to 50+ year old vines in Minervois.
Outside of France, the grape is found in the Puglia region of Italy where it is known as Ottavianello and must make up a minimum of 85% of the red blends in the Ostuni DOC. In Morocco it is the most widely planted grape variety but that is largely because Cinsault is also a popular table grape variety.
Chateau Musar has long championed the grape variety in Lebanon, frequently blending it with Cabernet Sauvignon and Syrah.
In Washington State, Paul Gregutt describes wines made from Cinsault as like a "good Beaujolais" and notes in Washington Wines that it can be found in Walla Walla in the Morrison Lane and Minnick Vineyards as well as in the Horse Heaven Hills at Alder Ridge.
Cinsault in South Africa
Tim James in Wines of the New South Africa notes that Cinsault was introduced to South Africa in the 1880s and quickly became a popular planting. By 1909, it was the most widely planted red grape variety and the third most popular grape after Greengrape (Semillon) and Muscat.
Originally known as "Hermitage" until the mid-1930s, Cinsault would eventually account for as much as a third of all vineyard plantings in South Africa and was used to make everything from dry reds to sweet fortified wines to even brandy. The rise in popularity of Chenin blanc and Cabernet Sauvignon after World War II would eventually signal the grape's decline throughout rest of the 20th century but even as its popularity wane it was still frequently used as a blending grape to add perfume and acidity to some of the country's top Cabernet Sauvignon.
By 2008, Cinsault accounted for around a tenth of all vineyards in South Africa with notable plantings in Paarl, Breedekloof and the ward of Malmesbury in Swartland. Roughly translated to "The Black Land" in reference to the renosterbos ("rhino bush") shrubs that dot the landscape, it is somewhat poetic that old vine vineyards of the Black Prince in Swartland would be the source of some of the most delicious Cinsault at the seminar.
Seminar Wines
Most of these wines are limited releases and hard to find in the United States. But they are well worth the hunt if you can get them.
2017 The Blacksmith Barebones, W.O. Paarl
(
Wine Searcher Average
$24)
Medium intensity nose with black cherry and fresh uncured tobacco.
On the palate, those black cherry notes come through and are quite juicy and fresh with medium-plus acidity. Medium tannins and medium body contribute to the "Beaujolais" quality of the wine making it very pleasant and enjoyable with a moderate finish.
2017 The Blacksmith Prince of Bones, W.O. Swartland (No WS listing. At the seminar, Lauren Buzzeo priced it at $45)
Medium-plus intensity nose with lots of blue floral notes to go with the black cherry and tobacco notes exhibited by the Barebones.
On the palate, those fresh uncured tobacco notes from the nose change to more cured tobacco spice–not that dissimilar from Bordeaux wines. Medium-plus acidity maintains the juiciness of the cherry fruit with medium-plus tannins contributing to the medium-plus body of the wine. Long finish ends on the spicy note and mouthwatering fruit. Outstanding wine and probably my favorite of the tasting.
2017 Sadie Family Pofadder, W.O. Swartland (WS Average for 2016 vintage $42)
Medium-minus intensity nose. Light raspberry and some herbal notes. With some air a slight watermelon note (both flesh and rind) come out which is intriguing.
On the palate, the fruit flavors are similarly light. High acidity and chalky medium-plus tannins contribute to a thin and skeletal feel of the wine. Very short finish brings an earthy element that is hard to make out.
2017 Craven Wines Cinsault, W.O. Stellenbosch (WS Average $14 but I'm skeptical as Buzzeo listed the price at $55)
Medium intensity nose with red cherry, rose petals and fresh forest earthiness.
On the palate, the earthy element becomes a little more herbal but also brings a savory black pepper spice note. High acidity and medium-plus tannins are balanced a bit better with the fruit than the Sadie Pofadder so the wine feels more firm and structured rather than thin and skeletal. Seems young but promising.
2016 A.A. Badenhorst Cinsault Ramnasgras, W.O. Swartland
(
WS Average
$38)
Medium-plus intensity with black cherry notes and lots of spice and meatiness. A mix of Burgundian and Rhone notes on the nose that had my mouth watering before even taking a sip.
On the palate, the cherry and spice carries through with the mouthwatering continuing with the medium-plus acidity. High tannins hold up the full-bodied fruit of the wine really well and contribute to this wine feeling like a meal in itself. Another favorite.
2016 Kaapzicht Cinsault 1952, W.O. Stellenbosch (NO WS listing though one merchant offering it for $31)
Medium intensity nose with an intriguing mix of cherry pie spices and leather.
On the palate, those cherry pie notes come through with a toasty graham cracker crust character as well. Juicy medium-plus and ripe medium-plus tannins gives the wine great structure and mouthfeel. Long finish keeps with the cherry pie note with some cured tobacco spice joining the party. Very delicious.
2015 Kaapzicht Cinsault Skuinberg, W.O. Stellenbosch (NO WS listing though one merchant offering it for $79)
Medium-minus intensity nose. A mix of minty menthol and coffee espresso with some undefined red fruits.
On the palate, the red fruits become more defined as cherry and raspberry but the menthol and espresso dominant. Like the 1952, the medium-plus acidity and tannins give the wine exceptional balance and structure. I just don't know if I'm a fan of this flavor profile as much.
2015 Leeu Passant Old Vine Cinsault, W.O. Franschhoek (NO WS listing though one merchant offering it for $103)
Medium-plus intensity nose with black raspberry and blackberry notes. There is also a minty element here but it smells more like fresh mint leaves rather than menthol.
The black fruits carry through on the palate with the minty notes being more subdued. In their place some of that Bordeaux-style tobacco spice emerges which gives the wine a savory element with the medium-plus acidity. Medium-plus tannins balances out the full bodied weight of the fruit. Long finish lingers on the spice. Really well made wine.
2015 Silwervis Cinsault, W.O. Swartland (WS Average $26 but I'm skeptical as Buzzeo listed the price at $50)
Medium intensity nose with coffee and cherry notes. With some air, a little floral mint and fresh tobacco leaf comes out.
On the palate, the coffee notes dominant with fruit present but struggling to emerge. Medium acidity and medium-plus tannins have firm edges to them. Even though this one of the oldest wines at the tastings, it felt really young. Intriguing though.
Takeaways
Cinsault's diversity is a joy for food pairing but a nightmare for blind tasting.
As I reviewed my notes I saw some patterns emerging (cherry and tobacco) but many of those notes overlap with styles familiar to Burgundy, Beaujolais and lighter Bordeaux. A few examples even hit some of those savory meaty notes of a Rhone. Still, this diversity is exciting because here we have a wine that can be anything from a great picnic & BBQ sipper to something savory and complex that can hold up to robust dishes.
While two of my favorites (The Blacksmith's Prince of Bones and A.A. Badenhorst's Ramnagras) were from the Swartland–along with the intriguing but young tasting Silwervis–it was hard to pinpoint terroir characteristics. Considering how much I've liked other wines from these producers, I wonder how much of it is more producer style verses the region?
But a big takeaway, and one that the moderator and panelists frequently referred to, was the importance of older vines for Cinsault. The vine lends itself easily to overproduction and with its thin skins can be prone to producing thin flavors. While that may work for bulk rosé, it's not ideal for making character driven wines.
With over 1600 acres of Cinsault vines over 20 years old (and many of the wines featured in this tasting coming from 40+ year old vineyards), South Africa does have a good bounty of older vines to work with. The really lovely Leeu Passant Old Vine Cinsault from Franschhoek was sourced from South Africa's 2nd oldest red wine vineyard from vines that are 91+ years old. You can taste the added complexity and concentration from these older vines.
Remarkable stuff that is, again, well worth the hunt to find.
Subscribe to Spitbucket