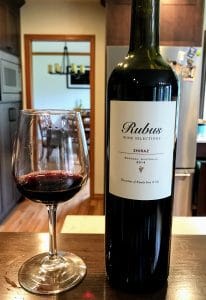 Going to need more than 60 Seconds to geek out about the 2014 Rubus Shiraz from the Barossa.
The Background
Rubus is a negociant label of the importing firm Kysela Pere et Fils that was founded by Master Sommelier Fran Kysela.
Prior to earning his MS in 1989 and starting his firm in 1994, Kysela previously worked for California wineries Fetzer and Gallo as well as importers Kermit Lynch and Weygandt-Metzler. In his more than 40 years in the wine business, Fran Kysela has earned numerous awards including 2013 Importer of the Year from Wine Enthusiast magazine.
His wine import portfolio represents over 200 producers, including notable wineries such as Abeja, Accordini Igino, Alain Jaume, Avennia, Bressia, Bonny Doon, Buty, Betz, Chakana, Cholila Ranch, Clos de Sixte, Domaine Mordoree, Finca Sobreno, Gravas, Hahn, Jip Jip Rocks, La Petite Frog, Levendi, Long Shadows, Loring, Maipe, Marcassin, Mas Sinen, Maysara, Milton Park, Montebuena, Mt. Monster, Pago de Carraovejas, Palacio de Bornos, Paradigm, Patton Valley, Poggio Nardone, Quilceda Creek, Rebuli, Reverdy, Rinaldi, Segries, St. James Winery, Tamarack, Thorn Clarke, Tiza, Tres Ojos, Valminor and Vinsacro among many others.
The first wine released under the Rubus label was in 1997 with 1200 cases of an Amador County Zinfandel. Since then the brand has expanded to include Cabernet Sauvignon from Napa Valley, Chardonnay from Colchagua Valley in Chile, Pinot noir from the Waipara Valley in New Zealand, Prieto Picudo from Tierra de León in Spain, a Grenache-based Vin Gris from Corbières in the Languedoc-Roussillon region of France as well as a Shiraz from the Barossa of South Australia.
All the wines bottled under the Rubus label are personally selected by Fran Kysela.
The 2014 Rubus Shiraz was only the third release of a Shiraz from Kysela. A co-ferment of 98% Shiraz with 2% Viognier, the wine was aged 12 months in 100% American oak with half the barrels being seasoned and coopered in France. Around 2,000 cases were produced.
Instead of being labeled as the Geographical Indication (GI) of Barossa Valley, the 2014 Rubus is labeled as being from simply "Barossa" which Mike Desimone and Jeff Jenssen note in Wines of the Southern Hemisphere: The Complete Guide means that fruit from neighboring Eden Valley could have been blended in. Conversely, if a wine is labeled as being from the "Barossa Valley" then only 100% Barossa Valley fruit could be used.
The Origins of Syrah
In Jancis Robinson's Wine Grapes, co-authored by Julia Harding and José Vouillamoz, it is noted that the origins of Syrah have been proven to be distinctly French despite myths attributing its origins to the Persian city of Shiraz in modern-day Iran.
DNA analysis conducted in 1998 by Dr. Carole Meredith and others at UC-Davis have shown the parents of Syrah to be the Savoie wine grape Mondeuse blanche and the Ardèche variety Dureza. Both grapes were at one time cultivated in the department of Isère, southeast of Lyon, in the Auvergne-Rhône-Alpes region with ampelographers speculating that this was the likely area that Syrah originated in.
Further research by José Vouillamoz has shown a potential parent-offspring relationship between Syrah's parent Dureza and the Pinot grape meaning that potentially Pinot noir could be a grandparent variety to Syrah.
Additional research into the origins of Viognier has shown a parent-offspring relationship with Syrah's other parent, Mondeuse blanche, and Viognier though it is not yet clear which variety is the parent and which is the offspring–partly because the other potential parent of Viognier hasn't been identified yet. This means that Viognier could be either a half-sibling or a grandparent to Syrah.
Aussie Shiraz vs French Syrah
Syrah was first brought to Australia in 1832 by viticulturalist and "father of Australian wine" James Busby as part of a collection of 75 different grapevine varieties from Europe. Known initially as Hermitage and then Scyras it was first planted in New South Wales before spreading westward.
Today it is the most widely planted variety in Australia, accounting for around 45% of the yearly harvest. It is planted across the country with the Barossa Valley known for having some of the oldest vineyards of Shiraz in the world–including many pre-phylloxera plantings on their own rootstock.
Among these old vine Shiraz plantings include Langmeil's 1843 vineyard in Tanunda and Turkey Flat's 1847 parcel planted by Johann August Frederick Fiedler. In neighboring Eden Valley, Henschke's Hill of Grace has Shiraz plantings dating back to the 1860s.
Pioneered by German Lutheran settlers from Prussia and Silesia (in modern-day Poland), the Barossa Valley is home to numerous 6th generation family wine growers. Often traditionally aged in American oak, the style of Shiraz here is characterized by James Halliday in his Wine Atlas of Australia as "…lush, velvety and mouthfilling with flavors in the black cherry to blackberry spectrum, the tannins ripe and soft."
The soils in the Barossa are mostly sandy and clay loam which will have varying water-retaining abilities in the hot Australian sun depending on the percentage and type of clay. This tends to produce concentrated wines with lower acidity and higher pH that contributes to the powerful and lush dark fruit typical of Aussie Shiraz.
In contrast, the mainly granite and schist-based soils of the Northern Rhone (particularly in Côte-Rôtie) produces wines that John Livingstone-Learmonth notes in The Wines of the Northern Rhône tend to be "… less intensely coloured–red rather than black–and much more sinewed. Their fruit is more stone and pebbly in texture, their tannins more upright and raw at the outset. Pepper tones are drier and more evident…"
The Wine
Medium-plus intensity. Noticeable oak with coconut and cinnamon. Certainly dark fruit like black cherries but there also seems to be some faint red fruit like red plums on the edges. Red flowers like dahlias add some intrigue.
On the palate the oak is still quite pronounced with creamy vanilla mouthfeel and dark chocolate joining the party. However, medium-plus acidity does add enough freshness and a mouthwatering component to keep this from being jammy. The ripe medium-plus tannins are soft but well structured holding up the full-bodied fruit. On the moderate-length finish there is a subtle herbal note (maybe eucalyptus) that isn't quite defined but does add some complexity.
The Verdict
Overall, I wouldn't describe this as a stereotypical "Big, bombastic Aussie Shiraz" that seems to dominant the shelves of the American market. No one would ever confuse this for something from Mollydooker or Glaetzer.
While definitely oaky and fruit-forward, this is a little more in the Penfolds style with an element of elegance and additional layers that I suspect could become even more complex with a few more years of bottle age. With its juicy acidity and structured tannins, I can easily see this going another 3 to 4 years in delivering ample pleasure.
At $20-25, this is a well-made Shiraz that would certainly appeal to many New World drinkers who like their wines fruity and ripe but not sweet or jammy.
Subscribe to Spitbucket