Yeah, I know it kinda feels like we just had a Washington Wine Month not that long ago.
Technically this past March was just Taste Washington Wine Month which highlights the big Taste Washington Event in Seattle that features over 225 wineries and 65 restaurants as well as activities (like seminars and The New Vintage Party).
But this month is the real Washington Wine Month. I swear! The Washington State Wine Commission even bought the domain www.winemonth.com to let the world know that August is Washington Wine Month.
Okay, it's silly marketing but, hey, why waste a good excuse to drink and geek out about Washington wine? I'm in.
While throughout the month I'll be highlighting Washington wines in my 60 Second Wine Reviews, I wanted to kick off the fun with a little primer of some of the great blogs, Twitter feeds and books that I used when researching my posts on Washington wine and wineries.
At the end I also feature a highlight of some of my favorite Washington-related posts and reviews that I've done here on Spitbucket. If you want to stay up to date with the fun be sure to subscribe so you can get posts sent right to your email.
Great Wine Blogs with a Washington-bent
Washington Wine Report (@wawinereport) — Though Sean Sullivan has moved up to the big leagues of wine writing being the Washington beat reporter for Wine Enthusiast, he still finds time for his Washington Wine Report that has been the benchmark standard for Washington wine blogging for some time.
Great Northwest Wine
(
@GreatNWWine
) — More of an online magazine than necessarily a blog but few cover the Pacific Northwest wine scene better than Andy Perdue and Eric Degerman.
VinoSocial (@VinoSocialNancy) — While not completely Washington-centric, Nancy Croisier does have a lot of experience and great insights to share about the Washington wine industry. She also wrote up a great post with all the relevant hashtags for folks wanting to promote and follow Washington Wine Month activities.
Wine Diva Lifestyle (@Shona425) — Shona Milne is one of the original bloggers covering the Woodinville wine scene that is now home to over 100 wineries.
Woodinville Wine Blog (@woodinvillewb) — With such explosive growth in the industry, it's great to have multiple feet on the ground covering it. Written by a team of 3 friends who explore the food and events happening in Woodinville as well the wine.
Washington Wine Blog (@WA_WINE_BLOG) — A blog ran by 3 doctors who also share their love for the wines of Oregon and California as well.
Write for Wine (@WriteforWine) — Though Margot Savell's blog has a global scope, she is another pioneer in the Washington wine blogosphere which she has been covering since 2007.
Wild Walla Walla Wine Woman — While Catie McIntyre Walker's blog isn't as active as it once was, she–like Shona–is one of the original pioneers in the Washington wine blogging scene with Catie's focus being on the outstanding wines of Walla Walla. With over 140 wineries, there is still a lot of great stuff to discover.
Washington Wineries on Twitter Worth a Follow
Of course all wineries are going to want to promote their wines and events, but I like following these wineries because they will also give you behind the scenes peaks into the fun stuff of making wine instead of only posting promotions and bottle porn pics.
Lagana Cellars (@LaganaCellars) — Carmenere at bud break and just before veraison. Oh and robin eggs!
Cote Bonneville (
@cotebonneville
) —
Baby chicks!
Figgins Estate/Leonetti (@FigginsFerment) — This is more of Chris Figgins' personal twitter account but it has great content and pics showing life in Walla Walla as well as the development of their new Toil vineyard (my review of one their wines) and construction of their Figgins barrel room caves.
Claar Cellars (@claarcellars) — Veraison on Pinot gris! Watch a bottling machine in action!
Maryhill Winery (@MaryhillWinery) — I'm okay with bottle porn when it is tied into mouthwatering and delicious food-pairing recipes but what I live for are retweets of aerial drone shots of their spectacular vineyards in the Columbia Gorge!
Books About Washington Wine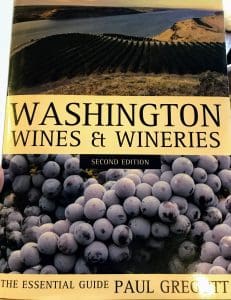 Washington Wines and Wineries: The Essential Guide by Paul Gregutt — Still the magnum opus of Washington wine. Check out my review of the book here.
Wines of Walla Walla Valley: A Deep-Rooted History by Catie McIntyre Walker — Written by the original Wild Walla Walla Wine Woman, no one knows the valley, the people or the wines better than her.
Essential Wines and Wineries of the Pacific Northwest: A Guide to the Wine Countries of Washington, Oregon, British Columbia, and Idaho by Cole Danehower — Up until he passed away in 2015, Cole Danehower was one of the best authorities on the wines of the Northwest. Coupled with the beautiful photographs from Andrea Johnson, this book is something to treasure for multiple reasons.
Discovering Washington Wines: An Introduction to One of the Most Exciting Premium Wine Regions by Tom Parker — A bit outdated (2002) but super cheap on Amazon. What I found most fascinating about this quick and easy to read book was the compare and contrast between how the future looked for the Washington wine industry back at the turn of the century versus the whirl wind of success it's seen over the last 20 years.
WineTrails of Washington by Steve Roberts — Also a tad outdated (2007) but still a quite useful tool to plan your winery tours in Washington. Just keep in mind that we have around 300 more wineries than we did when Roberts first wrote his book. Still my dog-earred and marked up copy gets pulled off the shelf from time to time as I compare the growth in his very well thought out "wine trails" that group wineries by locations. His WineTrails of Walla Walla (2010) is a smidgen more up-to-date.
The Wine Project: Washington State's Winemaking History by Ronald Irvine and Dr. Walter Clore — A required textbook for my Washington Wine History class when I was at the Northwest Wine Academy because this truly is the textbook dictum of the people and moments that deeply impacted this state's wine industry.
A Few of My Favorite Washington-related SpitBucket posts

The Legend of W.B. Bridgman
The Mastery of Bob Betz
Exploring The Burn with Borne of Fire
Getting Geeky with Whidbey Island Siegerrebe
Getting Geeky with Bunnell Malbec
Getting Geeky with Gramercy Picpoul
Getting Geeky with Savage Grace Cabernet Francs
Getting Geeky with Soaring Rooster Rose of Counoise
Quilceda Creek Release Party
Event Review — Washington vs The World Seminar
Walla Walla Musings
It's time to catch on to Passing Time
Making a Bet on Washington Chenin blanc
60 Second Wine Review — Hedges In Vogue Cabernet Sauvignon
60 Second Wine Review — àMaurice Viognier
60 Second Wine Review — Temper Red Blend
60 Second Wine Review – Gordon Cabernet Sauvignon
60 Second Wine Review — Hence Syrah
60 Second Wine Review — Lauren Ashton Cuvee Meline
60 Second Wine Review — Apex Catalyst
60 Second Wine Review — Sinclair Estate Vixen
60 Second Wine Review — Lost River Syrah
60 Second Wine Review – Browne Site Series Cabernet Sauvignon
60 Second Wine Review — Scarborough Stand Alone Cabernet Sauvignon
60 Second Wine Review — Tagaris Pinot noir
60 Second Wine Review — Woodward Canyon Artist Series
Subscribe to Spitbucket