Going to need more than 60 Seconds to geek out about the 2016 Soaring Rooster Rosé of Counoise from Tagaris Winery.
The Background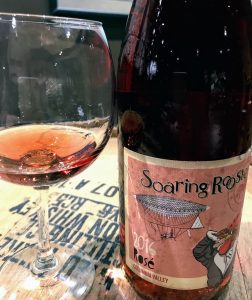 I talked a little about the Taggares family and Tagaris winemaker, Frank Roth, in my 60 Second Review of the 2015 Tagaris Pinot noir from the Areté Vineyard.
In addition to the 200 acre Areté Vineyard, Tagaris also owns the 100 acre Alice Vineyard on the south slopes of the Saddle Mountains in the Wahluke Slope AVA. Named after owner Michael Taggares' mother, this vineyard is home to many grape varieties that are unique to Washington State such as Counoise, Grenache, Tempranillo and Mourvedre.
Located near Weinbau and Rosebud vineyards is Tagaris' third estate vineyard–the Michael Vineyard. This vineyard is also planted to unique varieties like Carménère, Cinsault, Barbera and Sangiovese.
The 2016 Rosé of Counoise was made via the saignée production method where juice from red Counoise must is "bled off" and fermented into a rosé. In her book, Rosé Wine, Master of Wine Jennifer Simonetti-Bryan describes how during this point the must has a higher level of alcohol compared to the short maceration method. As an extracting agent, the alcohol leaches out more color and flavor from the skins producing deeply colored and richer flavored rosés.
The Grape
Jancis Robinson notes in Wine Grapes, that Counoise is a very old grape variety, distantly related to Piquepoul, that was first mentioned in Avignon in 1626. The French poet Frédéric Mistral (1830-1914) claimed that the grape was of Spanish origins, being first brought to the Rhone in the 14th century during the papal reign of Urban V by a vice-legate named Counesa.
While Harry Karis, in The Chateauneuf-du-Pape Wine Book, believes that Counoise originated in Provence, it was in Châteauneuf-du-Pape where the grape first gained renown in the 19th century as a key component in the blends of Château la Nerthe made by Joseph Ducos. Baron Pierre Le Roy de Boiseaumarié of Château Fortia, who helped write the original AOC laws of the region, was also a fan of the variety. He included the grape as a permitted variety for red Châteauneuf-du-Pape.
More recently both Domaine du Pégau and Château de Beaucastel have championed usage of Counoise in Châteauneuf-du-Pape–even though today it only accounts for around 0.4% of all plantings. In fact, over the last couple decades Beaucastel has been decreasing their plantings of Syrah in favor of Counoise, feeling that the grape's natural acidity, spice and late-ripening qualities serve as a better compliment to Grenache and Mourvedre. Making up to 10% of the blend for their CdP rouge in some years, Beaucastel uses the highest proportion of Counoise in the region.
Other French Regions
Outside of Châteauneuf-du-Pape, the grape can also be found in neighboring Gigondas and several villages permitted to use the Côtes du Rhône-Villages appellation. It is also grown in the Ventoux and can be used in the rosé wines of Coteaux d'Aix-en-Provence. In these rosés, Counoise usually sees brief skin contact as part of the short maceration method with the Counoise contributing fresh acidity, spices and dark berry fruits. For the red Counoise wines of Coteaux d'Aix-en-Provence, aromas of chocolate and leather can also emerge.
Counoise in the United States
In the United States, Tablas Creek brought cuttings of Counoise from Château de Beaucastel to California in 1990. From there it spread to other Rhone Rangers in Paso Robles and then up north to Randall Grahm's Bonny Doon winery in Santa Cruz where Grahm often blends it with Cinsault. In the Livermore Valley, the Wente family makes a small-lot varietal example of Counoise.
The winemaking team at Tablas Creek notes that the grape is prone to oxidation which makes it a useful compliment to the reductive nature of Syrah and Mourvedre in blends.
In 2000, Doug McCrea (of McCrea Cellars/Salida) convinced Jim Holmes of Ciel du Cheval Vineyard on Red Mountain to plant Counoise from Tablas Creek cuttings. By 2012, the acreage of Counoise in Washington had grown to 15 acres with plantings in the Yakima Valley vineyards Meek and Airfield Ranch, the Alice Vineyard in the Wahluke Slope, the Needlerock Vineyard in the Columbia Valley as well as Forgotten Hills Vineyard and Morrison Lane in Walla Walla. In Washington Wines, Paul Gregutt notes that John Farmer, one of the first to plant Rhone varieties in the Horse Heaven Hills, also sought out cuttings to plant at Alder Ridge Vineyard.
In addition to Tagaris Winery, varietal examples of Counoise can also be found in Washington from Cairdeas Winery, Cana's Feast, Côtes de Ciel, Lindsay Creek Vineyards, Martin-Scott Winery and Syncline.
The Wine
Medium-plus intensity nose. A mix of raspberry and dark berry fruits. There is also a blue floral element that is intriguing.
On the palate, the dark blackberry fruits dominant more and add a bit of weight to this rosé. While there is a lot of fruit, it's dry. There is also some texture you feel on the tongue. It's not bitter or pithy like phenolic extract but, again, adds to the overall weight of the wine. Medium-plus acidity adds a juicy freshness with even a bit of minerality peaking out on the moderate length finish.
The Verdict
With the weight and dark fruits, this is a rosé for red wine drinkers. Its full body and richness opens it up to interesting food pairing possibilities. After reading Simonetti-Bryan's Rosé Wine, I think I've found a rosé to experiment with for some of the more robust pairings I mentioned in my review of the book like lamb and beef brisket.
For $12-15, this 2016 Soaring Rooster Rosé of Counoise is a very solid dry rosé. It gives drinkers a lot of food pairing versatility as well as a chance to geek out with a very cool grape.
Subscribe to Spitbucket