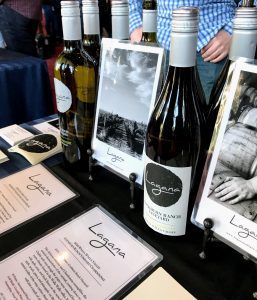 A few notes from the Walla Walla Valley Wine Alliance tasting featuring 40 different Walla Walla wineries at Seattle's McCaw Hall.
New (to me) Walla Walla Wineries that Impressed
With over 900 wineries, even the most avid Washington wine lover has a hard time trying to taste them all. Walla Walla, alone, is home to around 120 wineries so even this tasting provided only a slice of what the AVA has to offer. My strategy at events like this is to hit several new wineries that I've never tasted before revisiting old favorites.
Lagana Cellars— Poured 2 whites (Sauvignon blanc and Chardonnay) and 2 reds (Syrah and Cabernet Franc) and while all 4 were solid, the reds were definitely a step above. The 2014 Minnick Hills Syrah was one of the few 2014 Syrahs that seemed to escape the reductiveness that (unfortunately) characterized several of their peers at this tasting and showed a beautiful mix of black fruit, mouthwatering acidity and spice. The 2015 Seven Hills Cabernet Franc demonstrated all the things that are beautiful about Washington Cabernet Franc (More on that below). It had vivacious, high intensity aromatics of violets and blackberry, medium-plus body with silky tannins.
Kontos Cellars— Poured 3 reds (Cabernet Sauvignon, Malbec and blend) plus a bonus bottle blend named Beckett after the winemaker's daughter. Founded by the sons of Cliff Kontos of Fort Walla Walla Cellars, the trademark seen throughout the Kontos wines was gorgeous aromatics and pitch perfect balance between oak, fruit, tannins and acidity. Even the two 2014 wines (Cab & Alatus blend) stood out but the star of the flight was the wine club member's only release Beckett blend. A blend of 61% Cabernet Sauvignon, 31% Merlot and 8% Syrah, the 2013 Beckett showcased Kontos's high intensity aromatics with a mix of red and black cherries, red floral notes and lots of savory spice.
Tertulia Cellars
— Poured 3 reds (Rhone blend, Syrah and Cabernet Franc). This is a little of a cheat since Tertulia is not really a newbie. Founded in 2005, I did try some of their early releases several years ago and wasn't that impressed. I figured after nearly 10 years, I should give them another shot and boy am I glad I did. The 2013 Riviera Galets "The Great Schism" Rhone blend was outstanding.
A blend of 50% Grenache, 40% Syrah, 7% Cinsault and 3% Mourvedre, this wine would do extremely well in a tasting of Châteauneuf-du-Pape. Beautiful savory, meaty nose but with enough rich dark fruit to clue you in that it was a New World wine. This wine also had one of the longest finishes of the night. The 2014 Whistling Hills Syrah had some of the 2014 reductive notes but it blew off fairly quickly with some air. The 2015 Cabernet Franc, like the Lagana above, was delicious.
Other wineries that impressed me were Caprio Cellars (especially the 2015 Walla Walla Red), Solemn Cellars (especially the 2014 Pheasant Run Cabernet Sauvignon) and Vital Wines (especially the 2016 Rose).
Old Favorites that Shined
You can never go wrong with Woodward Canyon and their 2014 Artist Series is a worthy follow up to the 2013. The 2014 Old Vines also did very well. In fact, along with the 2014 wines that are noted throughout this post, Woodward Canyon seemed to be one of the few producers to have 2014 wines that weren't showing any green or reductive notes. (More on that below)
Despite enjoying their estate red for several years, I actually never knew that Figgins produced an estate Riesling and it was fantastic! From the 2016 vintage, the Riesling is decidedly on the dry side and had all the gorgeous white flower, apple and apricot notes that Washington Riesling is known for. Truly a top shelf Riesling that would go toe to toe with the best of Alsace and the Mosel.
Anna Shafer of àMaurice continues to show why she is one of the best winemakers in the state working not only with her estate vineyards but also making a mouth-filling but elegant 2015 Boushey Vineyard Grenache and a 2016 Connor Lee Chardonnay that would tickle the taste buds of even the most ardent Meursault fan.
Doubleback introduced their 2015 Flying B Cabernet Sauvignon. I got the first taste of a brand new bottle and I was highly impressed with how aromatic and flavorful it was for a pop and pour young Cab. While I enjoyed the regular flagship Doubleback Cabernet Sauvignon, I will say that for half the price the Flying B is giving it a run for the money. I would highly encourage folks to sit on the flagship Cab for 5-7 years from vintage date and drink the Flying B while it ages.
Geeky Grapes on Display
While Washington State and Walla Walla wineries are known for fantastic Cabernet Sauvignon, Merlot, Syrah and Riesling, it was fun seeing winemakers embrace more obscure varieties like Albariño (Adamant Cellars), Grenache blanc (The Walls) and Carménère.
Paul Gregutt notes in Washington Wines and Wineries that the Figgins family of Leonetti were likely the first to plant Carménère in the state with cuttings they got from Guenoc Winery in California. Those cuttings were eventually shared with Colvin Vineyards that produced the first varietal Carménère in Washington in 2001. Since then the grape's acreage in the state has expanded with plantings in Alder Ridge Vineyard, Minnick Hills, Morrison Lane and Seven Hills Vineyard.
Among the numerous wineries featuring a Carménère at the tasting were Balboa/
Beresan Winery
, Drink Washington State (from Wahluke Slope), Reininger Winery and Skylite Cellars. I missed out on trying the Reininger but was fairly impressed with Drink Washington State's offering. But admittedly at $26 you are paying for the uniqueness of the variety in Washington and, right now, it is hard to compete with some of the Carménère coming in from Chile that often delivers outstanding value under $15.
Probably the geekiest wine at the tasting was Foundry Vineyards' Stainless Steel Chardonnay from the Columbia Gorge. A Chard? Geeky? It is when it has 6% Maria Gomes blended in. Also known as Fernão Pires, Jancis Robinson notes in Wine Grapes that this obscure Portuguese grape variety is actually the most widely planted white grape in Portugal with over 41,500 acres. It is believed to have originated in either the Bairrada DOC or in the Tejo region but it can be found throughout the country including in the Douro. In the US, though, it is quite the rare bird.
Pay Attention to Washington Cabernet Franc
Walter Clore encouraged the first plantings of Cabernet Franc in the mid-1970s as part of Washington State University's experimental blocks. In 1985, Red Willow Vineyard in Yakima planted the grape which was used by Master of Wine David Lake at Columbia Winery to produce the first varietal Cabernet Franc in 1991. Since then the grape has seen growth from 150 acres in 1993 to a peak of 1157 acres in 2006 only to decline to 685 acres by 2017.
Which is a crying shame because of how absolutely delicious Washington Cabernet Franc is!
While Old World examples from places like Chinon and Saumur-Champigny in the Loire can be light to medium bodied and herbal with trademark pencil shaving notes, examples from Washington hold up to the weight and profile of the state's best Cabernet Sauvignon and Merlot. Here Cabernet Franc can develop perfumed blue floral aromatics with some subtle fresh forest floor earthiness that add layers. The dark raspberry and blueberry carry a juicy edge due to the grape's natural acidity. With some age, a very enticing fresh ground coffee note often comes out–something that the 2012 Spring Valley Vineyards Katherine Corkrum Cabernet Franc was starting to develop.
Outside of Walla Walla, stellar examples of Washington Cabernet Franc include Chinook Wines, Barrister, Camaraderie, Matthews Cellars, Gamache Vineyards, Chatter Creek and Sheridan Vineyard's Boss Block.
At the Walla Walla tasting, in addition to the Spring Valley example that was a contender for Wine of The Show, other tremendous Cabernet Francs were showcased by Lagana Cellars (2015 Seven Hills), Tamarack Cellars (2015 Columbia Valley), Tertulia Cellars (2015 Elevation), Tranche (2013 Walla Walla), March Cellars (2016 Columbia Valley) and Walla Walla Vintners (2015 Columbia Valley)
What happened in 2014?
The most baffling aspect of the Walla Walla tasting was how many 2014 reds were disappointing. Despite widely being considered
a very good year
in Washington State and
Walla Walla, in particular
, several wines from even big name and highly acclaimed producers showed green pyrazine or reductive notes. One winery had massive volatile acidity (VA) issues with their 2014s. With many wineries also featuring 2013 and 2015 reds, sometimes even of the same wine as their 2014, the shortcomings in the 2014s stuck out like a sore thumb.
And it wasn't very consistent with one winery's 2014s being green while another winery's 2014 example of the same variety would instead have the closed aromas of reduced wines or (at worst with at least 2 examples) the burnt rubber aroma of mercaptans. While the reductive issues are minimized with getting some air into the wine (like with decanting), the green notes don't go away. I can't figure a reason why there would be so many green notes in what was a very warm vintage.
As far as I can tell there were no reports of millerandage or coulure which can promote uneven ripeness and hidden green berries inside clusters of varieties like Grenache, Merlot and Malbec. Plus, it was the 2014 Cabernet Sauvignon and Syrahs that were more likely to show green notes. My only theory is that with it being such a large vintage perhaps some vineyards were over-cropped? But given the pedigree of the producers, I feel like that is unlikely.
I honestly don't know. As noted above, there were still 2014s that were drinking well (and I certainly didn't get a chance to taste every single one that was being poured) so I encourage consumers not to avoid the vintage but be aware that there is some inconsistency. I'm just reporting on a trend that I observed during this one tasting event.
My Top 5 Wines of the Event

There were plenty of outstanding wines featured at the 2018 Walla Walla Wine Tasting at McCaw Hall that give me reasons to be excited about the future of the Walla Walla wine industry. This region is well worth exploring at your local wine shops and restaurants. Even with my reservations about many 2014 wines, there were numerous wines poured that I could very enthusiastically recommend. But my top 5 overall were:
1.) 2013 Tertulia Riviera Galets
2.) 2012 Spring Valley Vineyards Katherine Corkrum Cabernet Franc
3.) 2013 Kontos Cellars Beckett
4.) 2015 Abeja Merlot
5.) 2016 Figgins Estate Riesling
Subscribe to Spitbucket