Going to need more than 60 Seconds to geek out about this 2016 Welsh Family Wines Blaufränkisch from Dauenhauer Farms in the Willamette Valley.
Full Disclosure: This wine was received as a sample. I also went to winemaking school with Dan Welsh of Welsh Family Wines at the Northwest Wine Academy.
The Background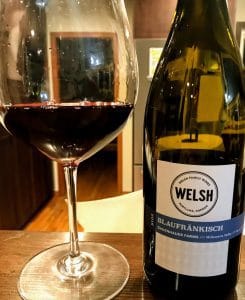 Dan Welsh and his wife, Wendy Davis, started Welsh Family Wines in 2014. A protege of Peter Bos from the Northwest Wine Academy, Welsh utilizes native yeast fermentation and minimalist winemaking to produce food-friendly wines.
Sourcing fruit from dry-farmed vineyards throughout the Willamette Valley, Welsh makes single vineyard designate wines from Armstrong Vineyard in the Ribbon Ridge AVA, Bjornson Vineyard and Eola Springs Vineyard in the Eola-Amity Hills, Dell'Uccello Vineyard near Eugene as well as Dauenhauer Farms in Yamhill County.
The wines are made at the SE Wine Collective in Portland. Here Welsh Family Wines shares space and a tasting room with several other urban wineries such as Esper Cellars, Laelaps Wines, Stedt Winegrowers and Statera Cellars. Alumni wineries like Fullerton Wines, Vincent Wine Company and Bow & Arrow started out as part of the SE Wine Collective before moving on to their own facilities.
The 2016 vintage was the first release of Welsh's Blaufränkisch from 30+ year old vines planted at Dauenhauer Farms. Multi-generation farmers, the Dauenhauers also produce a Lemberger/Blaufränkisch under their Hauer of the Dauen (Hour of the Dawn) label.
The Grape
Jancis Robinson, Julia Harding and José Vouillamoz note in Wine Grapes that several grape varieties have been known as "Fränkisch" since the Middle Ages. Distinct from Heunisch grapes believed to have originated from Hungary, these Fränkisch varieties were thought to be more noble grapes associated with wines of the Franconia region.
The first written record of the name Blaufränkisch dates back to 1862 when the grape was presented at a exposition in Vienna. Later that century, the grape appeared in Germany under the synonyms Lemberger and Limberger. Both names seem to have Austrian origins and may indicate the villages where the grape was commonly associated with–Sankt Magdalena am Lemberg in Styria and Limburg (now part of Maissau) in Lower Austria.
DNA evidence has shown that Blaufränkisch has a parent-offspring relationship with the Heunisch grape Gouais blanc. It also crossed with Gouais blanc to produce Gamay noir. This suggests that the grape may have originated somewhere between Austria and Hungary though Dalmatia (in modern-day Croatia) is also a possibility. Here the grape is known as Borgonja (meaning Bourgogne) and Frankovka. However, the identification of these Croatian plantings with Blaufränkisch was only recently discovered so the grape's history in this region is not fully known.
Beyond Gamay noir, Blaufränkisch has also sired several other varieties such as Zweigelt (with St. Laurent), Blauburger and Heroldrebe (with Blauer Portugieser), Cabernet Cubin and Cabernet Mitos (with Cabernet Sauvignon) and Acolon (with Dornfelder).
Blaufränkisch in Europe.
In Austria, Blaufränkisch is the second most widely planted red grape variety after its offspring Zweigelt with 3,340 ha (8,250 acres) as of 2008. Covering 6% of Austria's vineyards, most of these plantings are found in the Burgenland region.
Most German examples of Lemberger/Limberger are found in Württemberg (part of the historic Franconia region). There were 1,729 ha (4,272 acres) of the grape planted in Germany as of 2009.
The 8000 ha (19,770 acres) of Hungarian Kékfrankos, the local translation of "Blue Frank", are scattered throughout the country. Sopron, bordering Austria, is particularly well known for the grape as well as Kunság. In Eger, Kékfrankos is a primary grape in the region's famous "Bull's Blood" wine of Egri Bikavér.
Prior to the discovery of Borgonja as Blaufränkisch, Croatian plantings of Frankovka accounted for 2.7% of the country's vineyard.
Blaufränkisch in the US.
Paul Gregutt notes in Washington Wines and Wineries that Dr. Walter Clore pioneered planting of Lemberger in Washington State in the 1960s and 1970s. Sourced from cuttings in British Columbia, Clore thought the grape had the potential to be Washington's answer to California Zinfandel.
In those early years, the grape was mostly used in blends and port-style wines. Kiona Vineyards released the first commercial example of Lemberger in the United States in 1980. Under Clore's influence, Thomas Pinney notes in "A History of Wine in America, Volume 2", the grape became something of a "Washington specialty".
While consulting for Ste. Michelle Wine Estates' Columbia Crest winery, California winemaker Jed Steele discovered Washington Lemberger. He eventually partnered with the winery to make his Shooting Star Blue Franc.
Lemberger hit a high point of popularity with 230 acres in 2002. But in recent years the variety has seen a steep decline with only 54 acres in production as of 2017. Today, some of the oldest plantings are found on Red Mountain at Kiona and Ciel du Cheval.
In Oregon, there is not enough plantings of Lemberger/Blaufränkisch to merit inclusion on the state's acreage report. Outside of the Pacific Northwest there are some plantings in Lodi, New Mexico, New York, Michigan and Ohio.
The Wine
Medium intensity nose. A mix of red fruits–cherries and raspberry–with floral notes like carnations. With air some forest floor earthiness comes out. Little to no oak influence except for maybe some slight allspice baking notes.
On the palate, those red fruits carry through and are amplified with high acidity. Very mouthwatering. The acidity also brings out black pepper spice and makes the forest floor earthiness seem more fresh. Soft medium tannins balance the medium-minus body weight of the wine very well. The moderate finish lingers on the red fruit.
The Verdict
This is a very Pinot noir-like Blaufränkisch that is very different from the Washington Lembergers I'm familiar with from Kiona and Alexandria Nicole. Those wines tend to have a much bigger body with dark blackberry fruit and more noticeable oak influences.
The lightness of the body, ample acidity and spice notes are certainly closer to Austrian examples of the grape. Though the fruit in Austrian Blaufränkisch tends to be more on the black fruit side of the spectrum than this very red-fruited Oregon wine.
As this was my very first Oregon Blaufränkisch, I can't say if this is typical of how the grape responds to Oregon terroir. My gut is that it is because the Pinot comparisons are inescapable.
The best way to describe this wine would be if an "old school" Oregon Pinot noir (like Rollin Soles' ROCO) and a Cru Beaujolais (like a Côte de Brouilly) had a baby.
While it is enjoyable on its own (especially if served slightly chilled on a warm day), the best place for this wine is on the table with food. Here its mouthwatering acidity and interplay of fruit & spice can shine with a wide assortment of dishes. At $20, this would be a terrific bottle to think about for Thanksgiving.
Subscribe to Spitbucket