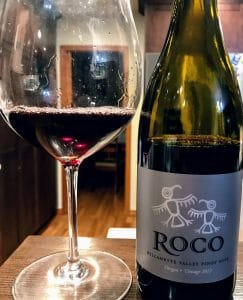 May is Oregon Wine Month so I'm going to kick off the festivities with a few quick thoughts about the 2012 ROCO Pinot noir from the Willamette Valley.
The Geekery
ROCO was founded in 2001 by Rollin Soles and his wife Corby Stonebraker-Soles. In 1987, Soles founded the sparkling wine producer Argyle in the Dundee Hills with Australian winemaker Brian Croser. Argyle expanded to still wine production in 1992 with Soles at the helm till 2013 when he stepped down as winemaker to focus on ROCO. He is also the consulting winemaker for Domaine Drouhin's Roserock project in the Eola-Amity Hills.
During his time at Argyle, Soles wines were featured on Wine Spectator's Top 100 list more than any other Oregon winemaker with his Extended Triage Brut being the top scoring American sparkling wine for six straight years.
Prior to his time at Argyle, Soles worked at Wente Brothers and Chateau Montelena in California and at Petaluma Vineyards where he met Brian Croser.
In 2016, Soles released his first post-Argyle sparkling wine, RMS.
The 2012 Willamette Valley Pinot is sourced from vineyards in the Chehalem Mountains, Yamhill-Carlton District and Dundee Hills AVA. Around 2500 cases were made.
The Wine
Medium intensity nose. Fresh red cherries with a mix of red and blue floral notes.
On the palate, the cherries come through and bring raspberry notes with medium body weight. High acidity is ample but doesn't veer into tartness. Medium tannins have noticeable grip but are soft. Moderate finish introduces a cherry cola note that adds some intrigue.
The Verdict
I was a bit surprised at how elegant and light this Pinot was for the very "California-like" 2012 vintage that saw drought conditions which concentrated flavors. Usually from this vintage, I expect to find more full-bodied and fruit forward Pinots.
Instead, this wine came across as more of a "classic Oregon" Pinot with restrained, but present, fruit and ample acidity that shines on the table. At $27-30, it is a solid bottle for fans of that old-school, classic style.
Subscribe to Spitbucket