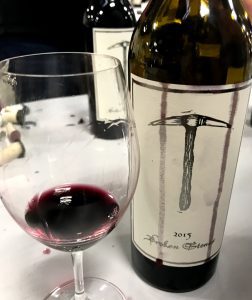 A few quick thoughts on the 2015 Saxum Broken Stones from the Willow Creek District of Paso Robles.
The Geekery
Saxum Vineyards was founded in 2001 by Justin Smith and has quickly ascended to cult-status for their Rhone blends–earning numerous 100 point scores and critical acclaim. In 2010, the James Berry Vineyard Red Blend was named the #1 Wine of the Year by Wine Spectator magazine.
While most of Saxum's wines are single vineyard cuvees such as the James Berry Vineyard and Terry Hoage Vineyard, Broken Stones is a blend of multiple vineyards that are all farmed sustainably.
The 2015 Broken Stones is a blend of 48% Syrah, 21% Mourvedre, 20% Grenache, 10% Petite Sirah and 1% Roussanne. The wine was aged 18-20 months in 75% new French oak barrels before being bottled unfined and unfiltered. Around 1100 cases were produced.
The Wine
Medium intensity nose. Rich dark fruit of blackberries, blueberries and black currants. Very sweet smelling with a little blue floral notes and baking spice like cinnamon.
On the palate those dark fruits come through and are quite jammy. However, the wine doesn't taste sweet at all. Medium-plus acidity helps balance the very full-bodied fruit but it's not quite as mouthwatering or juicy as I would hope. The medium-plus tannins are present but are very silky. That texture and mouthfeel are probably the best part. Moderate finish sticks with the big fruit and lingers with noticeable back-end heat of alcohol (15.6%).
The Verdict
This is a big, big wine that is a bit too big and jammy for my personal tastes. With the healthy dose of Syrah and Mourvedre, I was hoping for more savoriness and spice but the rich dark fruit runs the show.
At $130-150, there is certainly a premium for this mailing-list only cult producer but it is a distinctive style that will be worth it to some people–such as fans of Mollydooker's Velvet Glove (ave $170) who would find this right in their wheelhouse.
Subscribe to Spitbucket