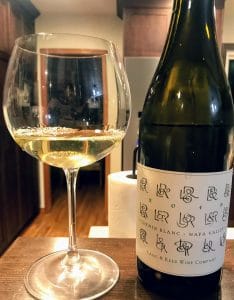 This post was inspired by Outwines' Noelle Harman's great post on the Loire and South African Chenins made by the husband-wife team of Vincent & Tania Carême. That post and her reviews are well worth a look along with her super geeky and super useful study outline on the Chenin blanc grape (part of a continuing series she does).
With this still being California Wine Month, I'm going to add my advocacy for the overlooked and underappreciated Chenin by highlighting Lang & Reed's 2015 example from Napa Valley.
The Background
Lang & Reed was founded in 1995 by Tracey & John Skupny. After previous stints at Caymus, Clos Du Val and Niebaum-Coppola, John and his wife Tracey (previously of Spottswoode) wanted to work with their favorite grape varieties from the Loire Valley–Cabernet Franc and Chenin blanc.
Named after their children, Reed & Jerzy Lang, Lang & Reed Wine Company work with fruit primarily from the Anderson Valley of Mendocino and Napa Valley.
The 2015 Chenin blanc is sourced 100% from the cooler Oak Knoll District of the Napa Valley from a vineyard near the Napa River. The grapes were whole cluster pressed with the wine fermented in a combination of stainless steel tanks and French oak barrels. The Chenin was then transferred completely to barrel where it was aged 4 months with weekly batonnage stirring of the lees. Around 185 cases were produced.
The Grape
Jancis Robinson, Julia Harding and José Vouillamoz note in Wine Grapes that the first mention of Chenin blanc, under the synonym Plant d'Anjou, dates back to 1496 in the Loire Valley. Here the wine was grown at Chateau Chenonceau owned by Thomas Bohier. It is believed that Bohier then propogated the variety which eventually took on the name Chenin from Chenonceau.
The name "Chenin" itself first appears in François Rabelais' 1534 work Gargantua. A native of Touraine, Rabelais describes both a Chenin wine and a Vin Pineau with Gros Pineau being a common synonym of Chenin blanc in Touraine for many centuries.
It is possible that the name Chenin came from the monastery of Montchenin in Touraine. Another theory is that the name is derived from the French word chien, meaning dog, and could refer to the affinity of dogs to eat the the grapes off the vine.
Recent DNA analysis has shown a parent-offspring relationship between Savagnin and Chenin blanc with Savagnin being the likely parent. This would make Chenin blanc a half or full sibling of Sauvignon blanc, Petit Manseng, Gros Manseng, Grüner Veltliner, Verdelho, Siegerrebe and the Trousseau varieties.
Through its relationship with Sauvignon blanc, Chenin is then an aunt/uncle of Cabernet Sauvignon.
At some point, Chenin blanc naturally crossed with Gouais blanc (mother vine of Chardonnay) to produce several varieties like Colombard, Meslier-Saint-François and Balzac.
In South Africa, the grape was crossed with Trebbiano Toscano/Ugni blanc to produce Chenel.
Chenin Blanc Today

From a high point of 16,594 ha (41,005 acres) of vines in 1958, plantings of Chenin blanc in France have sharply declined over the years to just 9,828 ha (24,286 acres) in 2008–representing around 1.2% of France's vineyards.
It is mostly found in the Anjou-Touraine region of the Loire Valley where it is used in the sparkling wines of Cremant de Loire and Vouvray. Also in Vouvray it can be used to produce dry to demi-sec still wines while in the AOC of Bonnezeaux, Montlouis and Quarts de Chaume it is used exclusively for late harvest sweet examples that may have some botrytis influence. In Savennières it is used exclusively for minerally dry wines with notable ageability.
Outside of the Loire it can also be found in the Languedoc where it can make up to 40% of the blend for Cremant de Limoux with Mauzac blanc, Chardonnay and Pinot noir.
Chenin blanc has been historically known as "Steen" in South Africa where it has accounted for as much as a third of all white wine produced in the country. By 2008 there were 18,852 ha (46,584 acres) of the vine representing 18.6% of all South African plantings. It is grown throughout South Africa but is more widely found in Paarl, Malmesbury and Olifants River. In recent years the variety has seen a renaissance of high quality production by producers in the Swartland and Stellenbosch.
In California there is 4,790 acres of Chenin blanc planted throughout the state
as of 2017
–nearly 2/3 of the acreage that was in production in 2010 (7,223 acres). Notable plantings can be found in the Clarksburg AVA in Sacramento, Solano and Yolo counties, Chappellet Vineyard on Pritchard Hill in Napa, Santa Maria Valley, Lodi, Paso Robles, Alexander Valley and Mendocino County.
Like California, Washington State has also seen a notable drop in plantings of Chenin blanc in recent years going from 600 acres in 1993 to just 67 acres by 2017.
The Wine
High intensity nose–yellow peach and white flowers. There is also some honeycomb and fresh straw notes that come out more as the wine warms in the glass.
On the palate the peach notes come through and adds a spiced pear element. There is noticeable texture and weight on the mouthfeel but I would still place the body as just medium. Medium-plus acidity adds a mouthwatering element and a little saline minerality as well. Long finish still carries the fruit but brings back some of the straw notes from the nose.
The Verdict
The 2015 Lang & Reed Chenin blanc from Napa Valley is, hands down, one of the most delicious domestic Chenin blancs that I've had the opportunity to try–second only to Chappellet's example. While not quite Savennières level, at $25-30 it still delivers plenty of complexity that outshines many California Chardonnays and other white wines in that price range.
At nearly 3 years, it is still quite youthful and I can see this wine continuing to give pleasure for at least another 3-4 years.
Subscribe to Spitbucket