A few quick thoughts on the 2016 àMaurice Viognier.
The Geekery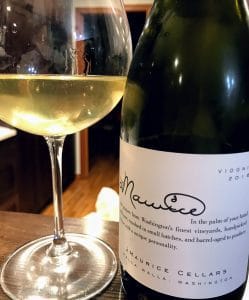 àMaurice was founded in 2004 by Tom and Kathleen Shafer with the winery named after Tom's father. Paul Gregutt notes in Washington Wines that the first couple vintages were made by Rich Funk of Saviah Cellars while the Shafer's daughter, Anna, studied winemaking down in Argentina with Paul Hobbs' Viña Cobos.
The estate vineyard was first planted in 2006 in Mill Creek Valley in the foothills of the Blue Mountains–not far from Leonetti's Mill Creek Upland Vineyard. Planted to Viognier, Cabernet Sauvignon, Cabernet Franc, Malbec, Merlot, Petit Verdot and Syrah, it was the first registered sustainable vineyard in Washington. Additionally, àMaurice were charter members of Vinea–an alliance of Walla Walla vineyards and wineries committed to sustainable practices.
In addition to their estate fruit, àMaurice also sources from Gamache, Connor Lee and Weinbau Vineyards in the Wahluke Slope; Boushey and Den Hoed Vineyards in Yakima Valley as well as Sagemoor, Bacchus and Dionysus Vineyards in the Columbia Valley.
The 2016 àMaurice Viognier is sourced primarily from Gamache and Den Hoed Vineyards. The wine was aged in 5% new oak.
The Wine
High intensity nose with lots of tree fruits–peaches and apricot–and white floral notes. There is also a spiciness in the background that I can't quite pick out.
On the palate those ripe tree fruits carry through and add lots of weight and depth to the wine. But there is also a lot of elegance with medium-plus acidity adding freshness and lift. There is some citrus zest that comes out on the palate with the spice getting more defined as fresh ginger. The floral notes return for the long silky finish.
The Verdict
At around $28-35, this is clearly one of the best white wines made in Washington. What is more remarkable is that this is essentially Anna Shafer's entry-level Viognier with àMaurice also offering an estate bottling as well as a Viognier/Marsanne blend from Boushey Vineyards.
Well worth looking for.
Subscribe to Spitbucket