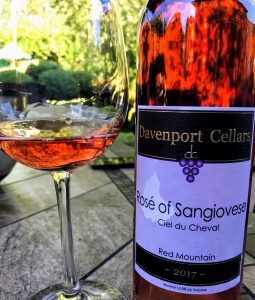 Going to need more than 60 Seconds to geek out about Davenport Cellars' 2017 Rosé of Sangiovese from the legendary Red Mountain vineyard of Ciel du Cheval.
The Background
Davenport Cellars was founded in 2006 by Jeff and Sheila Jirka. Alumni of the Northwest Wine Academy at South Seattle College, the Jirkas were members of the very first Wine Production class–helping to pioneer a program that would go on to educate such award winning winemakers as Michael Savage of Savage Grace Wines, William Grassie of William Grassie Wine Estates, Charlie Lybecker of Cairdeas Winery, Kit Singh of Lauren Ashton Cellars, Tom Stangeland of Cloudlift Cellars, Jason Morin of Ancestry Cellars, Scott Greenberg of Convergence Zone Cellars, John Patterson of Patterson Cellars and Louis Skinner of Betz Family Winery among many others.
In addition to their studies at NWA, Jeff studied winemaking through the University of California-Davis Extension winemaking program while Sheila studied viticulture through Washington State University's certificate program.
Located in the Woodinville Warehouse District, Davenport Cellars makes around 1000 cases a year from fruit sourced from some of the top vineyards in Washington State such as Les Collines, Pepper Bridge and Seven Hills Vineyard in Walla Walla, Boushey and Sheridan Vineyard in the Yakima Valley as well as Ciel du Cheval and Kiona Vineyard on Red Mountain.
The 2017 Rosé of Sangiovese is 100% Sangiovese sourced from Ciel du Cheval. Around 25 cases were made.
The Vineyard
In his book Washington Wines and Wineries: The Essential Guide, Paul Gregutt list Ciel du Cheval as among the Grand Cru vineyards of Washington along with Boushey Vineyard, Cayuse Vineyard in Walla Walla, Celilo Vineyard in the Columbia Gorge, Champoux Vineyard in the Horse Heaven Hills and Klipsun Vineyard on Red Mountain.
Along with Kiona Vineyard, Ciel du Cheval was first planted in 1975 by Jim Holmes and John Williams, two engineers from the nearby Hanford nuclear site. The two were inspired to plant on the relatively barren scrubland near Benton City after reading Dr. Walter Clore's report from Washington State University on the viability of grape growing in the area.
After purchasing 80 acres from Williams' father-in-law in 1972 for $200 an acre, the men invested in bringing electricity to Red Mountain for the first time, constructed roads and drilled in search of an underground aquifer. Their funding was close to running out by the time the drillers finally hit pay dirt with a water source located 560 feet beneath the surface.
Those first acres of plantings would become what is today known as Kiona Vineyard. Soon after its establishment, Holmes and Williams began planting another 80 acres across Sunset Road with a group of investors that included David and Patricia Gelles (who would later establish Klipsun Vineyard). This second vineyard was called Ciel du Cheval, a rough French translation for the Horse Heaven Hills that were visible from Red Mountain across Highway I-82.
The early vintages of the new vineyard were sold to local wineries like Preston Winery and Quilceda Creek as well as Amity Vineyards from Oregon. In the 1980s, Andrew Will began sourcing Ciel du Cheval fruit and DeLille Cellars started a long term relationship with the vineyard in 1990.
In 1994, Holmes and Williams amicably split up their partnership with Williams taking complete control and ownership over the original Kiona Vineyard while Holmes took over Ciel du Cheval. In the early 2000s, Holmes started planting adjacent plots next to Ciel du Cheval as part of joint ventures with Quilceda Creek (Galitzine Vineyard) and DeLille (Grand Ciel Vineyard).
Today there are 103 acres of vines planted at Ciel du Cheval broken up into 36 plots of Barbera, Cabernet Franc, Cabernet Sauvignon, Cunoise, Grenache, Merlot, Mourvédre, Nebbiolo, Petit Verdot, Pinot gris, Roussanne, Sangiovese, Syrah and Viognier. The vineyard is farmed sustainably with no herbicides used on the vines and low impact viticulture practiced for soil conservation and dust control.
In 2012, the Holmes family started Côtes de Ciel winery but still sell the majority of their vineyard's fruit to an all star roster of Washington wineries such as Andrew Will, Betz, Cadence, DeLille, Fidelitas, Force Majeure, Januik, Mark Ryan, McCrea, Quilceda Creek and Seven Hills.
What Makes Ciel du Cheval Fruit So Highly Sought After?

The soils on Red Mountain were formed through a series of cataclysmic floods and glaciation during the Ice Ages which left an uneven dispersal of soils and cobblestones across the vineyards and even rerouted the ancient Columbia River around the contours of Red Mountain.
The soils that were deposited on what is now Ciel du Cheval are different from neighboring vineyards with more than 12 feet of sandy loam on top of a layer rich in calcium carbonate. The very high pH levels of the soils due to the calcium carbonate keeps a lot of the nutrients in the soil insoluble and inaccessible to the vines. This encourages the vines to struggle and dig their roots even deeper in search of nutrients.
This results in much smaller canopies and berry sizes compared to vines grown elsewhere. In Washington Wines, Holmes notes that while a typical grape berry grown in Napa Valley will weigh around 1.3 grams, from Ciel du Cheval the average weight is 0.88 grams.
These smaller berries develop fully ripe and intense flavors from the 2950 average heat units that the vineyard receives each year but maintain fresh acidity due to the wide diurnal temperature variation that can drop as much as 40-50 degrees from the day time highs in the 90s.
The balance of fresh acidity with intense flavors and ripe tannins is a trademark style of fruit from Ciel du Cheval.
The Grape

Widely known as the dominant grape of Tuscany, one of the earliest commercial plantings of Sangiovese in Washington State was at Red Willow Vineyard in Yakima Valley in the 1990s though it is likely that Italian immigrants to Walla Walla in the late 1800s brought cuttings from their native land for personal cultivation.
By 1999, there were around 100 acres of Sangiovese planted in Washington. After jumping to 220 acres in 2002, plantings dropped to around 134 acres in production as of 2017.
As a red wine, the style of Washington Sangiovese is noted for its combination of red fruit flavors like cherry, currant and cranberry paired with spicy anise and herbal tobacco leaf notes. As a rosé, those cherry and cranberry notes are often complimented with strawberry aromatics. The grape's trademark high acidity lends itself well to rosé production with a good portion of Washington's approximate 75,000 cases of Sangiovese based wines being rosés.
One of the distinctions of Sangiovese is its propensity to develop clonal mutations when it is grown in different environments.
At Ciel du Cheval there are two clones of Sangiovese planted, VCR 6 and VCR 23, that were cultivated and studied at the Vivai Cooperativi Rauscedo in the Friuli-Venezia Giulia region of north east Italy.
The VCR 6 clone
was sourced from
vineyards in the Brunello di Montalcino region of Tuscany while VCR 23 was sourced from Vecchiazzano in Romagna.
The Wine
Medium-plus intensity nose. Lots of strawberry and cherry notes with a little subtle spice that almost seems black pepper like.
On the palate this rosé has a lot of weight–more so than the WT Vintners Pinot noir rosé sampled the same night. Some noticeable residual sugar but amply balanced by the high acidity that gives the fruit a mouthwatering juiciness. Moderate length finish brings back the subtle pepper spice from nose and adds an intriguing savory/sweet element.
The Verdict
While no one would would confuse this for a bone-dry and minerally Provençal rosé, at around $18, the Davenport 2017 Rosé of Sangiovese is a refreshing and easy to drink rosé that is very crowd-pleasing and food friendly.
Quite enjoyable on its own, the bold flavor and touch of sweetness in this rosé would particularly shine with foods that have a hint of spiciness like ethnic Thai or Indian.
Subscribe to Spitbucket