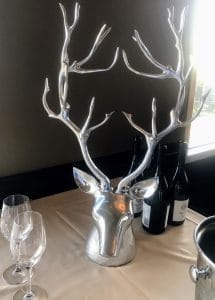 Daniel's Broiler in Bellevue, Washington is one of my wife and I's favorite restaurants to visit. Each year they host a Champagne Gala that we love going to. Even when we're not thrilled with the wines selected, we nonetheless always enjoy the exquisite food crafted by Executive Chef Kevin Rohr and a chance to try interesting food pairings.
Recently I got to attend a dinner featuring the wines of Stags' Leap Winery with Assistant Winemaker Joanne "Jo" Wing.
The Background
I geeked out about some of the backstory of Stags' Leap Winery in my 60 Second Review of their 2013 Napa Valley Merlot. With a long history dating back to the late 19th century, the winery is one of Napa's most historic properties.
In California's Great Cabernets, James Laube notes that the rise of the modern-era of Stags' Leap Winery under Carl Doumani went hand in hand with the "Cabernet boom" of the 1970s that saw the notable Cabs of Burgess, Cakebread, Caymus, Clos du Val, Mount Eden, Mt. Veeder, Silver Oak and Joseph Phelps hit the scene. It also saw the birth of Stag's Leap Wine Cellars and decades-long legal intrigue.
"The War of the Apostrophe" soon took off with Warren Winiarski of Stag's Leap Wine Cellars (and winner of the famous 1976 Judgment of Paris) suing Doumani–who promptly counter-sued.
The two men eventually settled their differences in the mid-1980s and released a special collaborative bottling between the two estates called Accord from the 1985 vintage to commemorate. The agreement was that Winiarski's Stag's Leap Wine Cellars would have the apostrophe to the left of the 's' while Doumani's Stags' Leap Winery would have it to the right.
Around this time, the two wineries faced another challenge with other wineries in the area like Gary Andrus' Pine Ridge Winery, Steltzner Vineyards, Shafer Vineyards and more wanting to use the Stags Leap name and petitioning for American Viticultural Area (AVA) approval under that name for the region. After more legal challenges, a compromise was struck for the name of the new AVA to be the Stags Leap District (SLD) sans apostrophe.
Today the winery is owned by Treasury Wine Estates where it is part of a vast portfolio that includes 19 Crimes, The Walking Dead wines, Beaulieu Vineyards, Beringer, Ch. St Jean, Penfolds, Provenance, Hewitt Vineyard and more.
The current winemaker is Christophe Paubert who succeeded Robert Brittan when the later left Napa to make wine in Oregon at his own Brittan Vineyards and consult for wineries such as Winderlea.
A Bordeaux trained winemaker, Paubert has extensive experience working at such illustrious estates as the 2nd Growth St. Julien estate of Ch. Gruaud-Larose and the First Growth Sauternes estate of Chateau d'Yquem. Prior to joining Stags' Leap in 2009, Paubert was the head winemaker for 4 years at Canoe Ridge Vineyards in Washington State.
Assistant Winemaker Joanne Wing is a New Zealand native who started out at Indevin, one of New Zealand's largest wine producers. She gained experience working harvest across the globe from Saintsbury in Napa to Mount Pleasant Winery in the Hunter Valley of Australia as well as in Bordeaux before accepting a position at Stags' Leap as a harvest enologist and working her way up to Asst. Winemaker.
Passed hors d'oeuvres paired with 2016 Stags' Leap Winery Napa Valley Viognier
Smoked sablefish with soft scrambled farm egg, ikura, chives and Chevre crostini with watermelon beet, grilled apricot, chili spice
I'm not a big beet person so I let my wife try the Chevre Crostini while I had the smoked sablefish with the ikura roe caviar. Both were smashing pairings with the Stags' Leap Viognier with the wine being a particular revelation.
Sourced primarily from cooler climate vineyards in the Carneros AVA and Oak Knoll District, the Viognier had medium-plus intensity nose of orange blossoms and white peach notes.
On the palate, those white peach tree fruits carried through but also brought some tropical notes of passion-fruit, manago and papaya. However this Viognier never came close to the tutti-fruity "Fruit Loop Cereal" style that unfortunately befalls many domestic Viogniers–especially those fermented and aged only in stainless steel. To avoid that pratfall, Paubert and Wing fermented the wine in neutral French oak barrels with weekly batonnage for 4 months. This very "Condrieu-style" approach produced a Viognier with textural weight and depth but with enough medium-plus acidity to keep it from being flabby or overly creamy.
The acidity also matched perfectly with the hors d'oeuvres, cutting through the "fishiness" of the sablefish and roe. My wife was particularly impressed at how well the acidity matched with the Chevre–the tangy goat cheese that often calls for high acid whites like Sauvignon blanc.
At $22-27, this is an outstanding Viognier with loads of personality and complexity that I would put on par with the àMaurice Viognier from Washington State as one of the stellar domestic examples of this variety.
First Course paired with 2016 Stags' Leap Napa Valley Chardonnay
Spring Salad with Belgian endive, baby kale, avocado, marcona almonds, preserved kumquat vinaigrette
Sourced from the Carneros and Oak Knoll District, this Napa Chardonnay counters the stereotype of over-the-top, oaky, buttery Chardonnays. With 25% fermented and aged in new French oak, 50% in "seasoned" French oak and the rest in stainless steel with no malolactic fermentation, this Chardonnay aimed for an elegant and food-friendly style.
The wine had a medium intensity nose with apple and citrus lime notes. A little subtle baking spice from the oak rims around the edge.
On the palate, the citrus notes came through the most and played off the baby kale and avocado very well. Medium-plus acidity maintained freshness and balanced the moderate creaminess in the wine. The clove oak spice and an almost marzipan nuttiness lingered on the moderate finish.
Overall, this was a very drinkable and pleasant Chardonnay that did hit the target for food-pairing. But, admittedly, at $25-30 it didn't jump out as anything wow-worthy–especially following in the footsteps of the scrumptious Viognier. It's a very well made California Chard but it is still one of hundreds of similar well-made and similarly priced California Chards.
Second Course paired with 2014 Stags' Leap Napa Valley Cabernet Sauvignon
Braised short ribs with seared sea scallops, morel mushrooms, chervil
From a food perspective, this was the winning course of the night. The braised short ribs melted in the mouth and had you dearly wishing you had more than just the bite. The scallops were perfectly cooked and while I was skeptical with pairing them with a big Cab, the morel and au jus sauce from the short ribs offered just enough weight to carry the pairing.
As with other wines in the white label Napa Valley series, the Stags' Leap Cabernet Sauvignon includes some estate fruit but is mostly sourced from vineyards throughout Napa Valley. Joanne Wing noted that while Paubert likes the flexibility of having some fruit from warm climate sites like Calistoga, he's far more excited about the fruit from the cooler southern reaches of Napa like Coombsville, Oak Knoll and Yountville.
Medium-plus intensity with rich dark fruit–black currants, black plums, blackberries. This screams Napa Cab from the nose but it is not as overtly oak-driven as the norm with a little tobacco spice element.
On the palate those dark fruits carry through but there is a little earthy forest-floor element that emerges that adds some intrigue. Medium acidity adds juiciness to the fruit but not enough to be mouthwatering. The oak is a little more pronounced but is more spice driven than vanilla. The medium-plus tannins are still quite firm and young but are more tight than biting. Moderate length finish ends on the fruit which testifies to the youth of this wine.
At $45-50, this is priced in lined with many of its Napa peers as a sort of "entry-level" Napa Cab. It's hard to say it is a compelling value compared to what you can get for equivalent pricing from other regions like Washington and Paso Robles. Like the Chardonnay, I feel like this Cab is certainly well made but not blow-your-socks-off-you-must-find-it good partly because of the premium you are paying for the Napa name (and the winery's history).
However, I do suspect that this wine could kick it up a couple notches with a few more years of bottle age that potentially could make it far more compelling.
Third Course paired with 2014 Stags' Leap "The Investor" Red Blend
Piedmontese New York Steak with herb polenta, spring vegetables, blackberry demiglace
Admittedly, this was one of the few times I've been disappointed with a Daniel's steak. Perhaps it was just this cut but I found it was in the weird position of being both too fatty and too dry and lacking flavor. The polenta and blackberry demi-glace were excellent though. But I found myself again wishing that the braised short ribs were the main course.
A unique blend of Merlot, Petite Sirah, Cabernet Sauvignon and Malbec, The Investor pays homage to former owner Horace Chase who made his fortune investing in gold and silver mines during the Gold Rush days of California. The Merlot and majority of the Petite Sirah come from estate fruit in the Stags Leap District and Oakville while the Cabernet and Malbec are sourced from vineyards throughout Napa Valley.
Medium-plus nose with a mix of red and dark fruits–plums and currants. There is more overt oak vanilla on the nose of this wine than with the Cab but it doesn't seem overwhelming. Underneath there is also a blue floral element that is not defined.
On the palate, the mix of fruits carry through with mouthwatering medium-plus acidity tilting the favor towards the red fruit. Some savory herbal and smokey notes join the party that dearly helps the food-pairing with the flavorless Piedmontese New York steak. The vanilla oak notes add a layer of velvety softness to the high tannins that still have a fair amount of gripe. Like the Cab, the moderate length finish ends on the youthful fruit.
At $50-60, The Investor intrigues me a lot more than the Napa Cabernet (and the Napa Merlot) because of the savory, smokey element and mouthwatering acidity. It's still young and has some "baby fat" of oak that needs to be shed but this is a unique blend that could turn into something exceptionally good.
Dessert paired with 2014 Stags' Leap Napa Valley Petite Sirah
Chocolate torte with Devonshire cream, coconut crisp
While the chocolate torte was amazing and sinfully delicious and the wine outstanding, this was not a winning pairing. The wine was nowhere near sweet enough to balance with the torte.
Still, it was somewhat fitting to end the Stags' Leap Winery dinner with the wine that truly epitomizes the estate. While the name "Stags Leap" is synonymous with Cabernet Sauvignon, Stags' Leap Winery was always a vanguard in cultivating and promoting Petite Sirah.
High intensity nose that started jumping out of the glass as soon as the waiter poured it. Blackberries and boysenberries with some peppery spice and violets.
On the palate, the first thing that hits you is the weight and richness of the wine with the full brunt of the dark fruits and high tannins. But there is an elegance with the juicy medium-plus acidity and fine balance that keeps the wine from being overbearing. On the moderate finish, there is some subtle dark chocolate notes that come out but not enough to make the food-pairing work. This was definitely a wine to savor on its own.
At $32-40, this is a more premium-priced Petite Sirah but it is well worth not only its price but also its reputation as the winery's flagship. During this course, Jo told us about the Ne Cede Malis block of Prohibition-era vines that is a field blend of majority Petite Sirah with Muscat, Malbec, Mourvèdre, Cinsault, Carignan and up to 9 other varieties. The grapes are harvested together and co-fermented to produce a limited release bottling. I have to admit that if Stags' Leap Winery's mobile ordering website wasn't so buggy and difficult to navigate, I would have purchased a bottle of the Ne Cede Malis Petite Sirah (as well as several bottles of the Viognier) right then.
Overall Impressions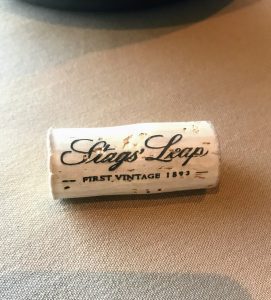 Attending this dinner left me wondering if Stags' Leap Winery is a victim of its own name and location in Napa Valley. While the winery absolutely shined with its Viognier and Petite Sirah, their more typical Napa offerings of Cabernet Sauvignon and Chardonnay were just "ho-hum".
I do appreciate that Treasury Wine Estates has let Paubert, Wing and Co. continue producing their more obscure bottlings but I have no doubt that the health of the winery's bottom line depends on the case sales of the bread and butter Cab, Chardonnay and Merlot. It's where the money is–especially in Napa–and that is what they're out to sell.
Yet after tasting their outstanding Viognier, scrumptious Petite Sirah and very character-driven Investor blend, its hard not to think about what more the winery could do with their talented winemaking team and unique approach if they didn't have to live up to the name Stags' Leap.
Subscribe to Spitbucket