Last month, I attended the Wine Spectator Grand Tour tasting at the Mirage Hotel in Las Vegas.
While I previously had a blast at the 2017 tasting (which I documented in my 3 part series that you can read here) I won't be doing a series of articles on this year's Grand Tour (apart from maybe a Top 10 post) because, frankly, I would be burning out the "cut and paste" keys on my laptop.
Déjà vu all over again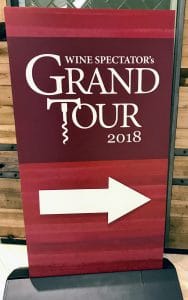 Out of the 244 wineries participating, an astonishing 184 of them (around 75%) were repeats from last year's tastings.
Indeed, wineries like Stag's Leap Wine Cellars, Haut-Brion, Penfolds, Casanova de Neri, Perrier-Jouët and K Vintners make a lot of great wines that are fun to try. It's certainly okay to have some "big ticket names" regularly featured to attract attention.
But come on? 75% repeats?
That's crazy when you consider that Wine Spectator reviews around 17,000 wines a year—several thousand of which get 90+ points. Using their Advanced Search option, I found over 1800 American, 1700 French, 300 Italian, 180 Spanish and 180 Australian wines from just the 2014 vintage alone with 90+ ratings.
Is it that difficult to find more than 100 new wineries each year to feature at their marquee tasting event?
Groundhog Day at the Mirage
While some of the repeat wineries did pour at least a different wine than they did the year before (like Albert Bichot's Domaine du Clos Frantin pouring the 2013 Clos du Vougeot Grand Cru this year after pouring the 2013 Vosne-Romanee Les Malconsorts Premier Cru last year), 66 of the wineries poured only a different vintage of the same wines they featured in 2017.
Now, yes, I suppose you could argue that there is some interest in seeing vintage variation–but that is only helpful if you are tasting both vintages side by side or happen to have meticulous notes on hand of your previous tasting to compare. Otherwise, it pretty much feels like you are tasting the same damn wine you tasted last year.
The big exception, though, was when wineries took an opportunity to dive into back vintages to give you a unique library tasting experience. This was the case of Domaine de Chevalier and Chateau La Nerthe who brought out their 1998 and 2008 vintages to pour. Rather than feel like you're tasting "last year's wine," this gave you a chance to try something very different and both wines ended up being some of my favorites of the night.
However, probably the most egregious sin of the event was the 25 wineries (around a tenth of all the wines at the event) who poured the exact same wine they poured in 2017. Granted, that number does include some NV wines that theoretically could be a "new batch," but that still doesn't discount the unoriginality and boredom of seeing the same wine featured.
Even Champagne producer Lanson was able to mix things up with pouring their Black Label NV this year after featuring their NV Extra Age Brut last year. Likewise, the Port house Graham's brought their NV 20 Year Tawny Port this year while last year they had their 2000 vintage Port available.
Same Bat-Wine, Same Bat-Channel
Wineries that poured the exact same wine at each event.
Alvear Pedro Ximenez Montilla-Moriles Solera 1927 NV
Ch. Brown Pessac-Leognan 2014
Chateau Ste. Michelle Artist Series 2013
Croft Vintage Port 2011
Domaine Carneros Cuvee de la Pompadour Brut Rose NV
Ernie Els Signature Stellenbosch 2012
Fattoria di Felsina Toscana Fontalloro 2013
Fuligni Brunello di Montalcino 2012
Heitz Cabernet Sauvignon Martha's Vineyard 2005
Henriot Brut Blanc de Blancs Champagne NV
Hess Collection Cabernet Sauvignon Napa Valley Small Block Reserve 2013
Montecillo Rioja Gran Reserva 2009
Mumm Cordon Rouge Brut NV
Mumm Napa Blanc de Blancs NV
Orin Swift Abstract 2015
Patz & Hall Pinot noir Carneros Hyde Vineyard 2014
Famille Perrin Gigondas Clos des Tourelles 2013
Ramos-Pinto 30 year Tawny Port NV
Recanati Carignan Judean Hills Wild Reserve 2014
Marques de Riscal Rioja Reserva Baron de Chirel 2010
Louis Roederer Brut Champagne Premier NV
Taylor-Fladgate 20 year Tawny Port NV
Teso La Monja Toro Victorino 2013
Torres Priorat Salmos 2013
Trinchero Cabernet Sauvignon Napa Valley Mario's Vineyard 2013
Sneak Peak at the 2019 Wine Spectator Grand Tour pour list?
Below are the wineries that poured the same wine but a different vintage. The vintage they poured in 2017 is listed first followed by the wine featured at the 2018 event.
Castello di Albola Chianti Classico Riserva (2010/2013)
Alion Ribera del Duero (2012/2010)
Allegrini Amarone (2012/2013)
Almaviva Puente Alto (2013/2014)
Castello Banfi Brunello di Montalcino Poggio Alle Mura (2011/2012)
Barboursville Ocatagon (2012/2014)
Marchesi di Barolo Sarmassa Barolo (2012/2013)
Belle Glos Pinot noir Clark & Telephone (2014/2012)
Beringer Private Reserve Napa Valley Cabernet Sauvignon (2013/2014)
Brane-Cantenac Margaux (2010/2011)
Caiarossa Toscana (2011/2012)
Calon Segur St. Estephe (2003/2005)
Caparazo Brunello di Montalcino La Casa (2011/2012)
Carpineto Vino Nobile di Montepulciano Riserva (2011/2012)
Casa Ferreirinha Douro Quinta da Leda (2014/2011)
Casanova di Neri Brunello di Montalcino Tenuta Nuova (2011/2012)
Castellare di Castellina Toscano I Sodi di San Niccolo (2012/2013)
Caymus Special Select Cabernet Sauvignon (2009/2014)
Pio Cesare Barolo (2012/2013)
Chalk Hill Chardonnay Chalk Hill (2014/2015)
Cheval des Andes Mendoza (2012/2013)
Domaine de Chevalier Pessac-Leognan (2010/1998)
Still going….
Ciacci Piccolomini d'Aragona Brunello di Montalcino Pianrosso (2010/2012)
Col Solare (2013/2009)
Colome Malbec Salta (2013/2015)
Craggy Range Pinot noir Martinborough Te Muna Road Vineyard (2013/2015)
Cune Rioja Imperial Gran Reserva (2010/2011)
Damilano Barolo Cannubi (2012/2013)
Domaine Drouhin Pinot noir Dundee Hills Laurene (2013/2014)
Donnafugata Terre Siciliane Mille e Una Notte (2011/2012)
Elk Cove Pinot noir Yamhill-Carlton District Mount Richmond (2014/2015)
Ch. d' Esclans Cotes de Provence Garrus rosé (2014/2015)
Livio Felluga Rosazzo Terre Alte (2013/2015)
Feudo Maccari Sicilia Saia (2013/2014)
Fonseca Vintage Port Guimaraens (2013/2015)
Fontodi Colli Della Toscana Centrale Flaccianello (2013/2014)
Frescobaldi Brunello di Montalcino Castelgiocondo (2011/2012)
But wait! There' more….of the same
Ktima Gerovassiliou Malagousia Epanomi (2015/2016)
Kaiken Malbec Mendoza Mai (2012/2013)
Laurenz V. Gruner Veltliner Trocken Kamptal Charming Reserve (2014/2012)
Leeuwin Chardonnay Margaret River Art Series (2013/2014)
Luce Della Vite Toscana Luce (2013/2014)
Masciarelli Montepulciano d'Abruzzo Villa Gemma (2007/2011)
Masi Amarone Costasera (2011/2012)
Masut Pinot noir Eagle Peak Vineyard (2014/2015)
Mazzei Maremma Toscana Tenuta Belguardo (2011/2013)
Mollydooker Shiraz Carnival of Love McLaren Vale (2014/2016)
Ch. La Nerthe Chateauneuf-du-Pape Cuvee des Cadettes (2013/2009)
El Nido Jumilla (2013/2014)
Siro Pacenti Brunello di Montalcino Vecchie Vigne (2012/2013)
Pacific Rim Riesling Yakima Valley Solstice Vineyard (2014/2015)
Pichon-Lalande Pauillac (2011/2009)
Protos Ribera del Duero Reserva (2011/2012)
Yawn
Renato Ratti Barolo Marcenasco (2012/2013)
Rocca delle Macie Chianti Classico Riserva di Fizzano Gran Selezione (2012/2013)
Rust en Verde Stellenbosch (2013/2014)
Rutini Malbec Mendoza Apartado Gran (2010/2013)
Tenuta San Guido Toscana Guidalberto (2014/2015)
Vina Santa Rita Cabernet Sauvignon Maipo Valley Casa Real (2012/2013)
Vina Sena Aconcagua Valley (2013/2015)
Tenuta Sette Ponti Toscana Oreno (2014/2015)
Sterling Chardonnay Napa Valley Reserve (2013/2014)
Ch. du Tertre Margaux (2011/2010)
Valdicava Brunello di Montalcino (2007/2010)
Quinta do Vale Meao Douro Meandro (2013/2014)
Walt Pinot noir Sta. Rita Hills Clos Pepe (2014/2015)
Moral of the Story?
Besides having around three-quarters of the wineries be the same, the crux for me was the nearly 40% of the wines being either actual or near repeats with different vintages. That's not worth paying $225 to $325 a ticket (and up to $475 at the upcoming New York event in October). Then you add travel and hotel costs and it gets pretty ridiculous.
While I would still say that the value of the wines being tasted and the breadth of the tasting makes the Wine Spectator Grand Tour worth it for a first time visitor, the experience of having so many repeats of wineries and wines dampers my enthusiasm for making this a yearly priority to attend.
Consequently, I haven't made up my mind about attending the 2019 or 2020 event. However, at this rate, I feel like I'd instead find another reason to go to Vegas to play the Somm Game.
Subscribe to Spitbucket