I am going to need more than 60 Seconds to geek out over my first ever Chinese wine–the 2012 Grace Vineyard Tasya's Reserve Shiraz from the Shanxi province.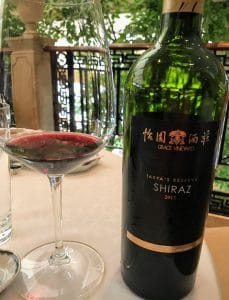 The Background
Mr. Chun-Keung Chan founded Grace Vineyards in 1997 with the help of his friend Sylvain Janvier, a native of Burgundy. Suzanne Mustacich notes in Thirsty Dragon: China's Lust for Bordeaux and the Threat to the World's Best Wines that Chan and Janvier met during the former's business dealings in France. At the time, Chan worked for the Chinese mineral trading and manufacturing firm Eastern Century.
When he sold his shares of Eastern Century in 1994, Chan inquired about purchasing a chateau in Bordeaux. But Janvier convinced him to explore the potential of viticulture in his home country. The two men hired French enologist Denis Boubals to scout for locations. Known as the "Apostle of Cabernet Sauvignon," Boubals was famous for encouraging Languedoc wine producers to modernize. He promoted uprooting native cultivars in favor of the more fashionable varieties of Cab, Chardonnay, Sauvignon blanc and Merlot.
The Vineyard
Boubals identified 100 ha (247 acres) in the Yellow River Basin of Taigu County in the Shanxi Province as a potential vineyard site. Located on an arid loess plateau 2600 feet above sea level, the sandy loam soils near Jinzhong City provided good drainage. This allowed room for roots to burrow deep into the earth with ample tillage to bury the vines during harsh winters.
Shanxi's inland location (nearly 600 km/373 miles from the coast) has a continental climate with cold winters and warm summers. Vineyards here experience a wide diurnal temperature variation between daytime highs and nighttime lows. This can help maintain acidity during heat spikes in the summer.
They planted 69 ha (171 acres) of eleven different grape varieties–including Cabernet Sauvignon, Cabernet Franc, Merlot, Chardonnay, Riesling and Chenin blanc. Boubals sourced all the cuttings from France. The partners named their estate Yi Yuan in Chinese and Grace Vineyard in English.
By the estate's 20th anniversary in 2017, Grace Vineyard had expanded to 200 ha (494 acres) of vines in Shanxi as well as additional parcels in neighboring Ningxia and Shaanxi provinces. The winery also works with several contract growers.
A Family-Owned Winery and a Growing Reputation
At the time of Grace Vineyard's founding, the majority of commercial wineries in China were government-owned entities or co-operatives. The large corporation Changyu based in the Shandong region dominated private enterprise.
In 2002, Chan passed the management of Grace Vineyard to his daughter, Judy, a 24-year-old recent graduate of the University of Michigan. She embarked on an ambitious business-plan that sidestepped the corporation controlled distribution networks in favor of direct-to-consumer sales to the growing Chinese middle class. Chan opened up several wine bars and boutique wine shops in major metropolitan areas that prominently featured Grace Vineyard wine.
Mustacich noted that Chan observed the reticence of Chinese consumers to ask questions that could potentially display ignorance. To combat these fears, she organized the wine bars and retail shops to emphasize education. Chan tailored these sites to be more intimate settings where consumers could freely explore.
As the reputation of Grace Vineyard wines grew domestically, they caught the attention of international critics such as Master of Wine Jancis Robinson. Soon major hotel groups like Peninsula and Shangri-La were featuring their wines. Cathay Pacific Airways, the flag carrier of Hong Kong, also began to promote Grace Vineyard wines on their flights.
Today, Grace Vineyard is considered the "role model" for Chinese boutique wineries as China grows in prominence on the world's wine stage.
The Winemaking
When the vines were nearing their first harvest, Chan and Janvier hired a Bordeaux winemaker, Gérard Colin. Before joining Grace Vineyard in 2000, Colin worked more than a decade for Chateau Teyssier in Saint-Emilion (before it bought by Jonathan Maltus in 1994). He then spent time at the Haut-Medoc estate of Baron Edmond de Rothschild, Château Clarke.
Colin would make the first several vintages of Grace Vineyard, helping to pioneer serious viticulture in China. He eventually left in 2006 to join the new project of Domaines Barons de Rothschild (Lafite) in the Shandong peninsula, CITIC-Lafite.
Colin was succeeded by Australian winemaker Ken Murchison who ushered in a period of exploration. He encouraged the plantings of unique varieties in China such as Aglianico, Marselan, Saperavi, Sangiovese, Tempranillo, Nebbiolo, Sauvignon blanc, Pinot noir and Syrah. He also helped Grace launch a sparkling wine project. A native of Victoria, with his own family vineyard in the Macedon Ranges, Murchison split time between working the northern hemisphere harvest at Grace and the southern hemisphere harvest in Australia.
When Murchison retired in 2016, he was succeeded by his assistant winemaker, Lee Yean Yean. Before joining Grace as a cellar hand in 2006, Yean worked in Australia at the Victoria wineries of Curly Flat and Brown Brothers.
The Tasya's Reserve Shiraz
Launched as an experimental batch in 2012 (along with an Aglianico and Marselan), the Tasya's Reserve Shiraz was Grace Vineyard's first significant departure from Bordeaux varieties. The series' name comes from the founder's first granddaughter, Anastasya.
The wine was aged for around one year in second-use oak barrels. Grace Vineyard's initial release of the experimental wines was limited to 3000 bottles of each variety. Only a few dozen cases were exported.
The Wine
Medium intensity nose. Black pepper and red fruit like cherry and plums. There is a little noticeable oak spice such as cinnamon coupled with an undefined herbal element.
On the palate, the red-fruits carry through– mainly the cherries. Mouthwatering medium-plus acidity and soft, medium tannins balance the medium-bodied weight of the fruit. If it wasn't for the black pepper and darker color, I could see myself wondering if this was actually a Pinot in a blind tasting. Moderate finish lingers on the mouthwatering red fruit.
The Verdict
For $25-35, you are paying a tad for the novelty of a Chinese wine. But taken on its own as a cool-climate Syrah, it does have enough character to make the price feel reasonable.
I would describe it as if a Syrah from a cool area (like the Russian River Valley or Santa Barbara County) and a regional Bourgogne Pinot noir had a baby. You can pick up some of the Syrah qualities. But the acidity and structure would lend me to treating it more like a Burgundy Pinot noir. Its best place to shine is on the table with food.
Subscribe to Spitbucket