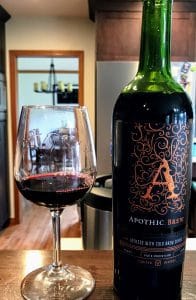 Last night I did a very mean thing.
I had several friends (wine industry folks, connoisseurs and newbie/casual wine drinkers) over for a blind tasting of Cabs and Cab-dominant blinds. While I forewarned them that I was going to toss a few "ringers" into each group like another grape varietal and a cheap under $10 Cabernet Sauvignon, I didn't warn them about this.
I didn't tell them that I was going to subject them to Gallo's latest limited release–Apothic Brew.
But as with my exploration of the trend of aging wine in whiskey barrels, I wanted to get as much objective feedback as I could. Let's face it, it's hard to approach something like cold-brew infused wine without any preconceptions. You are either going to have a visceral nauseating reaction to the idea or squeal in delight at the possibilities.
While certainly not perfect (or academic), I figured my 27 friends from various backgrounds, age groups and wine experiences were good guinea pigs to give Apothic Brew a somewhat fair shake. The results of the tasting are down below but first some geeking.
The Background
According to Gallo's marketing, the idea of Apothic Brew came to winemaker Deb Juergenson last year while working the long hours of harvest where she frequently enjoyed staying caffeinated with cold brew coffee. Noticing the similarities between the flavors of red wine and cold brew, Juergenson decided to experiment with infusing the two. Lo and behold, only 5 to 6 short months later Apothic Brew was released on the market in time for April Fool's Day.
Cute story but I sincerely doubt it played out like that.
Gallo is one of America's most successful companies selling more than 80 million cases of wine a year with nearly $5 billion dollars in revenue. They also have one of the largest and most savvy marketing departments in the industry.
There is no way that this (non-vintage BTW) Apothic Brew wasn't being laboratory crafted, tested and developed for years.
It's very likely that the market analysts at Gallo spotted early on the emerging cold brew trend that really took off in 2015 but has certainly been around longer as well as millennial wine drinkers openness to try new things and saw an opportunity.
E.J. Schultz noted in Ad Age in a 2013 interview with Stephanie Gallo, V.P. of Marketing E. & J. Gallo Winery, that "Unlike previous generations, young adults will try anything, including wine served over ice, from a screw-top bottle or even out of a box."
With the successful launching of limited release editions of Apothic Crush and Apothic Dark (which later became year-round offerings) as well as Apothic Inferno, Gallo is following a popular recipe of crafting a finely tuned marketing campaign based around the latest wine trends and the "limited availability" of their new wine. As Christine Jagher, director of marketing at E. & J. Gallo, describes in a recent interview:
"We will often tease their release to get our loyal followers excited for what's to come," Jagher says. "If we can catch their attention at the right time, they will already be searching for a new item by the time it hits the shelves. They will also be likely to help spread the word among their friends and family." — as quoted to Andrew Kaplan for Seven Fifty Daily, September 27, 2017
That said, it's hard to find any concrete details about the wine itself. Beyond the label lacking a vintage year and noting an alcohol percentage of 13.5%, the bottle is not very forthcoming about what is inside. The original Apothic Blend is based on Zinfandel, Syrah, Merlot and Cabernet Sauvignon while Apothic Crush is a blend of primarily Pinot noir and Petite Sirah so really this wine could be made of just about anything.
How exactly the wine was "infused" with the flavors of cold brew is a bit of a mystery as well. Is it even real coffee or was there a new oak chip/Mega Purple kind of additive created? While typical cold brew coffee has around about 26 milligrams of caffeine per fluid ounce compared to 27 milligrams for a standard hot brew coffee, Danielle Tullo of Cosmopolitan notes that Apothic Brew has less caffeine than a standard cup of decaf.
The Blind Tasting
Slipping the Apothic Brew into a tasting of mostly Cabs, I deliberately placed the wine at the very end of each tasting group. My primary purpose was to make sure that the coffee notes in the wine didn't wreck my friends' palates. I wasn't exactly having the Apothic Brew "compete" with the other wines but with my friends having the knowledge that there were ringers (a cheap under $10 Cab and a completely different grape variety of unknown price), I knew that they would judge it with at least the expectation of something in the $7-15 Apothic price range included in the group.
By the time each group got to the last wine, there were vocal and immediate reactions of "Whoa" and "What the hell is this?".
For the most part, the wine was described as "not horrible but not good" with several people thinking it was a cheap under $10 Cab with other grapes like Zinfandel blended in. Quite a few folks thought I slipped in a non-wine ringer like watered down Kahlua or a "weird stout beer".
While "coffee" was obviously the most common tasting note descriptor, the next common descriptors were tannic and tart.
My (non-blind) Notes
Tasting the Apothic Brew before I bagged it for the blind tasting, I found that it had a high intensity nose of coffee. Rather than cold brew it smelled more like a can of Folgers coffee grounds. The coffee really overwhelmed the bouquet, making it very one-dimensional.
On the palate, the coffee certainly carried through but at least some fruit emerged with red cherry notes. Medium acidity offered decent balance to keep it from tasting flabby but it didn't taste very fresh either. Medium tannins had a chalkiness to them which, coupled with the very thin fruit, made the wine feel a little skeletal. Noticeable backend heat suggested the alcohol is probably higher than the 13.5% listed though the body was definitely medium rather than full. The finish dies pretty quickly.
The Aftermath
After the tasting one of my friends had the idea to add milk and ice to Apothic Brew to make a "Red Russian" cocktail that was actually kind of tasty. Certainly weaker and tarter than a true White Russian with Kahlua, but drinkable and an interesting riff on the cocktail.
We also experimented with treating the Apothic Brew like a mulled wine by heating it up. While we didn't have mulling spices or dried fruit to add sweetness, I would say this experiment was far less successful than the Red Russian. The coffee notes became more pronounced but so did the tartness and thinness with a bitter aftertaste.
Surprisingly, the Apothic Brew tasted better the next day. It actually smelled and tasted more like cold brew with some chocolate notes emerging to add flavor.
Should You Buy It?
I think the descriptions "watered down Kahlua" and "not horrible but not good" are probably the most apt. The Apothic Brew is certainly different but it's not disgusting.
It's definitely tailored to people who are more cold brew fans than wine drinkers but it does have potential for experimentation with wine-based cocktails (a la the Red Russian).
Ideally for its quality level, the Apothic Brew should be priced more inline with the $7-9 regular Apothic Red Blend or the $8-10 "hard cold brews" in the market but expect to pay a premium for its marketing budget with the wine priced in the $14-18 range.
Subscribe to Spitbucket