Joe Wagner, with his Copper Cane Wines & Provision, has been one of the most successful wine producers of the 21st century. But that fame and success doesn't shield him from the ire of lawmakers and Oregon wineries who feel he has been playing fast and loose with state and federal wine labeling laws.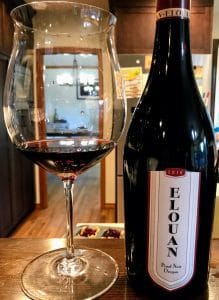 These producers, led by Jim Bernau of Willamette Valley Vineyards, believe that Wagner's wine labels confuse consumers and devalue the branding of Oregon. Wagner contends that he is being truthful about where the grapes are coming from and that his wines bring Oregon to the attention of more drinkers.
While the legal aspects of labeling will be debated and hashed out by government agencies (with so far Wagner and his labels losing the battle), I wanted to investigate the idea of whether Wagner's wines help or hurt the image of the Oregon wine industry among consumers. To test that, I held a blind tasting featuring the offending Wagner wines against more traditional Oregon Pinot noirs.
I wanted to see if Wagner's wines stood out and if there's smoke behind this controversy erupting in Oregon.
The Background
Joe Wagner started his winemaking career with the establishment of Belle Glos in 2001. Focusing on vineyard designated Pinot noirs, Wagner was inspired by the wines of Kosta Browne and soon built Belle Glos into a 100,000 case production. In 2006, he introduced Meiomi–a unique Pinot noir with Riesling, Gewurztraminer, Chardonnay and sometimes Grenache blended in.
By 2015, Meiomi was selling more than half a million cases a year. Wagner cashed in that success by selling the brand to Constellation Brands for $315 million. That sale allowed him to focus on his other brands–including Elouan which was founded in 2014 to highlight Oregon Pinot noir.
The Controversy and Current Rules for Oregon Wines
Wagner makes all his Oregon wines (Elouan and the Willametter Journal) in California–primarily at Copper Cane's Rutherford winery.  In interviews, Wagner has stated his reasoning for trucking the grapes down to California was to maintain quality control.
Compared to federal standards, the rules for labeling wines in Oregon are more restrictive. For instance, to have a wine varietally labeled from Oregon, it must be at least 90% of the stated variety. Federal laws only mandate 75%.
To list an AVA on an Oregon wine, it must contain at least 95% of fruit sourced from that AVA. Crucially, the wine must also be produced solely within the state of Oregon. While the federal standard for AVA designation is only 85%, like Oregon, Federal laws also dictate that a wine using an AVA needs to be "fully finished" in the state containing the AVA. However, it does allow wines to be finished in adjacent states if it labeled under a more generic state designation such as "Oregon".
While the basic Elouan has Oregon listed as it designation, the reserve wine uses the Rogue Valley AVA. With the wine being "fully finished" in California, this does seem to be a clear violation of labeling usage. Likewise, the case packaging of Elouan makes reference to the Willamette Valley, Rogue and Umpqua Valley. For the Willametter Journal, the grape source is listed as the "Territory of Oregon" which is a fanciful term not currently recognized as an approved AVA. Additionally, Willamette is prominently highlighted in red ink on the label as if it was an AVA designation.
Mega Purple — Mega Illegal In Oregon
Another unique aspect of Oregon wine law noted by Jim Bernau, is the use of additives like Mega Purple, Ultra Red, Purple 8000 and Red 8000. These are illegal in Oregon since they are based on teinturier grapes like Rubired that are not currently grown at all in the state. Essentially, the law views the use of these color and mouthfeel enhancing additives as illegally blending in grapes grown elsewhere.
Wagner and Copper Cane's representatives have denied using these additives. However, there is wide spread belief in the industry that they are used frequently in California–particularly for inexpensive Pinot noirs.
The Big Questions
In setting up the blind tasting, I wanted to look at three focus points that I'd hope would answer the overarching question of whether Wagner's wines help or hurt the branding of the Oregon wine industry.
1.) Does Joe Wagner's Oregon wines stand out when compared to other, more "traditional" Oregon producers?
2.) If his wines do stand out, is this because of a signature winemaking style that overwhelms terroir? While we can't prove if he is blending in other grape varieties (like he did with Meiomi) or using additives such as Mega Purple, a strong winemaking signature could give credence to the idea that his wines may "confuse" consumers about what Oregon Pinot noirs usually taste like.
3.) And finally, when compared side by side, what wines do people enjoy drinking?
The Tasting Format and Participants
To help with answering questions #2 and #3, I included 3 of Joe Wagner's California wines in the lineup to go along with the 3 offending Oregon wines. While not part of the controversy, I thought the inclusion of Wagner's popular California Pinot noirs could shed light on if he has a signature winemaking style that his Oregon wines would also demonstrate.
The Wagner Wines
2017 The Willametter Journal Oregon
2016 Elouan Oregon
2015 Elouan Reserve Rogue Valley
2014 Belle Glos Diaryman Russian River Valley
2016 BÖEN Santa Maria Valley
2016 Tuli Sonoma County
Included in the tasting were 15 Oregon wines from other producers. Additionally, there was 1 wine from British Columbia–the 2016 Quill from Blue Grouse Estate–that a guest brought. While originally I wanted to limit this to just Wagner and Oregon wines, I thought the Quill could serve as an interesting control. Would it be pegged as an "outsider" or "Wagner wine"? Or would it slipped in seamlessly with the Oregon wines. If so, that could indicate that perhaps the distinctiveness of Oregon wines are not as clear cut.
Oregon wines featured:
2016 Erath Oregon
2016 Willamette Valley Vineyards Whole Cluster
2015 Domaine Loubejac Selection de Barriques
2015 Citation, Willamette Valley
2014 Domaine Drouhin, Dundee Hills
2016 Stoller Estate Reserve
2013 Patton Valley Vineyards West Block
2014 Welsh Family Wines Bjornson Vineyards, Eola-Amity Hills
2011 Siltstone Guadalupe Vineyard, Dundee Hills
2016 Marshall Davis, Yamhill Carlton
2014 Noel Vineyard, Willamette Valley
2012 Colene Clemens Margo
2016 Ayoub Pinot Noir Memoirs Dundee Hills
2012 Cristom Pinot Noir Mt. Jefferson Cuvée Willamette Valley
2009 Coelho Winery Pinot Noir Paciência Willamette Valley
The wines were all served blind with only myself knowing the identities. Since some of the Wagner wines like the Belle Glos and Elouan Reserve had visible wax capsules, I placed those wines along with random Oregon bottles in one of 8 different decanters.
While there was a handful of industry folks from the retail side, the vast majority of the participants were regular wine consumers.
The Results
During the tasting, many participants began noticing a trend of some wines being noticeably darker and fruitier–especially compared to other wines. A couple wines even stained glasses in ways that usually aren't expected of Pinot noir.
The conversation emerged that in order to "Pin the tail on the Wagner", one needed to look for the least "Pinot-like" wines of the bunch. This would turn out to be a worthwhile strategy that several tasters adopted.
After the tasting I asked the participants to first pick out their favorite bottles. The results were overwhelming for Oregon with the 2016 Stoller Estate Reserve, 2016 Marshall Davis and 2013 Patton Valley West Block getting multiple votes. The BC wine, the Quill, also got some votes as a favorite with many tasters thinking it was an Oregon wine from areas like McMinnville.
But the surprise of the favorite reveal was the inclusion of one of the controversial Oregon Wagner wines–the 2017 Willametter Journal. While the wine was more lush than the others, tasters compared it favorably to warm vintage Oregon Pinot noirs from AVAs like Ribbon Ridge and Eola-Amity Hills.
Pin the Tail on the Wagners
With the Willametter Journal already revealed, the quest then moved to see if the tasters could identify the 5 remaining Wagner wines. It should be noted that several participants had the Willametter Journal pegged as a Wagner.
In the end, the tasters identified all but one Wagner wine blind. The 2015 Elouan Reserve Rogue Valley was the most obvious Wagner. It was near unanimously picked as being the least "Pinot noir-like" wine in the entire tasting. Several tasting notes alluded to a "root beer soda-like" quality and compared it to other grapes like Syrah and Zinfandel.
The only Wagner wine to escape detection was the 2016 BÖEN Santa Maria Valley. This one reminded a few tasters of Oregon wines from areas like Dundee and the Eola-Amity Hills.
Most surprising of all were two Oregon wines that were pegged by multiple tasters as Wagner wines–the 2016 Willamette Valley Vineyards Whole Cluster made by Jim Bernau and the 2015 Citation made by Howard Rossbach who founded Firesteed Cellars. The 2016 Erath Oregon also got some votes for being a "Wagner wine" as well.
Takeaways
For the most part, Joe Wagner's Oregon wines stood out and tasted noticeably different compared to other Oregon Pinot noirs.
However, it is extremely interesting that the best selling Oregon wines (at least from a volume perspective)–the Willamette Valley Vineyards Whole Cluster and Erath–struck so many tasters as potentially being Wagners. While we didn't have a bottle of Firesteed Cellars (recently sold to Vintage Wine Estates in 2017) in the tasting, the identification of Rossbach's Citation as a potential Wagner goes along with that trend.
Together, those three wines (WVV, Erath and Firesteed) dominate restaurant wine lists and supermarket retail for Oregon wines. They're popular wines that appeal to many consumers' palates.
Likewise, Joe Wagner has built his success on producing wines that strike a cord with consumers–especially at restaurants and supermarket retail. While his style is distinctive, it is a style that sells. It's also very telling that the Willametter Journal, one of the wines at the heart of the controversy, was selected as a favorite even as it was noted for being very different from the other Oregon wines.
However, overall, the Willametter Journal was an outlier. While wines like Stoller, Patton Valley and Marshall Davis might not sell at the volume of Wagner's wines (or WVV, Erath and Firesteed for that matter), when tasted side by side–the vast majority of tasters went towards these more traditional-style Oregon Pinots.
Help or Hurt?
Now to the question of whether Joe Wagner's Oregon wines help or hurt the image of Oregon wines among consumers.
The results are a mix-bag.
Does his wines represent Oregon? Definitely not at the top tier.
But at the entry-level? That's a hazier question.
It's hard to make the argument that Wagner's "hurting" Oregon when many of the most popular Oregon wines seem to appeal to the same palate his wines do. These wineries (like Willamette Valley Vineyards, Erath and Citation/Firesteed) may not be using the same techniques as Wagner but, whatever they are doing, they're making easy-drinking and crowd pleasing wines that hit the same notes as Joe Wagner's wines.
While I'm sure there are a few Oregon wine producers who would like to throw Joe Wagner into a volcano, I don't think we can dismiss the likelihood that his wines (or similarly styled Pinots) will be the tipple of choice at the luau.
Regardless of how they're labelled.
Subscribe to Spitbucket