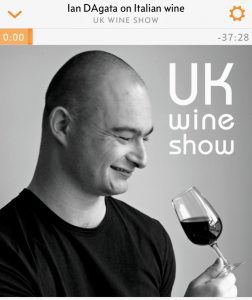 I have a new vino crush and man have I been crushing hard.
How can you not to get all tingly and giddy over sweet talk about biotypes, Pigato vs Vermentino, Cerasuolo di Vittoria and the battle for the soul of Pecorino?
Well at least it is hard for me not to get tingly, especially when that sweet talk is coming from a wine writer with over 25 years of experience living and breathing the wines of Italy. Thankfully for us, and my geeky fan-girling heart, Ian D'Agata has drilled down all of those years of walking the vineyards and tasting wines with producers into the magnum opus of Italian wine grapes with his 640 page tome–Native Wine Grapes of Italy.
Frequent readers know that one of my favorite resources is Jancis Robinson's Wine Grapes written with Julia Harding and José Vouillamoz. That gorgeous hunk of geekdom devoted 1280 pages to covering 1,368 grape varieties grown across the globe.
But with an estimated 2500 different varieties (many of which likely biotypes/clones of other grapes) growing in Italy alone, you need a dedicated source to help untangle the messy weave of regionalization, synonyms and just downright weirdness that can be found with Italian grapes.
D'Agata's book is like a scalpel to that tangled mess. While he is upfront about not having all the answers–especially with conflicting DNA analysis and contrary first person observations–it is impossible to pick up Native Wine Grapes of Italy and not come away learning mountains of new information about Italian grapes.
The work is exceptionally well organized (mostly alphabetical though several varieties which belong to groups or families of grapes like the many Greco, Trebbiano and Malvasia grapes get their own chapter) making it a fantastic and easy to use reference anytime you want to dive deeper.
I seriously can't recommend Native Wine Grapes of Italy enough for wine geeks and students. A definite must have that is less than a third of the price of Wine Grapes and can often be found used for around $25.
But you don't need to take my word on it. As I've discovered while prepping for my upcoming class on Italian wine, Ian D'Agata has been a frequent guest on several of my favorite podcasts discussing Italian grapes and wine regions. These podcasts, plus his writings on Vinous, give you a great sneak peak into the content of Native Grapes as well as an upcoming book he's working on about the crus of Barolo and Barbaresco.
They are all well worth a listen–after which I'm sure you'll be vino-crushing on Ian too.
Podcast Interviews with Ian D'Agata
In The Drink Episode 206 w/ Ian D'Agata (43:57)
Monty Waldin's Italian Wine Podcast Episodes 20 through 22 on the Aglianico, Glera and Sangiovese grapes respectively. (About 10 to 15 minutes each)
I'll Drink to That! Episode 354 w/ Ian D'Agata (1:37:49) — In this podcast, Levi Dalton and D'Agata spend a lot of time talking about Barolo, Barbaresco and his upcoming book on those regions. Really fascinating stuff.
My only slight negative with D'Agata's interviews is that he does speak very quickly. While his enunciation and articulation–especially of Italian names and words–is great I do find myself having to slow down the podcast or go back sometimes to re-listen to things that D'Agata breezes through.
For this edition of Geek Notes, I'm going to go back to a June 2008 interview that Ian D'Agata did with Chris Scott of the UK Wine Show (37:28).
Some Fun Things I Learned/Enjoyed From This Podcast
The format of the UK Wine Show starts with Chris and his wife Jane going over recent wine and beverage industry news. Even with older podcasts, I always find this segment very interesting as a "window in time" look at what was big and newsworthy in the world of wine at the time. I also often end up learning something as well.
For instance, the first news story in this 2008 podcast (1:07) was on a controversy in the Tuscan wine region of San Gimignano where 4000 bottles of red wine were confiscated because of the use of oak chips in production of the DOC wine. I honestly didn't know that San Gimignano produced red wine (much less a DOC wine) because I was only familiar with the white Vernaccia di San Gimignano.
While it makes sense that oak chips wouldn't be acceptable in DOC/G wine, I didn't realize how strictly regulated that was in Italy or that oak chips were permitted for IGT wines.
It was also fun listening to early thoughts on the 2007 Bordeaux vintage with Chris and Jane (5:36) especially considering the woeful reputation that vintage has now (though, in hindsight, good cellar defenders can still be found from 2007).
The interview with Ian D'Agata begins at the 10:35 mark.
(11:47) Of the 2500+ grape varieties grown in Italy, only around 1000 of them have been genetically identified. Of that 1000, around 600 are used for wine production.
(13:55) Chris asks if the Sangiovese of Brunello di Montalcino is a specific clone. Ian D'Agata debunks quite a bit of common misconceptions about Sangiovese and clones that is incredibly eye opening (and also well worth reading about in his book). Simply put, a lot of the stuff that we've learned in wine books of the past have been very incomplete and imprecise.
(18:45) D'Agata describes the Umbrian variety Sagrantino which I haven't had the privilege of tasting yet but am very intrigued by.
(19:20) A prediction that Aglianico is the next big thing from Italy. This has definitely held true with even producers in the US like Leonetti releasing an Aglianico. I know at my local wine shops I've seen the selection of Italian Aglianico in the last 5 years go from maybe one bottle of Taurasi ($50+) to now featuring more than a half dozen options from Basilicata, Marche and Campania. As many of these can be found in the $13-25 range, there is some awesome value here that is well worth exploring. In my January 2018 post In a rut? Try these new grapes!, I describe Aglianico as a fantastic wine for Cabernet Sauvignon and Syrah drinkers to branch out with.
(20:40)
Chris notes that he always found Nero d'Avola to be very Merlot-like. D'Agata highlights the similarities (and that Merlot is apparently often blended with Nero d'Avola) but also the relationship with Syrah and Teroldego and what good Nero d'Avola should taste like.
(21:40) A great discussion about the unheralded gems of Southern Italian whites like Mt. Etna's Carricante (a distant relative of Riesling), Grillo, Inzolia, Vermentino and Grechetto. However, D'Agata notes that the Grechetto used in Orvieto is not always the best Grechetto.
(24:52) Apparently Italy makes really good dry Kerner, Silvaner and Gewurztraminer on par with Alsace up in the Alto Adige region.
(26:16)
While Italy doesn't do well with Chardonnay (over-oaked), D'Agata feels that they excel with Sauvignon blanc with a style between Sancerre and Marlborough. This definitely caught the attention of New Zealand native Chris Scott. Considering how
hot Sauvignon blanc has been
in the UK market, I'm kind of surprised that we don't hear more about Italian Sauvignon blanc. The higher cost of bottles from Italy compared to bulk NZ Sauvignon blanc probably is a significant reason.
(29:06) A lot of Pinot grigio that is/was imported to the United States might not actually be Pinot grigio with D'Agata noting that a fair amount of Trebbiano is likely used.
(30:26)
Very interesting discussion about
the Brunellopoli scandal
that was just starting to hit the news at the time of the interview. D'Agata notes that the dark purple/black color of Brunello di Montalcino is often a clue that something might be up with a wine that is supposed to be 100% of the moderately pigmented Sangiovese. The new clones of Sangiovese that produce darker colors can only give you a deeper ruby, not black color.
(34:23) Even though Italians invented screw caps, apparently they can only be used for IGT wines and not DOC/G? (At least back in 2008) D'Agata pointed out that it is more expensive to bottle wines with screw caps as opposed to corks which can be a financial burden for small producers.
Subscribe to Spitbucket