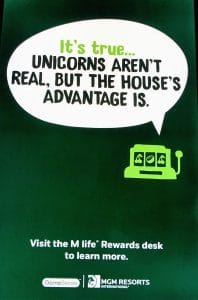 "Unicorns aren't real, but the house advantage is."
I just got back from a weekend in Las Vegas where I lost far more than I care to admit at the casinos.
Growing up in St. Louis with church bingo and riverboat casinos, I will always have soft-spot for the gambler's heart.
But man does it suck losing.
However, as I've gotten older I've found one game that I love playing in Vegas where I'm a sure bet to come out a big winner–the Somm Game.
How to Play
It's a simple game. You go to a nice restaurant with a thick, Bible-size wine list.
Give the sommelier your budget, what food you are ordering, let them know you are open to anything and then let them take it from there.
That's it. That's the game and the payoff is almost always better than anything you'll find at the tables or slots.
Why the Somm Game works
First off, your objective is to have a great dining experience. You know who else shares that same objective? The sommelier. Their entire job is to give you a memorable experience so the house odds are already in your favor.
Just like I'm sure you perform best at your job when your clients let you do your thing, so too do sommeliers really get a chance to shine when you simply trust them to do what they are trained to do—which is far more than only opening bottles and pouring them into decanters.
Sommeliers are professionals and many have spent years honing their craft, studying, tasting and traveling the world of wine. With certification programs from the Court of Master Sommeliers, Wine & Spirits Education Trust, International Sommelier Guild and the like, the quality of wine education in the industry has never been higher. Why let that advantage go to waste?
And it is an advantage–one that even the most savvy and experienced wine drinkers don't readily have.
Look I know my fair share about wine. I can open up a wine list and recognize most every name and region on it. I can hold my own rattling off producers, soil types, grapes varieties and facts. But I'll tell you what I don't necessarily know—how everything on the list is drinking now and what exactly will pair best with the particular flavors of the chef's cuisine.
No matter how much a person knows about wine, the odds are that the sommelier team knows their own list and their own food at least a little bit better than you do. Especially at a restaurant with a good wine program that involves frequent tastings and pairing exercises, they're going to have a leg up on you with what is drinking great right now and is pairing well.
"But Amber, I don't want to get ripped off by restaurant mark ups!"
Okay, I know restaurant mark ups can be painful to swallow. Believe me, it's even tougher when you've been in the business and know intimately what the typical wholesale and retail prices are of the wines you frequently see on wine lists.
But here's the beauty of playing the Somm Game and trusting the sommelier to make the wine picks—most likely you're going to avoid getting the crazy mark up wines and instead get the gems that the sommeliers themselves would pick for their own dinners.
By trusting the sommeliers you are far less likely to get "ripped off" by markups than you would be ordering on your own. They don't need to sell you the crazy high mark up wines because your fellow diners are already buying those wines and paying the "Ego Tax" on them.
The "Ego Tax"
Restaurants are businesses and all businesses aim to make a profit. With margins on food being so tight, it naturally falls on the beverage side of the business to earn healthy returns.
In the wine industry, there are certain well known brands that restaurants know will sell off their wine list without any effort. These are your Jordan, Caymus, Rombauer, Veuve Clicquot, Dom Perignon, Opus One and Silver Oak type wines of the world.
There is no need for effort because wine consumers will order these wines on their own as frequently these are the only names on the list they recognize. Often their ego (either hubris or an irrational fear of looking helpless) keeps them from seeking the sommelier's assistance so they retreat to the comfort of a known quantity.
But these "known quantities" are often the highest marked up wines on the entire list!
That hesitance to relinquish control and trust the sommelier to guide you out of the realm of the "the same ole, same ole" is not limited to just "regular wine drinkers". It hits folks who "know wine" and have been around the industry. I mean come on! We don't need help. We know how to order wine and what's good!
And that is why restaurants make bank off of the "Ego Tax".
Which is fine, I suppose, if you are living off an expense account and paying with someone else's dime. But most of us in the real world aren't expense account dandies so it's pointless to be paying the "Ego Tax" when all we've got to do is trust the somm and have some fun.
The Somm Game in Action
When I play the Somm Game, I start by introducing myself as a wine geek and telling the sommelier that all I want to do this evening is "geek out" a bit. Sometimes in the conversation that follows I will mention my wine industry background but that is rarely brought up. My approach is to present myself as just a geek that trusts and respects the sommelier's judgement and expertise.
I give them a budget and tell them that I'm open to anything–glass pours, half-bottles, full-bottles. I recommend going a little higher in your budget than you would usually give yourself for ordering a single bottle because the more flexibility you give the somms, the more fun you can have. Trust me, it will pay off dividends.
I share with them what food I'm ordering–again emphasizing my openness in going with whatever the sommelier thinks will work best whether it be glass pours for each course or half/full-bottles, etc.
Then I sit back and have fun.
This weekend I had the opportunity to play the Somm Game at two restaurants–Lago by Julian Serrano at the Bellagio and at Aureole by Charlie Palmer at Mandalay Bay. Both restaurants have tremendous wine programs overseen by Master Sommelier Jason L. Smith, Executive Director of Wine for MGM Resorts International, and Mandalay Bay Director of Wine Harley Carbery.
When playing the Somm Game, it helps to increase your odds by playing with a stack deck.
Lago
At Lago, we were served by head sommelier Jeffrey Bencus, an Advance Sommelier who is on the cusp of achieving his MS. Talking with him, we found out that he has separately passed his theory and tasting exams for the Master Sommelier certification–just not within the same testing cycle.
On my own, when out for a nice dinner I usually aim for a bottle in the $250-300 range so I gave Jeffrey a budget of $350 and laid out the perimeters above. I told him we were geeks and opened to pretty much anything.
The style of cuisine at Lago is small plates so we started off with short rib cannelloni and red wine risotto.
These were red wine heavy dishes but we were delighted when he brought out a half bottle of 2015 Jean-Philippe Fichet Meursault.
With plots in the enviable "second crus" of Les Chaumes de Narvaux (upslope from the Premier cru vineyards of Les Bouchères and Les Gouttes d'Or) and Le Limozin (flanked by 1er crus Les Genevrières and Les Charmes) as well as 65 to 75+ year old vine plantings in Les Clous and Les Criots, this village-level Meursault was delivering premier cru quality pleasure.
Textbook Meursault with subtle butteriness, hazelnuts and that liquid-rocks minerality that makes this place so special for Chardonnay. I don't remember what the restaurant price was, but the Wine Searcher Average for the 2015 was $65. Well worth finding.
The following course was Italian sausage skewers with red pepper sauce and a filet with a Gorgonzola demi-glaze. Originally Jeffrey was thinking a classic 2012 Brunnello di Montalcino but decided to geek it up more for us with a 2012 Mastroberardino Radici Taurasi from the legendary Campanian producer. I was quite familiar with Mastroberardino and their flagship Taurasi but my initial instinct was that a 2012 would be far too young.
But, again, here is where a somm's expertise and experience with their own wine list pays off.
With nothing more than a splash decant the Radici was absolutely singing with the savory floral and spicy undertones of Aglianico complimenting not only my steak but also my wife's Italian sausage with its sweet roasted red bell pepper sauce.
The Wine Searcher Average for this wine is listed at $47 but that is skewed a little by some discount Hong Kong retailers. In the US, it is far more common to find it retailing for $55-60.
For dessert we had a creme brulee and citrus cannoli and boy did we hit the jackpot with the Somm Game!
My wife and I were flabbergasted when Jeffrey brought out a tiny 187ml split of 1993 Château Pajzos Tokaji Esszencia.
I don't think this wine was even on the wine list!
While I've had Tokaji several times, this was my first experience trying an Esszencia because of how rare (and expensive) it is. Made from the free-run juice of dried botrytized grapes, residual sugars can go as high as 85% and take over 6 years to ferment because of how sweet and concentrated it is. Tokaji Esszencia is truly one of the wonders of the wine world.
This wine was the #3 ranked wine on Wine Spectator's Top 100 list in 1998 and was described as "a perfect wine" with 100 pts from Robert Parker.
And it was just….wow!
I think I finally found a wine that broke my mental 94 point barrier. It's been over four days since I had this wine and I can still taste the amazing concentration of liquid figs, honey, cognac and lingering spice.
Incredibly difficult to find retail due to its limited supply (only 165 cases made), the Wine Searcher Average for a 500ml of the 1993 Pajzos Esszencia is $698.
A stunning treat and life-long memory.
All together, the three wines were well around our $350 budget. As we were finishing up dinner while savoring that amazing Esszencia, I noticed the table next to us had ordered a bottle of 2006 Opus One which was $995 on the Lago's restaurant list.
While I'm sure they enjoyed that bottle of Opus fine enough, I can't help but think that we came out WAY ahead in our wine and food pairing experience by paying around a third of what they did.
Heck, all three of the wines we had which included one 375ml half bottle, one 750ml bottle and one 187ml split was less at restaurant mark-up than what one single bottle of 2006 Opus One averages at retail price.
That folks….is winning big with the Somm Game.
Aureole
The next night we visited Aureole at Mandalay Bay where we rolled the dice for the Somm Game with Kyran O'Dwyer, an Advance Sommelier since 2006.
While Kyran didn't have an extra 187ml bottle of an uber-rare wine lying around, he had his own ace up his sleeve and delivered a remarkable and personalized experience that far exceeded our expectations.
Giving him the same $350 budget, the first roll came up sevens when he brought out a perfectly geeky Champagne–the Drappier Quattuor Blanc de Blancs featuring some of the rarest grapes in Champagne.
A blend of 25% Arbane, 25% Petit Meslier, 25% Blanc Vrai (Pinot blanc) and 25% Chardonnay to round it out, the wine was aged 3 years on the lees before being bottled with a dosage of 4 g/l. The Wine Searcher Average for it is $61 but most retailers in the US have it closer to the $120 release price noted by Wine Spectator. However it is incredibly difficult to find with most retailers (like K & L) getting less than a couple cases.
But oh is it worth the hunt!
This is a "unicorn Champagne" like the ones I've been on the prowl for since I finished reading Robert Walters' Bursting Bubbles. High intensity aromatics that continually evolved in the glass with a mix of citrus lemon custard and orange blossoms with some creamy creme brulee action. Exceptionally well balanced between the creamy mousse, racy citrus notes and dry dosage, the long finish brought out intriguing salty mineral notes that lasted for several minutes after you swallowed.
For appetizers my wife got a black garlic Cesar salad while I had the foie gras du jour–which was seared foie gras with a balsamic berry reduction paired with a French toast concoction that had the chef's homemade nutella filling. While we enjoyed the Champagne, he gave us each an additional 2-3 oz "taster pour" of the 2014 Braida Brachetto d'Acqui to go with the foie gras.
The wine was lively and fresh with ample acidity to balance the sweetness.
The wine tasted like you were eating ripe strawberries picked straight from the bush. In a market flooded with Moscatos, Roscatos and Stella Rosa, sweet wines often get a bad rap as overly simple but tasting a wine like the Giacomo Bologna Braida Brachetto d'Acqui is a great reminder about how joyful and delicious "simple sweet wines" can be. At a retail average of $18 a bottle, it is also a great deal for folks wanting to trade out of the same ole, same ole for something new to try.
For dinner I had braised short rib ravioli with a smoked tomato cream sauce while my wife had one of the most delicious vegetarian lasagnas that we had ever tried. It must have had at least 20 layers of fresh pasta, butternut squash, sage, spinach and mascarpone. My ravioli was great but her lasagna was outstanding.
Of course, these dishes were quite different and not necessarily the easiest to pair with the same wine. Truthfully, on my own, I probably would have "wimped out" and took the easy route of ordering a village-level Burgundy with the thinking of acidity for my tomato cream sauce while some earthiness could play well with the lasagna without being too big or tannic. Not a perfect pairing but a serviceable one.
But Advance Sommeliers do not settle for serviceable.
Instead, Kyran surprised me with a 2012 Prats & Symington Post Scriptum de Chryseia from the Douro. I was already very familiar with the Symington family's stable of Port houses like Cockburn, Dow, Graham, Warre and Quinta do Vesúvio but wasn't aware of this particular Douro red wine label.
A blend of 53% Touriga Franca, 45% Touriga Nacional and 2% other Portuguese varieties, the wine was remarkably "St. Emilion-like" with a beautiful mix of blue flowers, dark fruit and savory baking spice notes on the nose. Far from being "too big" or "too tannic" for the vegetable lasagna, the wine was beautifully balance with juicy medium-plus acidity and velvety medium-plus tannins.
If this was a blind tasting and I pegged it as a St. Emilion, I would have been expecting it to be in the $45-55 range retail for a bottle. But here is where the savvy of a good sommelier comes into play because this absolute gem of a wine from a very underappreciated region is a total steal at around $26 a bottle retail.
The wine list price for this bottle was $67 which, compared to the usual 3x retail mark up common in the industry, was a great deal in its own right. Frankly, you would be hard-pressed to find a better bottle than this on most restaurant's wine lists for less than $80.
We would have been more than happy with only this bottle for both our main courses.
But, again, Kyran when above and beyond as he brought my wife out a glass pour of the 2015 Domaine Laroche Vielle Voye Chablis to compliment her vegetarian lasagna. Sourced from 70+ year old vines, this village-level Chablis way over delivered and is another great value at $36 a bottle (and probably a $20-25 glass pour, at least).
Then for dessert my wife went with a blood orange creamsicle parfait while I ordered a maple brown butter creme brulee (my favorite dessert if you haven't guess yet). Once again Kyran decided to individualize the pairing for us with my wife getting a glass of the 2008 Jackson Triggs Vidal Ice Wine from Niagara that was chock-full of orange blossoms and apricot notes while I got a 2011 Kracher Beerenauslese from Burgenland that had amazing lightness in the mouthfeel despite its rich concentration.
With Wine Searcher averages of $93 and $61 respectively, my wife and I rarely buy full bottles of dessert wines because we never finish them. For us, it's worth paying a little bit of a premium to enjoy them by the glass pour at a restaurant with a nice dessert. Yet, I rarely ever feel like I am paying a premium compared to the amount of pleasure I'm getting with the pairing.
With an end total of 2 bottles, 3 glasses and two taster pours over the course of a fabulous dinner with a personalize touch made this another jackpot win for the Somm Game. There is truly no way that I could have spent my money better that evening than just letting Kyran run the table with his fantastic pairings.
That is the beauty of the Somm Game.
Yes, it's still gambling
And the house is going to get its share.
Of course, I could have likely bought (assuming I could even find them) bottles of the wines I had at each dinner for less than $350 on the retail market but that's the same truth when comparing the cost of the food ingredients if you cooked the meal at home versus what you paid at a restaurant for a dish.
No one should approach the Somm Game or buying wine at restaurants with the perspective of beating retail prices. It's never going to happen. These restaurants are businesses with overhead and staff that deserve to be paid living wages and benefits.
I'm not advocating the Somm Game as a way of "beating the house" though I do wholeheartedly endorse it as a way of getting the most out your money and having a kick-ass experience.
There is really not a dollar amount that you can put on your own personal pleasure or the joy of trying something new.
You "come out ahead" when you end up getting more than you expected with a tremendous evening of great wine, great food and great memories that happened just because you let the professionals do the very thing that they are really good at doing.
No, there is not guaranteed 100% success each time you play. Sometimes you may be at a restaurant that doesn't have a serious wine program with trained sommeliers. Sure you can still roll the dice but, as with all forms of gambling, there is always a chance you will crap out.
I recommend checking out the wine list and asking questions of the staff to get a feel if this is the type of place that is worth playing the Somm Game at.
But in Las Vegas, with its high density of outstanding restaurants and sommeliers, I've found no surer bet.
Subscribe to Spitbucket